Day Four of September's six-day ride to Kongsberg ND  followed a straight line from east to west, much like on Day Two.  All 61.5 miles were on highway 200.  I began where the previous day's ride had left off, about 12 miles northwest of Hope, and ended in Carrington.
To get to the starting point, we had to drive the 80 miles from our hotel in Fargo.  I got started about noon, which was not an early start, but it was good enough to get in 20 miles before the headwinds got to be bothersome again.
In this part of North Dakota there are wetlands to be seen. This pond was the first photo stop.
While I was enjoying the ride, Myra went ahead to Cooperstown to visit the Ronald Reagan Minuteman Missile site .  She learned that the place has received a lot of Russian visitors, some of whom like to compare notes with their own missile facilities of the time.  I wouldn't mind visiting it myself sometime.
The way was not very densely populated with farmsteads, but a lot of North Dakota is that way.
Highway 200 crossed a succession of small river and stream valleys, which added just enough relief to be interesting. This photo was taken looking back across the Sheyenne River valley, one of the more prominent ones along the way.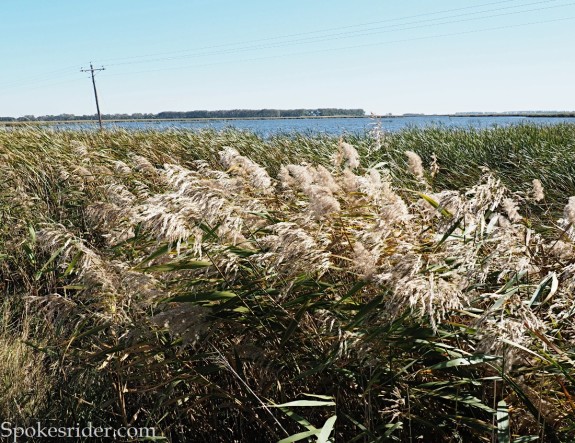 Pond about 10 miles west of Cooperstown
By the time I got ten miles past Cooperstown, where I stopped to take this photo, the wind was strong again, and I was back to taking frequent breaks.
At Glenfield, there was a city park on the other side of the road.  There I found a picnic table, ate a Cliff bar, and lay down on the bench for a quick nap. But I soon decided I wasn't quite that tired, so refreshed my water bottles and got back on the road.  It was a pleasant place; I regret to say I didn't take any photos.
Getting a photo of this old farmstead was a good excuse for a break. I took my time.
This old church, now preserved as a historic site, is not far from the James River.  I took a little time at this stop, too, but the sun was getting low in the sky and I was still 16 miles from Carrington.
It would be nice, for a change, to ride up to our motel so Myra wouldn't have to come and get me, and just as important, so she wouldn't have to drive me to a starting location the next day.  Strong winds were forecast, and it would be better to get started early, right from the motel door.
I made it, but it was well after sundown when I got to Carrington and found the motel.  It helped that the wind had gone down well before I got there.