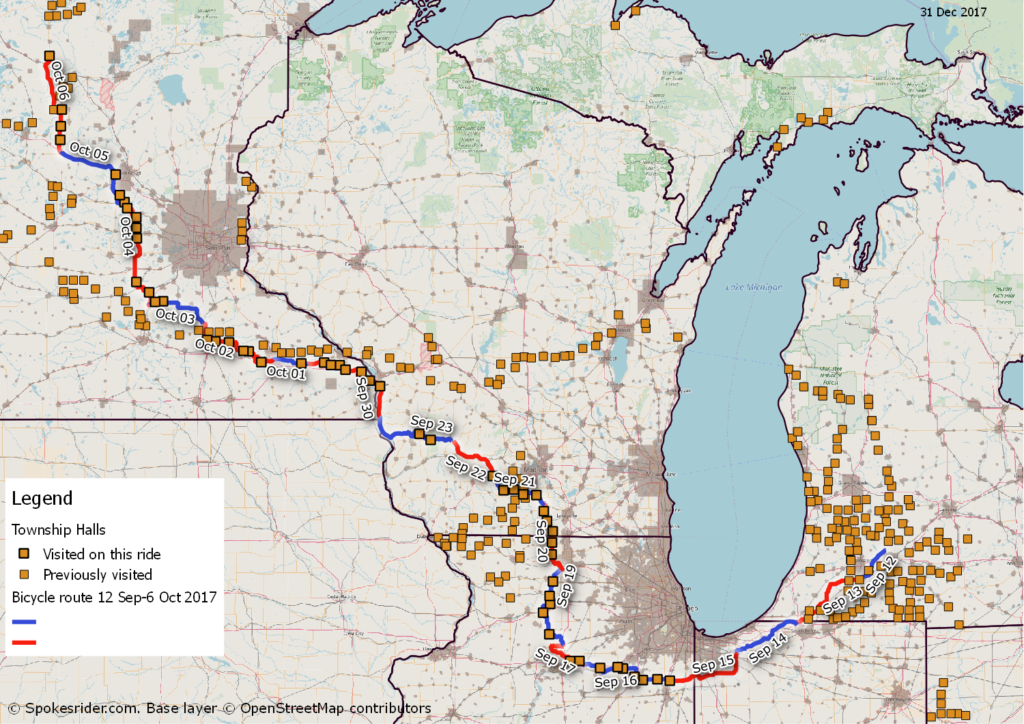 Back on September 12 I started my second Michigan to Minnesota ride. The first one took place in September 2016, when we took the Ludington-Manitowoc ferry across Lake Michigan, and ended up at Olivia MN, a place of family history. The 2017 one went around Chicago and ended at the Leaf River Township Hall in Wadena County, MN. On the way I got in about 1030 miles in 18 days of riding, and visited 55 "new" township halls.
As I had not gotten in much riding the previous few weeks I started easy the first day by riding to Schoolcraft, a distance of 35.5 miles (counting an unexpected detour). Mrs. Spokesrider came to take me back home, and then we left at mid-day the next day to start where I had left off at Schoolcraft, not returning home until almost a month later. In the middle of the ride, after arriving at LaCrosse WI, we took a break to get in some family visits and travel that didn't involve the bicycle. The bicycle spent part of that time in a repair shop, one of four I visited along the way.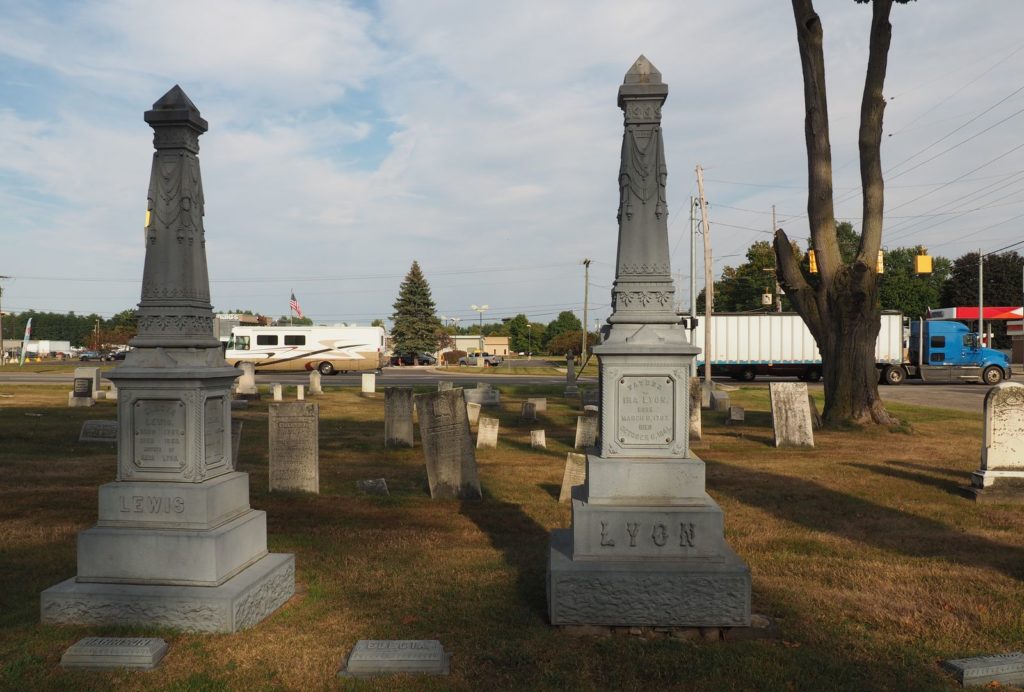 It often takes a day or two to get my head into the roadside history, especially when close to home and riding over frequently traveled routes. So my camera mostly stayed in my handlebar bag until I got to the end of the day's ride. The roads between home and Schoolcraft are familiar territory, and I was just trying to make good time so I could get home and finish packing. But while waiting for Mrs S at the township cemetery in Schoolcraft, I got out my camera and took a photo of the two metal grave markers pictured here, just because they looked interesting.
It wasn't until now that I took a look at the names on the markers and checked to see if they were involved in the 1832 Black Hawk war scare. They weren't, but by allowing some pretty generous degrees of separation I came up with a connection to the war anyway.
The inscription that is visible on the left one says, "Electa Lewis / Born 1787 / Died 1858 / Mother of Anna Lyon." The one on the right says "Father / Ira Lyon / Born March 6, 1787 / Died October 11, 1841."
The Black Hawk connection, such as it is, is as follows:  The Ira Lyon who is buried here was uncle (or half-uncle) to Lucius Lyon, Michigan's first U.S. Senator, and was his agent for his agricultural interests in the Schoolcraft area. Lucius Lyon owned considerable land here, and he may have been enabled to make good land choices by his work as a government surveyor.
As part of their duties the surveyors evaluated the agricultural potential of the lands they surveyed. When the land was put up for sale, nobody knew better than them what parcels would be good to buy, if they had the money for it. Lucius Lyon seems to have had plenty, and purchased 2160 acres of government land in Kalamazoo County alone.
Later, when the Black Hawk war broke out, he was surveying in southwest Wisconsin. He and another Michigan surveyor, John Mullett, saw that It was too dangerous for them to continue their work. So they both left their government contracts unfulfilled and went to Galena and then Cincinnati where they reported to the Surveyor General. [This last part is from memory; I'd have trouble right now in finding my copies of the microfilmed correspondence that form the primary source documents about this.]
The Electa Lewis whose inscription is on the marker was Ira Lyon's mother-in-law.
So there you have it. it's a stretch, but there is a Black Hawk war connection to the grave markers pictured here.
The Ira Lyon/Lucius Lyon connection is also interesting in its own right, and may provide some future bicycle destinations near Schoolcraft. Lucius Lyon invested heavily in the mechanical harvester invented by Hiram Moore of Climax Prairie. At one point he reclaimed one of Moore's harvesters that had been taken to Rochester NY and had it disassembled into 65 large wooden pieces plus two barrels full of smaller parts, and shipped to St Joseph where Ira was to get it and haul it back to Prairie Ronde, where it was used for tests and demonstrations. (Schoolcraft is roughly in the center of the prairie.) The harvester was innovative with advanced features for the time, but a financial failure. Cyrus McCormick beat him in the marketplace with machinery that didn't do as much but was lighter and simpler, and perhaps better adapted to ordinary farm conditions. There were also the usual cutthroat patent wars, in which Moore didn't fare well.
If I can learn where some of these tests and demonstrations were held, I might make those places a ride destination when the weather is again suitable.
Sources: