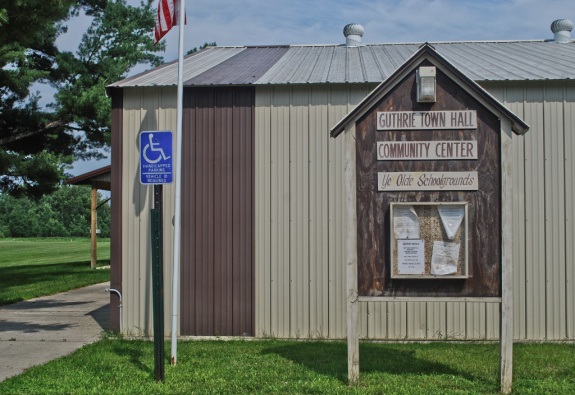 The Guthrie Town Hall is special in several ways.  For starters, the Guthrie Township web site has a map on its home page that shows exactly where the town hall is located.  On some township web sites one has to look hard for that kind of information, and sometimes it's not even on a township's web site. Never mind that most Minnesota townships don't have web sites, and that in those cases, even if you somehow find a street address it isn't necessarily one that's used for mail, which means Google Maps may not be able to help you find it, either.  But Guthrie Township made that part easy by providing a map.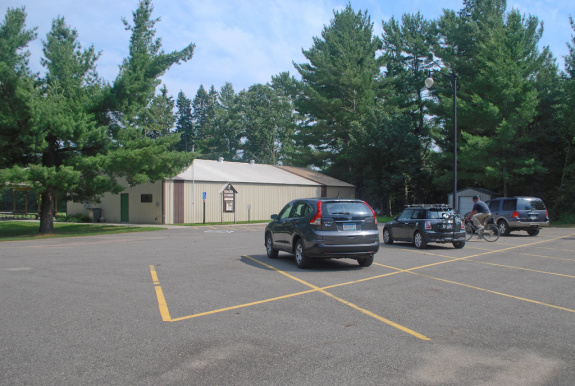 Second, it's located on a bicycle trail.  Not near a trail, as in the case of most of the others on this day's ride, but immediately adjacent to the Paul Bunyan trail.  Not only that, but its parking lot can be used as an access point to the trail, and it even provides a porta-potty for trail users.
When I saw the cars in the parking lot I first thought I had finally found a Minnesota town hall that is used as an office during the day. But after watching bicyclers ride off the trail into the lot to load their bicycles onto their cars, I realized that none of the cars was here on township business.  They all belonged to people who were using the trail.  There is a sign that says no overnight parking, so it's not a good access point for a multi-day ride, but it's handy for day rides. There is plenty of shade for cooling down after a ride.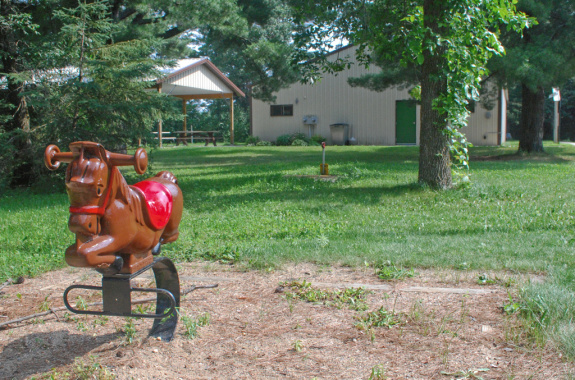 Third, the town hall is part of a memorial to a one-time community school that once occupied these grounds. (I like to collect photos these school memorials, too, though I don't usually seek them out.) In this case the township hall is owned jointly by the township and a group called "Ye Olde School Grounds." There used to be a separate town hall building nearby (just across the line in the adjacent township to the east) but that building is now gone.  The old school building is gone, too, but the schoolyard playground remains.
Finally and best of all, the
township website
provides some history that is missing for almost every other township I've looked at so far.  By that I don't mean that no other township websites contain any township history. Many of them have do, some of it placed very prominently.  Some townships even fund historical museums and local historical societies.   What's special about the Guthrie township site is information about the history of the changing role of township government.
There's not much to it. It's the brief reminiscences of three long-time township officers who all retired in 1976. But it touches on topics I've gotten curious about while visiting these township halls – about how the current system of township government came to be.
It's not particularly obvious where to find it, either. But on the front page there is a link to "A brief history of our township." Click on it and you get a PDF file of a couple of pages photocopied from some spiral-bound book.  What book it is, we are not told, but I'm guessing it's a local history of some kind.
A paragraph about the three board members who retired in 1976 led me to a newspaper article about it in the Bemidji Pioneer, from which the following is taken.
"This township wasn't much when I came here as a kid," 76-year-old Steinbrenner said. Steinbrenner, who served as a town board supervisor for a total of 30 years, was only five years old when his family moved into Guthrie Township.
There was only about three and one-half miles of regular cleared out roads… when we came here than I remember, otherwise it was all bush trails," said Steinbrenner, who was also township fire warden for 33 years.
First roads was just a grass track in the center… When the first cars came it was like that too. Just the grass in the center and the wheel track."
Seventeen miles of township roads now exist plus 25 or 30 miles of county roads but with these roads come problems.
People used to walk or use teams in the winter. Now one of the biggest headaches on the board said Hess, who has been town board clerk for 14 years, is providing year-round all-weather roads.
But if responsibilities for roads has grown so have responsibilities in other areas. And more responsibility means meeting more often.
Steinbrenner first joined the town board as a supervisor in 1942. At that time the town board "met whenever there was a little business. And then we met here and there in houses and…in the store now and then in the sideroom."
Even when Hess was elected to the town board they "met maybe four or five times a year and there wasn't too awful much to it, there wasn't the bookkeeping and stuff. Nowadays there's so many rules and regulations, stipulations … open meeting laws … It's a full-time job with part-time pay.
The town board no longer meets "here and there" or whenever business needs attention. The township, in 1968, got its own town hall and the town board meets regularly the second Monday of every month; plus special business meetings."
 Some readers might wonder what's so exciting about that.  Well, it isn't much, but it's just about the only such information I've encountered so far.  It doesn't tell about acts of the state legislature  that brought about changes such as those that are described here. It doesn't tell about changes in the townships' relationship with schools, or with the social welfare systems. It doesn't tell whether any of the changes were controversial. But it does give a hint that there have been changes, and that they have been noticed. Maybe I'll find more of that kind of information elsewhere, and maybe even get the point of view of the people who were affected.

Guthrie Township is the second from the top on this map, and the second from the last stop on the ride on July 12, 2014.