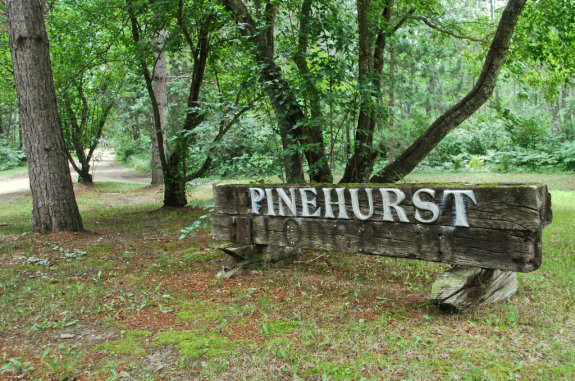 Steamboat River Township doesn't have a township hall. Meetings are held at the Pinehurst Resort on Benedict Lake. But a township with a name like that needed a visit, and besides, the meeting place was right next to the Paul Bunyan Trail. When I left the trail, I almost had second thoughts. It looked like I was on desolate gravel road. But then I saw this sign indicating I was already at the entrance to the resort.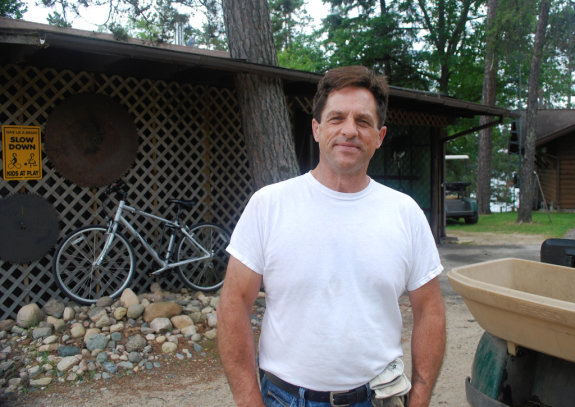 A couple of men who were working in the yard didn't seem surprised to see a a guy ride up on a bicycle. I suppose not, given that even though it's hidden from view, the resort is right next to a trail heavily used by bicyclers. I explained that I was riding to town halls and taking photos of them. This was the first time I mentioned this project to anyone outside my family, some of whom had questioned where such an idea had come from. So it it was encouraging that Tom Knight, pictured here, talked with me as though it was the most normal thing in the world to be doing. He said that yes, he was a township officer, the town clerk. And he noted that the Minnesota Association of Townships is trying to collect photos of town halls. (Here are some of those they have already collected.)
The resort is a multi-generational operation run by Tom's family. There is a lot for everyone to do, and I managed to keep Tom away from his work while we talked. He was able to clear up some of my misconceptions about township government in Minnesota. I had thought that township government was not so important here as in Michigan, because, for example, building permits and inspections in Michigan are handled at the township level while they're handled at the county level in Minnesota. But this isn't quite true. Tom said that in Minnesota, it's an option. Townships can do it. Those in Hubbard County do not, but some Minnesota townships do.  And now I'm not so sure all townships in Michigan do their own permitting, either, even though I don't know of any townships in my part of the state that do not.
There are other variations from one township to another. For example, Steamboat River operates a garbage service for the residents, which is something hardly any others do.
It has seemed to me that every once in a while a Michigan governor, it doesn't matter whether Republican or Democrat, will get the idea of shutting down the township governments, or at least taking away some of their functions.  But the townships seem to have successfully resisted such takeover plans. Tom said that has happened in Minnesota, too. Some minor state funding has been taken away, but the state government's current position is more like, "We know we can't make the townships go away," so it has instead been working with them more cooperatively.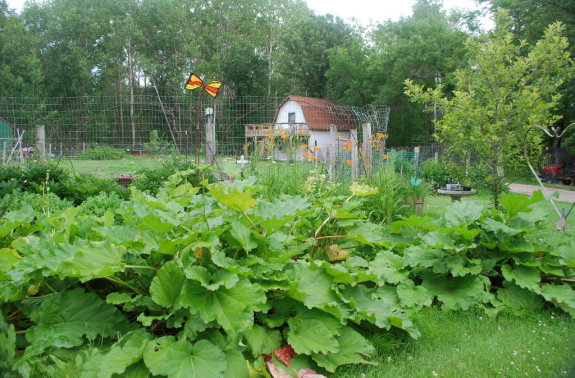 Steamboat River is a small township.  It covers the usual 36 square miles, but most of this area is part of the Paul Bunyan State Forest, and there are less than a hundred eligible voters. There are only a few miles of township roads, those being all of the gravel ones. It doesn't have a town hall, so Tom's barn, as he calls it, is used for its meetings. The building is pictured above, on the other side of the garden. It is not used as a polling place for elections.
I found vote tallies from the 2012 election online. All three of the township officers up for election had run unopposed, each getting 100 percent of the 60-some votes cast for each office. Tom said that he has told other township officers that if he ever gets tired of being township clerk, he might run for supervisor. (The town clerk has more work to do than any of the other officials.)

We also talked about bicycling. Tom said that from what he has observed, it seems there are ten times as many bicycles on the Paul Bunyan trail as there were ten years ago. From what I've observed of the Heartland Trail, which intersects a few miles away, I can believe it.  It was probably ten years ago or so when I did a couple of rides on the Heartland Trail between Park Rapids and Walker. It was sparsely used back then compared to the number of bicyclers I saw on three different rides this summer – and not just on weekends. Tom says the DNR has talked of establishing a bike-in campground not too far from his resort – one that would not be accessible to car campers.  He was skeptical at first whether it would get enough use to be worth it, but given the increase in bicycle use of the trails he says it might work. He didn't mention to me that camping is also available at his resort. That is something I learned from a brochure I got at the Pinehurst Resort web site. But maybe Pinehurst is set up more for RV campers than tent campers.
As to the name Steamboat River, I haven't been able to learn much.  The Hubbard County Historical Museum says, "Steamboat River Township was named for the steamboats from Leech Lake that traversed the waters on Steamboat Lake and River." That leaves a lot of questions unanswered, such as when these steamboats were in operation, and for what purpose. The logging industry? Tourism? And it doesn't explain the connection to the township. Part of Steamboat Lake is in the second township to the north, but neither the lake nor the river are in the township of the same name. So do they have some other connection to this township, other than whimsy? The internet has not informed me.
Pinehurst Resort is at the red marker on the above map. The day's route is shown as a brown line.
I had spent so much time talking to Tom that I didn't get to finish the day's ride at Bemidji, as I had originally planned.  But I still had time for three more township halls before I was done.
[Edit: updated map, 25 November 2015]