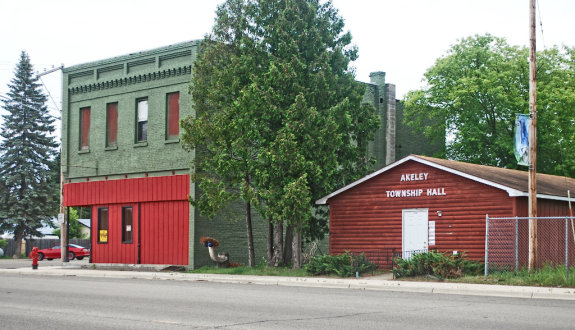 The second stop on July 12 was at the Akeley Township Hall in Akeley, Minnesota.  It's just a block away from the Heartland Trail.

The township halls visited on this ride are shown with square markers. Akeley is the red one.  Township boundaries are shown in orange.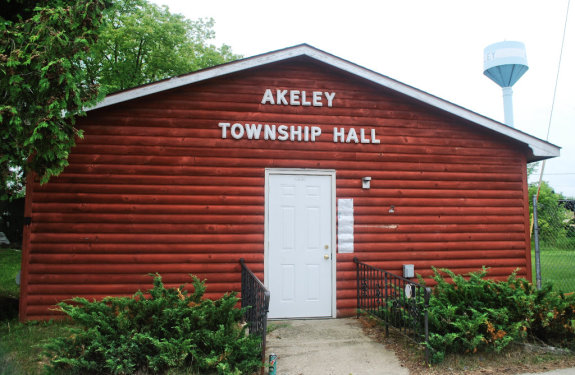 The City of Akeley web site has this page about the township government.  However, there are no minutes of meetings online where I can learn about issues that this township is dealing with. My current practice, in cases like this, is to look at the notices that are usually posted on a signboard or in a window near the doorway. There may be official notices of elections or new programs, agendas of upcoming meetings, and even annual budgets. I make copies for myself using the CamScanner app on my smartphone.  But back in July I had not thought to do something like that.
There is no window by the doorway on which to post notices, but in the photo it looks like there may be something posted on the right of the doorway.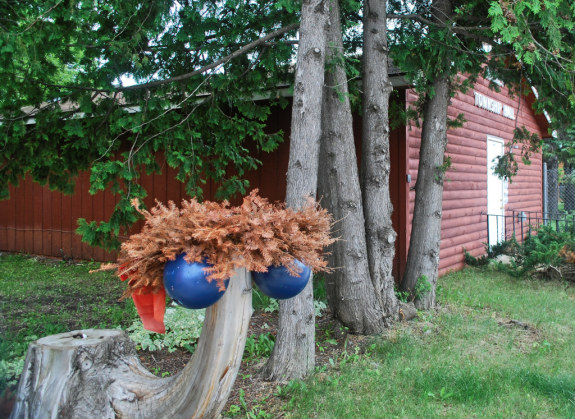 Speaking of windows, this township hall may hold the record for the one with the fewest windows, i.e. none.  My photos of the north, west, and east sides don't show any.  Maybe there are some that face an alley out back, but I didn't go back there to take any photos.
Oh, well. I don't have anything about township business, but here is an Akeley fish story from 1928 by Robert Page Lincoln, found on the Akeley page at www.lakenwoods.com.  When I came across this, it brought back memories of a time, long ago, when I used to enjoy reading this sort of thing.  I don't unenjoy it now, but now there are so many other topics to read about.
[Edit: updated map, 25 November 2015]