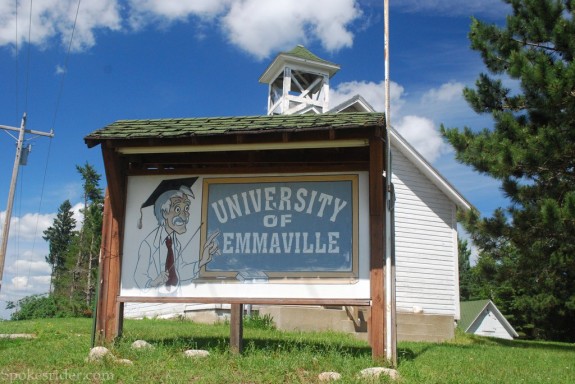 9 July 2014.  Lake George Town Hall was one of the destinations for my second township ride.  Three miles beyond the Lake Emma Town Hall that I had visited two days earlier, I happened upon a little place on the road called Emmaville, with a convenience store on one side of the road and Emmaville University on the other.   I had never heard of it before, but maybe I was the last person to know about it.
Unfortunately (since I was on a township ride, and "Emma" is part of its name) it's just over the line from Lake Emma Township.  It would be nice to report that the former school had once been a town hall for whichever township it is in, but it wasn't.  What is good, though, is that the owners of Emmaville have a web site and blog. I started reading at the following:
They wander into the Emmaville Store glassy-eyed and exhausted. Gathering around the table with their coffee cups, they begin commiserating.  Joe's screen door is broken again.  Bill's beer fridge, so carefully stocked during last month's craft brewery tour, is all but empty.  The custom reupholstered bench seats in Fred's '96 Smokercraft have grape juice stains all over them.  Hank's pickup is half full of dirty diapers, making this week's dump run especially urgent. He gulps down the bottom half of his cup and heads for the door.  The rest stare into their coffee cups, mumbling about the effects of parked minivans on lawns…..
From there I went on to read about the history of Emmaville and this school.  The blog has some historic photos, including a 1914 multi-generational photo of people in front of the school, all with big smiles on their faces (unlike in a lot of 1914-era photos).  Emmaville did a 100-year re-enactment of the scene this year.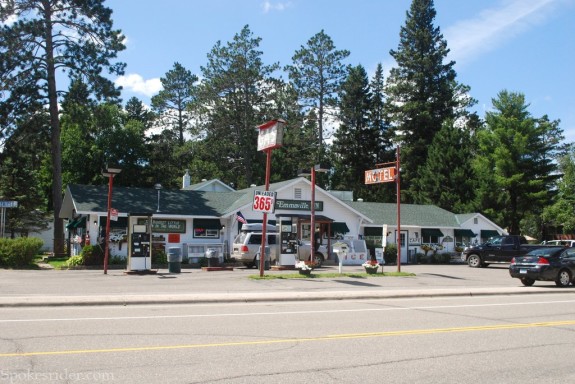 I didn't even stop long enough to go across the street to the store, though I did make sure the "Motel" sign appeared in my photo.  It turns out that there really is a motel of the kind I like to stay in when bicycle touring. However, as long as Mom continues to let me sleep in her basement, I probably won't be making use of this one.
Late-breaking news: Every great university needs a great library. The Park Rapids Enterprise reported Saturday that Emmaville now has one.
The route for July 9 is shown by the heavy reddish-brown line.  Emmaville is at the "E" marker. The township halls visited on this ride are shown by red/black square markers. Those from the previous ride are shown by white/black square markers.  The boundaries of these townships, all roughly 6 by 6 miles, are shown as well.
[Edit: map updated, 25 November 2015]