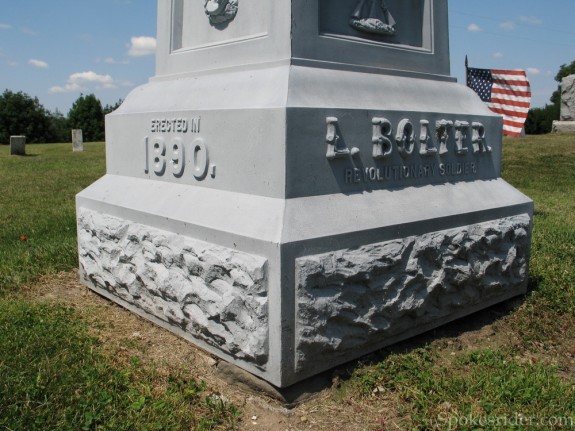 A recent story in the Wall Street Journal about the last remaining person still receiving a Civil War pension ("Still Paying for the Civil War: Veterans' Benefits Live On Long After the Bullets Stop") reminded me to go back into my old photo collection to find the above one taken in 2008 at Shavehead Cemetery in Porter Township, Cass County, Michigan.
I had first encountered the monument maybe ten years before that.  The message on the tombstone had caught my attention, but I hadn't taken a photo, because  L. Bolter wasn't in one of the militias at the time of the Black Hawk war and I didn't want to waste any of my relatively expensive film on it.  (This was well before I had my first digital camera.)  I hadn't even remembered exactly where I had seen it, but I was fortunate enough to stumble upon it again in August 2008, and then took these photos.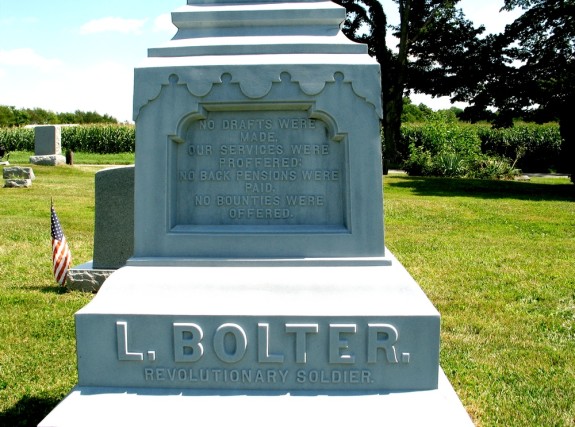 The inscription that had caught my attention was the one that can be seen on this face of the monument:
 No drafts were made, Our services were proffered; No back pensions were paid, No bounties were offered.
When I first encountered it,  the part about "back pensions" struck me as representing a very different time when people wouldn't take all the government benefits they were entitled to, and would consider it virtuous behavior.
However, even back then, this would have been a rare, minority position to take toward military pensions.  Pensions were very important to most Revolutionary War veterans, and were an issue that had to be addressed before the 13 original colonies were even willing to join into their "more perfect union."   Pensions and land bounties for military service in this and subsequent wars played a big role in the acquisition and sale of land for the westward settlement of the United States.  Land bounties were even offered as back payment for the least onerous levels of militia service in Indian wars (as they were called) such as the Black Hawk war.  In "Black Hawk and John McCain" I wrote a bit about this issue as it concerned the election year of 1852.
Although I was under no illusion that it was typical, I thought it represented an opinion that could be found here and there in the early 19th century; that maybe it was the expression of a curmudgeonly old man and intended as a reproach to the younger generations.  However, a bit of internet research has now made me question whether the sentiment expressed on the monument represented the views of the man who was buried here.
For one thing, the statement about pensions is not true.   Lemuel Bolter did receive a pension.   According to Sue Williman's 1920 compilation, "Michigan military records", he was placed on the pension roll in September 1825 for service on the Massachusetts Continental Line, and received an annual allowance of $96.  If he had received a pension for each of the remaining 15 years until he died, it would have come to $1440.  Silliman's compilation says he received $720, which amounts to half of that.  But half is a lot more than no pension at all.  And maybe the $720 is the amount he received while living in Michigan.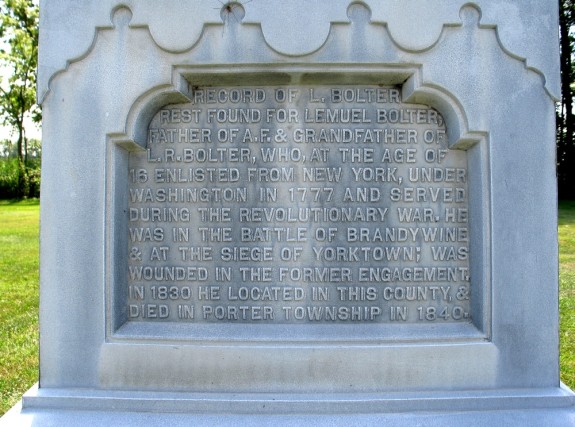 The other side of the monument has the following, which gives a few clues as to where the other inscription came from:
Record of L. Bolter. Rest found for Lemuel Bolter, father of A.F. & grandfather of L.R. Bolter, who, at the age of 16 enlisted from New York, under Washington in 1777 and served during the Revolutionary War. He was in the Battle of Brandywine & at the siege of Yorktown; was wounded in the former engagement. In 1830 he located in this county, & died in Porter Township in 1840.
The date of the monument is 1890. By that time the son, Alexander Flood, had died.  The grandson, Lemuel Rose Bolter, was still alive then, in his mid 50s, and would have had the financial means to erect an expensive monument like this over his grandfather's grave.
Alexander is the only person in the family who is mentioned in the county histories.  The 1882 history of Cass County (page 312) contains a paragraph that portrays him as a lazy deadbeat, who later moved to Iowa, where he died.  That portrayal needs to be taken with a grain of salt.  I suspect that it came from the same person who gave a misleading portrait of Frederick Garver, who had lived several miles to the southwest (see "Frederick Garver's Idea of a Paradise").  The man who portrayed Alexander this way may even have been related to the Bolter family through marriage.
Alexander did move to Iowa, though, as was stated in the 1882 Cass County history, as did his son Lemuel.  Both are buried near Logan, north of Council Bluffs, though not in the same cemetery.  (Lemuel's Find-A-Grave page has a portrait of him.) While they still lived in Cass County, Michigan. Lemuel attended Hillsdale College, though it is not said for how long.
Most of the information I've found about this younger Lemuel is taken from a memorial that was read at the 1902 meeting of The Pioneer Lawmaker's Association of Iowa, not too long after he had died.  I suppose there are parts of it (which I'm not going into) that should be taken with a grain of salt of the opposite polarity needed for the bit about Alexander in the 1882 Cass County history.
Lemuel had gone to California during the gold rush years, had married a woman from back home in Cass County (maybe a next door neighbor – I'm checking on that) and had done well for himself as a lawyer in Harrison County, Iowa.  He was elected to several terms in the Iowa State Legislature, and was once nominated by the Democratic party for a term in the U.S. Congress.   He lost that election, but is said to have done well considering that he was running as a Democrat in a Republican district.
The memorial even quoted the four lines from the monument he had placed for his grandfather, but gave no additional explanation.  It would be interesting to know if he had done something similar to what Rose Wilder Lane is said to have done to reinvent the life of her mother, Laura Ingalls Wilder, so it would fit her libertarian ideology.   But I haven't learned whether or how those four brief phrases on the monument related to any of the political issues that Bolter was involved in.  The memorial stated that Bolter did considerable writing for newspapers. It gave no details, but maybe some clues could still be found in newspaper archives from the region.
The pension records say Bolter served in the Massachusetts Continental Line.  I don't happen to know how whether that can be reconciled with the statement on the monument that he enlisted from New York.  But according to the memorial, the elder Bolter had been born in Maine, which at least gives a Massachusetts connection, since  Maine was a part of Massachusetts during the earliest years of the United States.
I wouldn't mind a bike ride to Harrison County, Iowa, to learn more.   The idea of visiting the Missouri River country is attractive. But it would be better if this story had a Black Hawk connection.   The best I've come up with so far is that after his Gold Rush days in California, Bolter returned to Michigan and studied law with S.C. Coffinberry in Constantine.  Coffinberry has left us one of the most entertaining stories of the Black Hawk war scare in Michigan. However, he was not a first-hand observer.  It would be nice to come up with a better connection than that.  We'll see.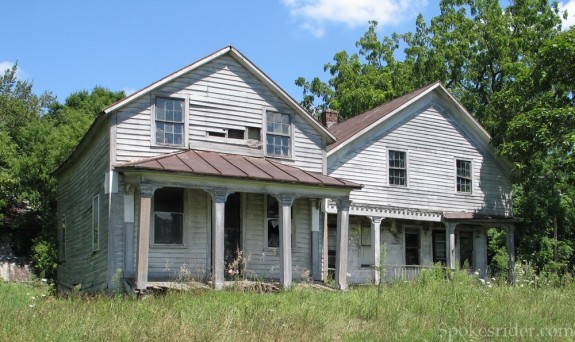 This photo happens to have been taken on the same road where Lemuel Rose Bolter farmed for a while after he came back from California.  (Yes, he was both a farmer and lawyer, both here in Michigan and later in Iowa.)  It may have been a mile east of Bolter's residence, but I am not sure.  I can't see this double building on the current satellite imagery used by Google Maps, so maybe it no longer exists.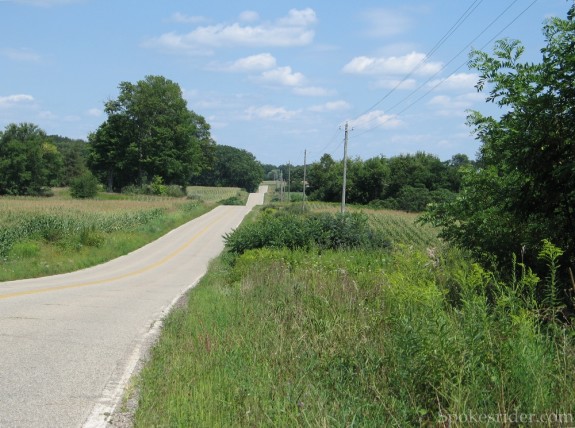 This is one of the last photos I took after leaving the Shavehead Cemetery. I think it's on Corey Lake Road, several miles north of Lemuel Rose Bolter's old farm.
[13-May-2015 Edited to clarify which person may have been related to Alexander Bolter by marriage.]