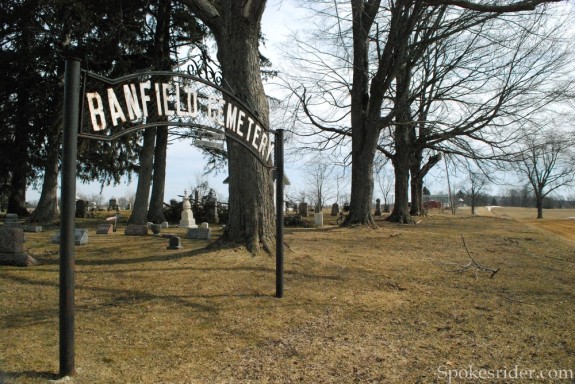 Banfield Cemetery is located in Johnston Township, Barry County — about an 8 mile ride to the north from our house.  Yesterday I rode my new folding bicycle there to look for the gravestone of David Vance.  I am pretty sure the David Vance who is buried there is the same David Vance who was mentioned by Barnes Kennedy of Homer in an 1888 history of that village, as one of 8 men who in May 1832 traveled from Marshall to Schoolcraft to do their duty in the Black Hawk war.  There are no official records about the service of these eight men but it's reasonable to assume that Barnes Kennedy's recollection was accurate.   (See the article titled Solon P. Davis for a list of names.)  After all the years of riding further afield to look for the gravesites of men who served in the Black Hawk war militia of 1832, it was a nice surprise to learn this winter that one of them is buried so close to our home.  It was a good choice for one of the first rides of the new season.  (I'm still looking for additional corroboration, though.)
I knew from the Find-A-Grave web site that Vance and his wife, Sophia, are buried at this cemetery, along with a number of their in-laws.  I didn't expect to have any difficulty finding the gravestone, nor that of two men who are probably their sons.   Their daughter, Elmira, is also buried here, along with her husband, Isaac Stanton.
David Vance may have farmed in the area. There is a 40-acre parcel a few miles north of here that he bought from the government, but I don't yet know where he actually lived or farmed during his working days.  We do know that at the time of the 1860 census he was 76 years old and living with his son-in-law and daughter.  His wife, Sophia, had died in 1858.
Like I said, I didn't expect to have any trouble finding the gravestone among the 1200-some internments in this cemetery.  However, I didn't find it. Nor did I find the gravestones of the two persons who are likely his sons, despite having photos of three Vance gravestones from Find-A-Grave to help me form a search image.  There was still some snow on the ground on the north end of the cemetery, but not enough to keep me from traversing the cemetery several times in a fruitless search.  Nor did I find Elmira's gravestone, but I wasn't looking specifically for that one (on account of not having her name with me).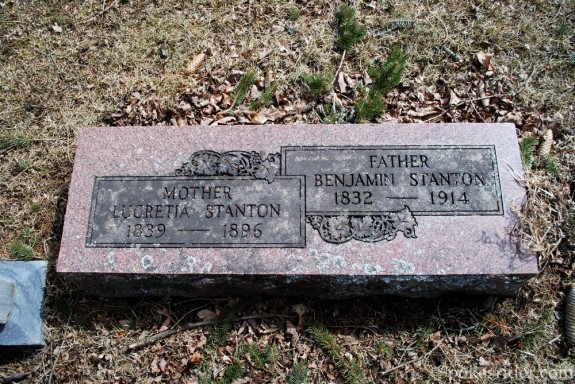 The closest I came was this gravestone for Benjamin and Lucretia Stanton.  I am not sure how these people are connected to Isaac's branch of the large Stanton family that seems to have settled in this area.  Find-A-Grave says there are a lot of Stantons buried in this cemetery, but this is the only Stanton gravestone I found. My search image was the Vance gravestones, though, and I didn't make a systematic effort to look for Stantons.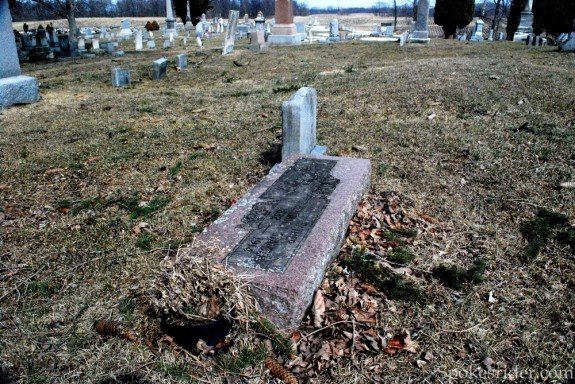 This is another view of the Benjamin and Lucretia Stanton gravestone.  Note the dried-up flower pot on the near end.  When I visit settlement-era gravesites I look for such evidence of living relatives who might be caring for them.  However, in this case it was not at all a surprise.  A few weeks ago I had been told by a former co-worker that some people named Stanton still own at least part of the nearby farm where it seems that David was living with his daughter and son-in-law in 1860.  On another ride I'll knock on some doors and ask about it.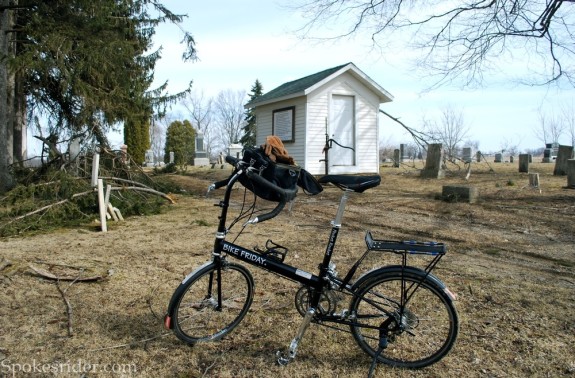 I finally gave up and rode back home.   I ride to Banfield frequently on my way to other places, so there will be opportunities to look again.  There are probably some more gravestones under the mess of branches shown in this photo, to the left and behind my bicycle.  The cemetery was littered with the results of last December's ice storm.  This pile seemed to be the worst of it.  I was able to get a look at one almost buried stone that was still upright, but it's possible that others were knocked down by the branches and are still buried in the snowbank underneath.   However, I doubt that's where I'll find any of the Vance gravestones when I come back. Judging by the photos on Find-A-Grave, it doesn't seem to be the right spot.  The photos seem to be taken on the west end of the cemetery.  I'll look there again, even though I already made several passes over that ground.
Aside from my fruitless search, the main adventure on this ride was getting thrown from my bicycle when I turned onto the gravel road that leads from Banfield Road to the cemetery.  I've fallen off my bicycle before — the last time was 8 years ago at the Tippecanoe battle site — but this time I was thrown off.  I didn't allow for how the small, 20-inch wheels and narrow tires of the folding bike would behave when I turned onto the soft, wet gravel.   In 2006 I fell onto a railroad rail and cracked a rib, but this time I was able to roll as I hit the ground.  The squishy gravel was a lot better to land on than a steel rail, and I don't seem to have suffered much damage other than some shin bruises and a slightly stiff neck.   The bicycle itself was fine after I straightened out the front fender.
Next time I ride on roads like this I'll take my regular touring bicycle with 26-inch wheels and wider tires.
Yesterday's ride: 16 miles. YTD: 49.0