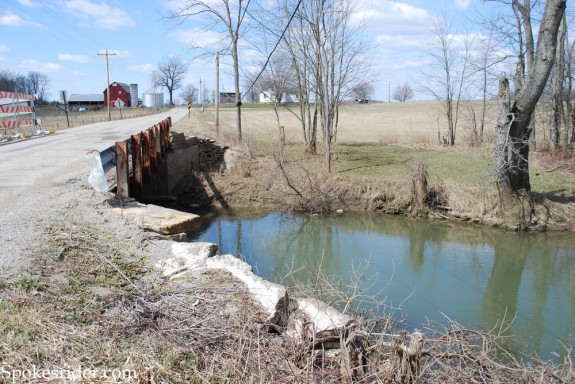 Most of the miles of today's ride from Marion to Mt Vernon were in Morrow County, Ohio.  There were a lot of small bridges. There were iron bridges of various types, including trestles.   Many of these were one lane bridges, but there were also two-lane bridges reduced to one lane, and one-lane bridges reduced to zero lanes.  The bridge pictured here was worth a photo because a) the road follows the Greenville Treaty line, and b) it made a good place for a lunch break.
It was a mile or so south of a place where Cyrus and Hannah Benedict lived after the War of 1812.  When she was an old woman, Hannah wrote the story of their early days in Ohio, doing so at the request of her children. Part of her story can be found here. Some of the places she told about provided intermediate destinations for the day's ride.  Hannah said that Cyrus named the above creek Rush Creek, replacing an early name for the stream.  Rush Creek is what it has been called ever since.
The last part of today's ride was hilly and tiring. Seventy miles of flatland riding with the wind at one's back (like I had on Monday) is much easier than 20 miles of Ohio hill county with indifferent winds.  More hills tomorrow. The day's ride (flatland plus hills) was 58.5 miles.  YTD 228.5 miles.

View 2013 Van Wert to Marietta OH in a larger map