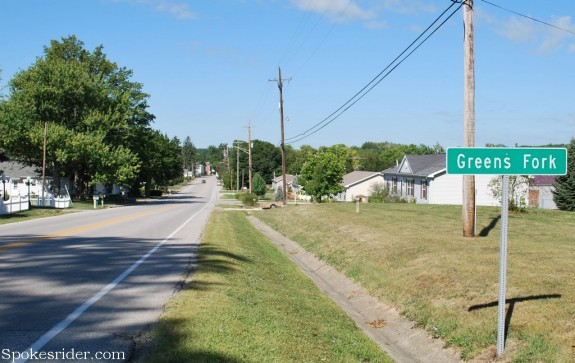 (August 28, continued)  It was hard to get much of an idea of what Greens Fork was like when I approached from the west on SR 38.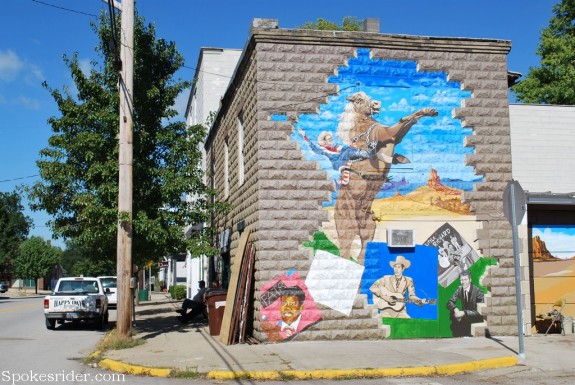 This mural painting (in progress, as I later learned) was the first thing to catch my eye in the old downtown.     Yes, that's Roy Rogers in the center.   More about that later.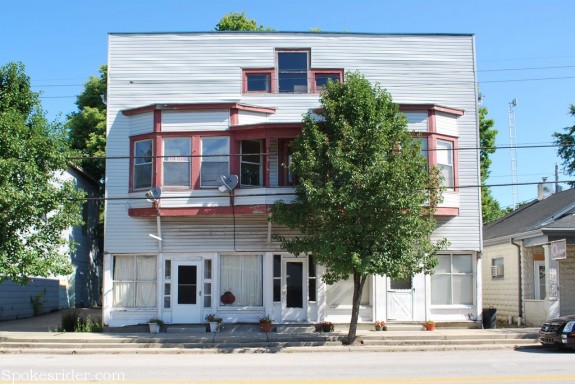 On a web site called "Early History of Greens Fork, Indiana," there is an old photo showing the building to the left of this one.  It can also be seen in the photo below.   If this is the same building as shown on the right edge of that old photo, it didn't always have the same false front.   But is this really a false front?   I don't think there would be room for those apartments behind it if it was.     Maybe it's just a newer building.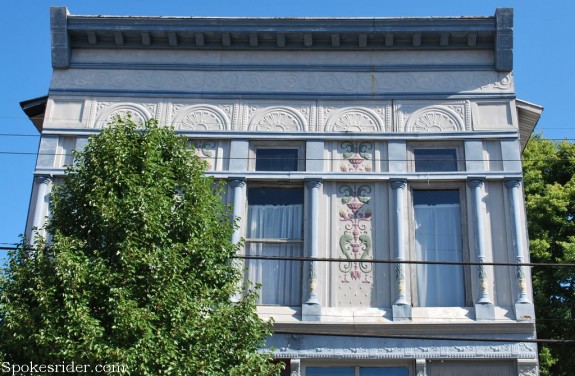 This is the upper level of the building shown in that old photo.   It's hard to say for sure, but it looks like the old building didn't have all the nice relief ornamentation that's on this one.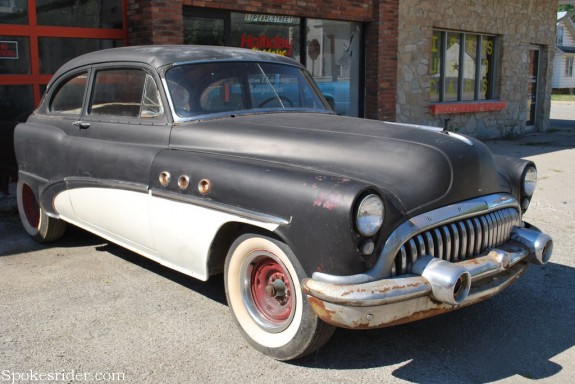 A 1953 Buick, perhaps?   I'm just guessing about the year, but I'm pretty sure it is pre-1954.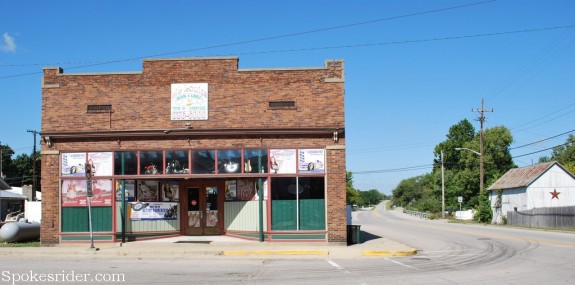 A bridge across the Greens Fork of the Whitewater River is just outside of town, beyond these buildings.
Elijah Martindale referred to the John Green, the Delaware man after whom the village and stream are named, as a "very vicious savage".  He recounted an incident:
Well, we followed the trail to the fort, where the Indians had stopped, dismounted, and were trying to sell moccasins or some kinds of skins to get provisions. Among them was John Green, a very vicious savage. In early times he had a camp on the creek that still bears his name. Morgan and Green were on bad terms before, but just then I saw a little incident, that showed they both had murder in their hearts. Green's knife and deer bleat were close together in his belt. Morgan stepped up to Green, held out his hand to examine the bleat. That instant Green seized his knife, held it in its scabbard, his hand trembled, Morgan cursed him and walked off.
This personal enmity ended in the murder of Morgan, and two half brothers named Beesly. They were attacked, killed and scalped at their sugar camp, at night.
When I got back home after that weekend of riding, I looked to see if there was any information about this John Green in the John Tipton papers.   There was not a single reference.
But tonight I found two web sites that contain local information about him.   According to local Madison County history, Green later had a village  in what is now Anderson, along a little stream that emptied into the White River there.   That stream seems to have been obliterated by the city, but back when it existed it was called Green's Branch.
And from there he seems to have moved further west, to Parke County, where he was shot and killed by one of the settlers, according to an article in an 1883 issue of a Rockville newspaper.    The date is not given, so we don't know if it happened before or after the vigilante action that resulted in the Fall Creek massacre.
Maybe those two leads will help me find more information.  I'd sure like to know what his Delaware name was.
After taking a look at the stream, I went back to the building that had the Roy Rogers mural.  I ended up spending about an hour there.
Today's ride:  30.5 miles
YTD:  1599.5 miles