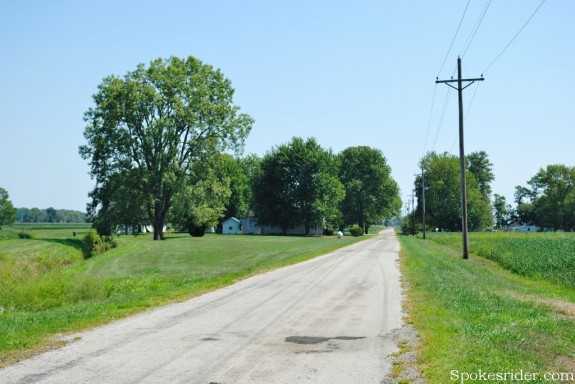 (August 27, continued)  This was the only photo I took on the way between Markleville and New Castle.   There were two reasons to make a stop in New Castle:  1) food, and 2) to get a photo of Elijah Martindale's grave.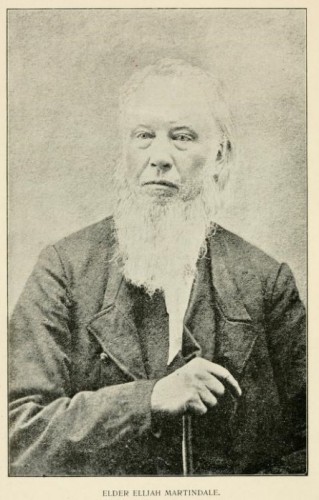 I encountered Martindale when looking for information about War of 1812 settler forts in Wayne County.   He had told about a couple of them, including one on his father's property near present-day Hagerstown, and about his own encounters with Native people at the time.   I'll get into more of that in future posts.
BTW, I like this portrait of Elder Elijah Martindale, taken from an autobiography that was published after his death.  It shows a slightly younger man, with more hair, than the one on a Henry County Genealogy web site and a Restoration Movement history site (see links below) where I first learned about him.   Maybe it also helps that this one isn't tinted red.
He is called "Elder" because of his role in the Stone-Campbell Restoration movement in Indiana.   I must confess that I had never heard of this particular religious restoration movement.  I had heard the term Campbellism, but it had meant nothing to me.     I got a little curious upon learning that Elijah's father told him, "'I never thought I would have a son who would refuse good men a drink at a barn-raising or accept the rotten doctrines of Campbellism."
I also had known that church denominations existed with names like Church of Christ and Disciples of Christ, but had never had the slightest curiosity about them until now, after I learned that these are bodies that grew out of the restoration movement in which Martindale was involved, and that they were in part an attempt to return the church to New Testament ways.    I knew that there have been such movements from time to time, but had no idea that there had been such a movement on the American frontier.
I still can't claim to have learned as much as I would like about this church movement.   Tonight I googled for the term Campbellism and was amused to get a couple of pages of links to pages with titles like "Campbellism exposed," "Campbellism vs. Prayer," and "Campbellism: Its History and Heresies."   The movement still seems to have some enthusiastic opposition after all these years.    For information, I had better success searching for "Campbell Restoration."
But while I was still stuck on the term "Campbellism" I found a link to a blog article titled "Campbellism Exposed!" in a blog titled  "Surprised by Joy."   The blog title caught my attention because it's also the title of a book by C.S. Lewis, who is one of my favorite authors.   Whether that's where the blogger, Ann,  got the title of her blog, I don't know.    In the article, Ann says she was amused to find in a Baptist book store a tract titled, "Campbellism Exposed:  One hundred reasons for not being a Campbellite."   It got her attention because she herself and most of her blog followers come from a Campbellite background.   She says the following is one of her two favorites that are contained in that tract, and I can see why:
#12- Campbellites everywhere have a contemptible grin that nobody else in the world has. That which is characteristic of them everywhere can't be a happen so.
Just dispute the Campbellite doctrine at any point, or preach heartfelt salvation in their presence, and at once they begin to grin.  Nobody on earth has that grin except the Campbellites. I began to notice it many years ago in Kentucky. I wondered if it was not just a local matter produced by ill-breeding. But I went to Tennessee and found the same grin. Then I went to Missouri and they also had the grin. Then I moved to Arkansas, and they still grinned. Then I went to Texas and Oklahoma, and the grin abides. There is something in the Campbellite doctrine that produces it. You can dispute with Methodists, Presbyterians, Catholics, Mormons and infidels, and you will never see that grin. But even the boys and girls among the Campbellites have it. The grin shows a mingled feeling of contempt, insolence, ill-breeding, ignorance and wickedness, a combination to be found in no one else but the Campbellites.
Ann also says in a more recent post that the article in which she quoted the above was her most controversial post of seven years of blogging:
Haha, oh geez. Um, well there was "Campbellism Exposed!" I'm still one of the highest Google search results for Campbellism, which cracks me up to no end.
Well, it turned up near the top of my own Google search.    And by linking to it below, I suppose I'm going to help that article keep its high Google ranking.
I wonder if Elijah Martindale had that grin, too.  (People didn't smile for photos back in his day.)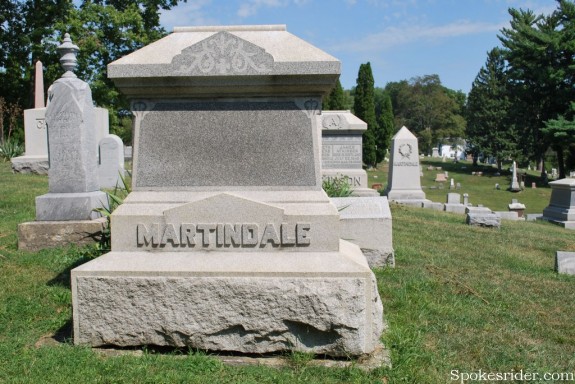 In New Castle I first rode out of my way past the cemetery to get lunch at the Cafe-Royal Coffee House.  Unfortunately I didn't take a photo of the place.  It's one I'd be glad to recommend.   In far too many coffee shops the coffee  is not all that good, but at the Cafe-Royal is was worth the extra riding.   The food was good, too.
Then I went to the cemetery.  It's a big place.  It took an hour of looking to find it, but didn't need to.   I was ready to give up, but did a little more web searching for "Martindale cemetery" on my smartphone, which led me to a link telling me exactly where to look.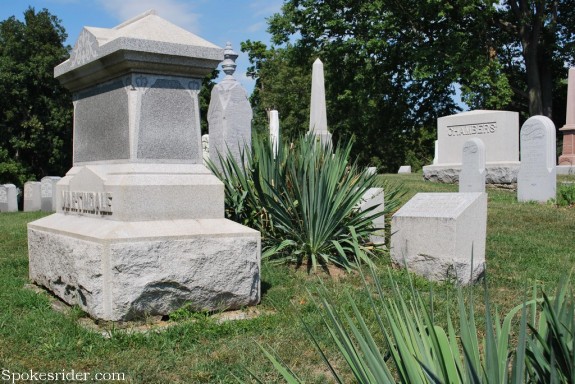 Individual headstones for Elijah and his wife, Elizabeth Boyd Martindale, are behind the big family stone.  Elizabeth's is just about hidden by yucca plants.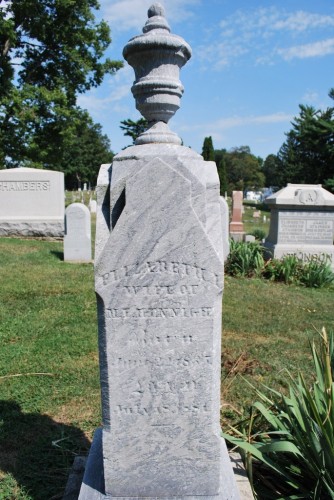 Elizabeth also has another gravestone of her own.  I'm not quite sure how she rated two headstones.   This one doesn't give her maiden name of Boyd, but it seems to be about the only place where there is no mention of it.  The Boyd name seems to have been very important to the family — reused in future generations —  so maybe it would be an interesting family to learn more about.
Here are some links for Elijah Martindale and the Restoration movement:

When I first started the Spokesrider project I had no interest in learning more about the history of the religious institutions of the settlers.   That seems to have changed.    Learning about Isaac McCoy and John Peck got me interested in the various flavors like Baptists on the frontier.   Then there was the Methodist circuit-rider, James Armstrong, who touches the Black Hawk war story in LaPorte county.  I bumped into the famous itinerant preacher, Lorenzo Dow, while studying Parke County's history.    I started to pay more attention to the Society of Friends while learning about conscientious objectors to participation in the Black Hawk war in Randolph County.    And now this Stone-Campbell restoration movement has caught my attention.   Maybe I'll bump into it again.    I sort of did already, on the last day of my three-day outing, while following up on more of the Elijah Martindale story.   But there are quite a few history stops to tell about before I get to that one.