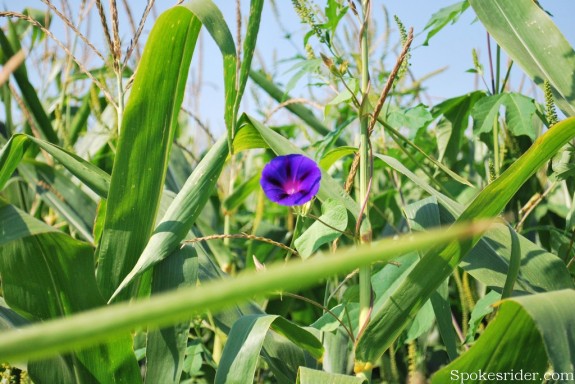 This was the first photo of a three-day weekend. Friday night we stayed in Anderson IN. On Saturday morning I took off on a ride to Richmond. The first destination along the way was the site of the 1824 Fall Creek massacre near Markleville.
I stopped to check my maps at a likely looking road on which to turn south, and took this photo of a morning glory in a corn field to make sure my camera was in working order. (Normal people might take that step before setting off on a daylong ride. ) I was pleased to see that CR 300, where I was turning, was the very road that led into Markleville from the north. On Google Maps it is labeled Markleville Road, but I didn't notice any road signs that said anything other than CR 300. Still, I prefer the name Markleville Road.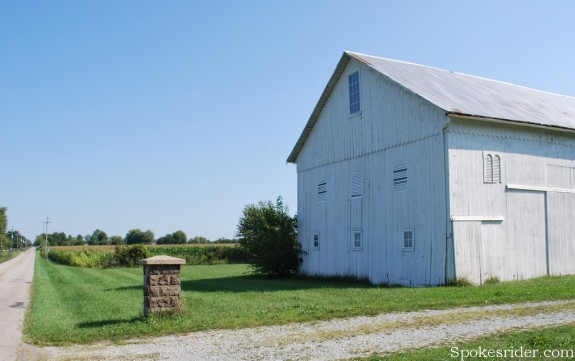 I'm a sucker for barns with louvered windows, even if they are plain-looking and the lighting isn't quite right. Somebody (not me) ought to plot the distribution of these across the U.S. — perhaps in the form of an isopleth map showing density of louvered-window barns per square mile. I would love to study such a map, but don't want to be the person to create it.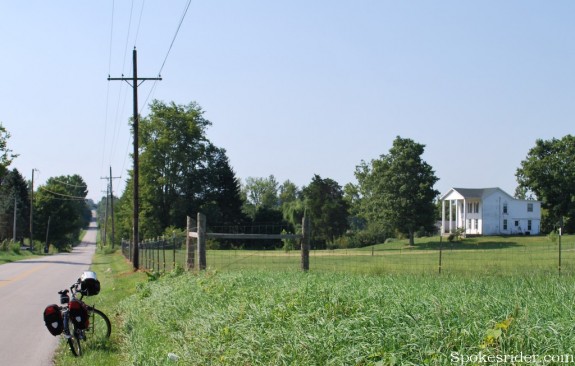 The same for houses with two-story, columned porches. I'm pretty sure that they are more common as you go south from Michigan, but it would be interesting to study a map that shows the density of these per square mile across the U.S.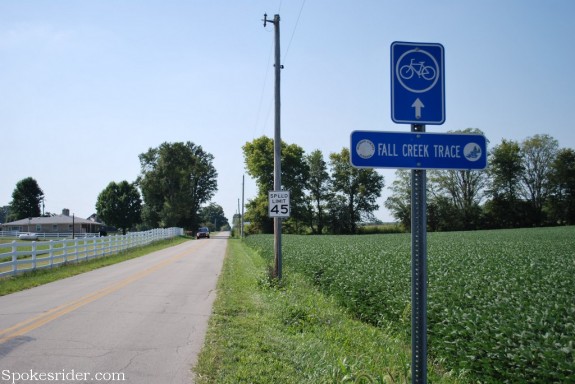 I didn't know what the Fall Creek Trace was, but if it was something for bicycles, I was probably in favor.
I just now learned via Google that it's one of a series of bike routes in a set called Heartland Bikeways of Madison County. There are maps online. Those could be useful next time I'm riding down this way.
I didn't realize until this ride that the Fall Creek Massacre has also been called the Massacre at Deer Lick Creek. But at the point of this photo, I was still a mile or so from that tributary to Fall Creek.
Here's the Google Map for the three days of riding.   The Markleville Road is a vertical stretch on the northwest portion.
YTD mileage: 1560.5