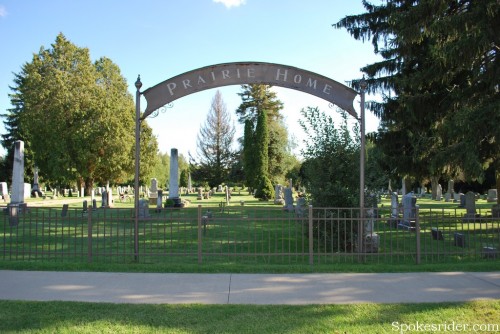 The Prairie Home cemetery in Richland is only ten miles from home.    I hadn't been there since a long-ago Memorial Day when one of my kids was in high school band, well before I started the Spokesrider project.  (Gull Lake High School is almost next door.)
I expected to find that some of the 52 members of Carlos Barnes' militia company are buried here.   I found only two today.   That doesn't mean there aren't more, but I also found another gravesite of interest.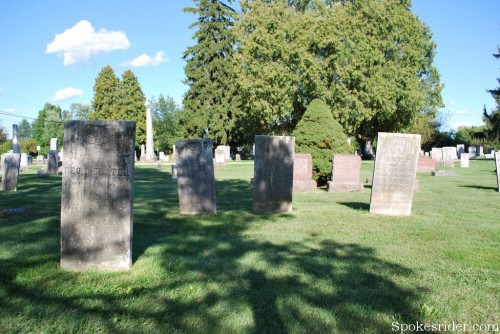 In the foreground are the gravestones of George L. Slater and his three wives.   (I didn't check the dates, but I presume he had one wife at a time.)   I wondered if this could be a son of the missionary to the Ottawa people, Leonard Slater.   It turns out it is.
I've been meaning to go to the Riverside Cemetery in Kalamazoo sometime to look for the Leonard Slater grave, so was a little surprised to see a Slater here.   But maybe some of the Slater kids developed an attachment to this  area when the Slater Mission was located near here.
During the Black Hawk war Leonard Slater was at the Thomas Mission in  Grand Rapids.  The Ottawa leader Noonday (Nawaquegezhik) was closely associated with his mission.  (I see I still haven't posted my photos from a visit to that site from last year.)   Later in the 1830s, as Grand Rapids was getting settled, the mission moved to Prairieville Township in Barry County, 3.5 miles north of Richland, where Noonday and his wife, Somonoque, are now buried.   (I see I haven't posted much about that, either, but there is a photo in an old post, Theology of the Grave.)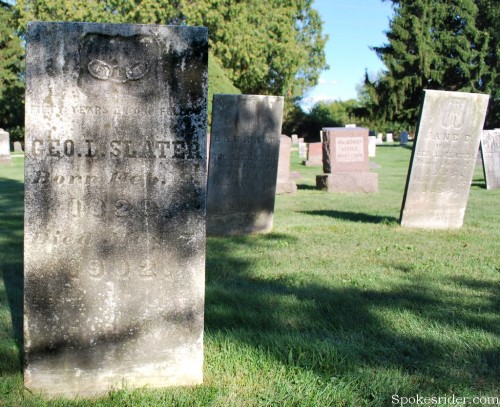 It looks like George L. Slater was born in 1823.   That means he was five years old when his parents moved to the Grand Rapids mission, if I can believe the date given in a Kent County history.  (The dates one finds in the county histories seem to vary a lot, and I don't have my better sources handy right now.)    He would have been a teenager when the mission was just across the Barry county line in Prairieville Township.     The county histories say that the Indians would come to Richland to trade in those days, so it wouldn't be surprising that George  developed some some connections to Richland then, too.      Later on, Indian removal threats caused the Ottawa people to move yet again to get out of the way of settlers, though some of their descendants still live in Barry County.
One of George's sisters, Emily, ran the school in Prairieville Township after her father moved to Kalamazoo.   Finding out where she is buried will be another project.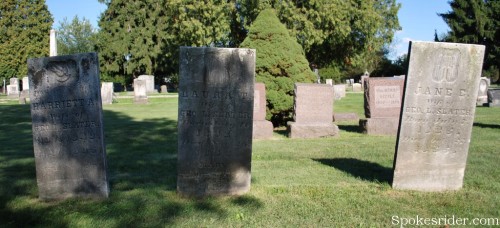 Here are the gravestones of Harrietta, Laura, and Jane.
YTD mileage: 1378.0