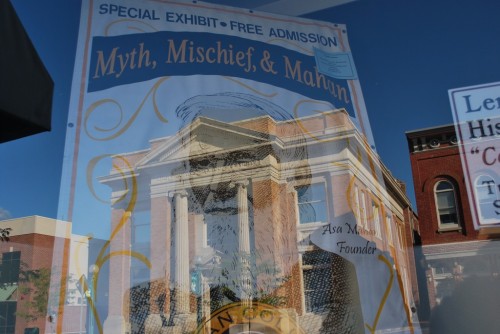 One of the old storefront windows on Maumee Street in Adrian (MI) had historical items on display, such as this poster for the exhibit, "Myth, Mischief, & Mahan."    I gather that Mahan is the founder of Adrian College.   The exhibit seems to have gone on display a couple of years ago in the college Library.   Maybe I'll go see it if I get to make another excursion to Lenawee County this year.
This photo was taken at the end of a bike ride last Monday.  The ride was only 28.5 miles long, but I made the excuse that I was breaking myself back in after two weeks without riding.
I thought I was only taking a rough photo for future reference, but now that I have it I kind of like the way I can see the old Lenawee County Savings Bank  and other buildings across the street.    Below are a bunch of other photos of the old buildings, some of which also show reflections in the glass.   Maybe some of these places have connections to people who were in the Black Hawk militia, but if so,  I don't know yet know which ones they would be.  (Click on the thumbnails to see them in full size.)

I think the building across the street in the photo below, the one with the turrets and towers,  is the historical society museum. If that's the building where the archives are located, I've visited it before. But if so, it seems that the scene has changed a lot since then. The building I remember was right next to a police building, and I thought I remembered more asphalt and less grass. But that was at least 12 years ago. Back then I didn't have the complete list of Lenawee County militiamen from LeRoy Barnett's and Roger Rosentreter's "Michigan's Early Military Forces," so it's time to make a long-overdue trip to the archives with that list in hand.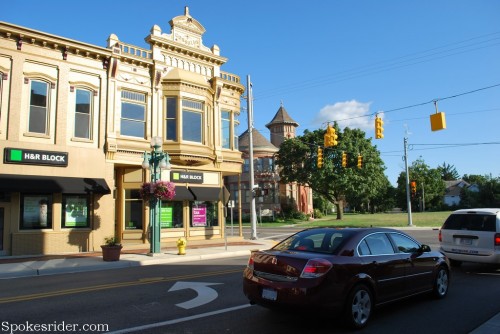 Last Sunday's ride:  12.5 miles.   Monday: 28.5 miles.   Tuesday: 56.5 miles to Grand Rapids OH.   YTD:   1356.5