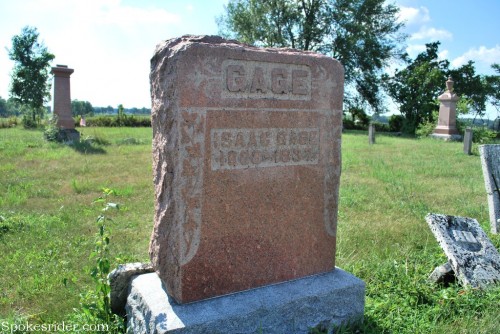 Before riding to the Rogers Cemetery in LaGrange County back on July 29, I should have reviewed my old correspondence with Julie Matthews Burnette.   Julie is a great great great granddaughter of the Isaac Gage who is buried here.   Isaac Gage is most likely the Gage of the "Gage and Langdon war", which was not a war but an incident of a practical joke gone bad during the Black Hawk war.
The cemetery is just a few miles south of the Mongo Dam on the Pigeon River, which is where the joke (a fake Indian uprising, enacted by the miller and some of his Potawatomi friends) was  played on Gage and Langdon, who had taken grain to be ground there.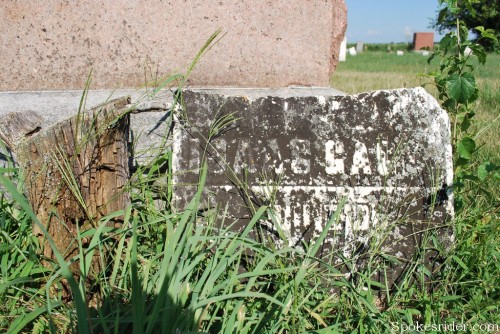 The gravestone in the first photo appears to be one that was placed some time after Isaac Gage's death.   What's left of the original is propped up behind the newer one.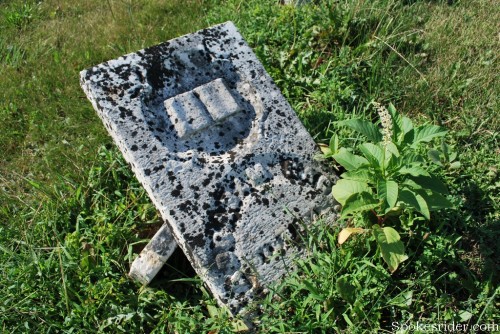 Abraham Gage, father of Isaac, is buried nearby.   Julie says that according to family history, after Isaac settled here, he convinced his parents to come out and settle, too.   That sequence of events is corroborated by land entry records.  Both men bought land from the government, but Isaac's purchases were the earliest ones.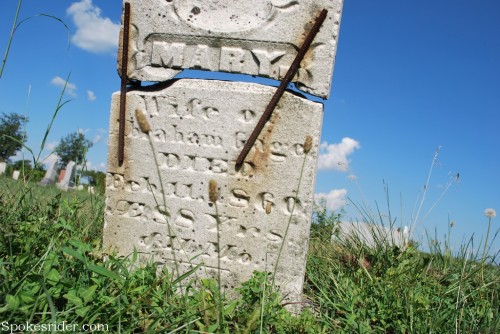 Isaac's mother, Mary Boynton Gage, is buried here, too.  She was a couple of years older than her husband, and outlived him by 17 years, dying in 1860.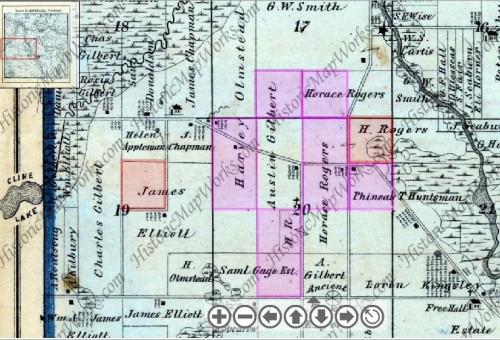 The cemetery is in the center of Section 20 of Springfield Township.  In this piece of an 1874 plat map, I've shaded Abraham's land entries in a orangish color.   The land entries of Isaac and his brothers have a purplish shading.   (The map snippet is courtesy of Historic MapWorks.  If you click on it, you'll go to the original image on the Historic MapWorks site.)
Note that I said brothers.   The General Land Office records show Jacob and William as some of the purchasers.  But there is yet another brother, and this one is the one I should have learned about ahead of time, from Julie's family information.
There was another brother buried here — Abraham, Jr. — the oldest of the siblings.   He came to Indiana with the others, but did not buy land here.   Information passed down orally says he had to interrupt his journey at Ithaca, New York because his wife, Hannah, was ill.   A healer-woman, Julia Holley (aka "Jutti") who had learned her skills from an Indian woman, cared for her but she died anyway.    After ideas for traveling together with another family fell through, he asked Jutti to go with him.   Her father asked, "Married?' to which Abraham replied, "Yes."
According to  family lore, Jutti was somewhat of a social outcast.   People valued her healing arts, but didn't care to socialize with her.   According to the same oral history, Abraham's family would have been glad for him to take Jutti along and dump her when they got to Indiana, but did not want her to be part of the family.
The oral history does not agree completely with the documented records, as found by another family researcher.   For example, records show that Abraham and Jutti married in Indiana, not in New York.
Julie Burnette had suggested to me that the disapproval of Jutti was due to her association with Indians.  I got to wondering if maybe there was an Indian captivity story in here somewhere.   So far I have found no evidence of such a thing, but while looking I did learn a little more.
The family history says two of Julie's brothers later came out to Indiana and Michigan.   That got me searching the census records.   The 1850 census shows that a Benjamin Holly was farming very close to the Gages — the owner of over $1000 of property perhaps a couple of miles to the southeast.    He isn't shown as a landowner on the 1874 atlas, but the surname of one of his neighbors (assuming the census taker went door-to-door, are shown there).   This Benjamin Holly came from Ithaca, New York.
An 1868 plat map of Tompkins County, New York (again thanks to Historic MapWorks) shows the location of several Holly farmsteads in Enfield Township, which lies just outside of Ithaca, or bordering it.   Census records also show Hollys living here for several decades.   I wish I had information to corroborate that these are Julie's siblings or other relatives, but I don't.  (The name Holly is sometimes spelled Holley, as on Julie and Abraham's marriage record.)
I don't have information to indicate that there were any Indian captivity stories involving any of the Holly family.   General Sullivan came through the area on a retaliatory raid against Iroquois people during the American revolution, but that was probably well before the Hollys or any other American farmers of European descent lived here.
That's where I stopped.   Maybe there is a Holly (or Holley) family researcher who will happen across this web site and be able to tell more about whether there were any Indian captivity stories in the Holly family, or other associations with Indians.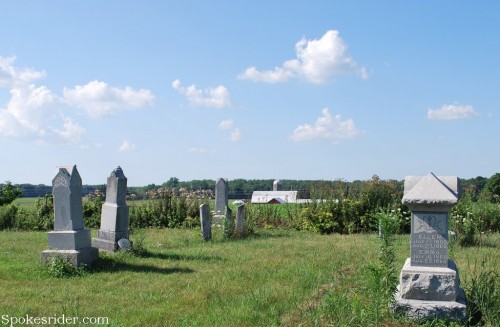 This is a view to the north of the Rogers Cemetery.   I happened to pick a view towards land that was not one of the Gage land entries.   That doesn't mean it was never owned by a Gage, of course, but that farmstead in the distance is most likely not the former homestead of either Isaac or Abraham Gage.
Abraham Jr. didn't live near here.  Possibly because of the unwelcome attitude toward his wife, he and Jutti moved to Constantine, Michigan.   When he died, his body was brought back here for burial.   Abraham and Jutti had two daughters.   Whether Jutti or any of the daughters are buried near Constantine, I don't know, but I'll keep an eye out.   According to Julie Burnette's family information, Jutti (Julie) died in 1899.   And I wish I had looked here in the Rogers cemetery for a gravestone for Abraham, Jr.
BTW, I presume Julie Burnette won't mind my pointing out that she runs a web design business, Julie and Company.    I don't know if she got any of her artistic sense from the Gage side of her family (whether by DNA or otherwise).
Here's the Google Map.   My route on July 29 is shown in blue; July 30 is in red.   The little detour to the south was for the visit at the Rogers Cemetery.   One needs to ride a little gravel to get here.
Bike riding has  been scarce since then.   I got a bad sunburn on my feet while Myra and I were sitting on the beach at Lake Michigan on August 3 — bad enough to keep me off my bike since then.  I'm just getting started again.  We're not experienced beach sitters, I guess.  Bicycling is better.
Yesterday's ride:  12.5 miles.  YTD:  1242.0
[Edit: Updated map, 5 Nov 2015]