It has been a few years since I last got in a 100-mile ride, so I took advantage of the long days of early July and the  good rural roads near my parents' home in north-central Minnesota to try for one last Friday.    If I could have gotten in a complete round trip I would have had about 130 miles, which would have been a new daily record for me.   But I let waning daylight and deerflies keep me from going any further than 120 miles.    The route was clockwise along the brown line shown above.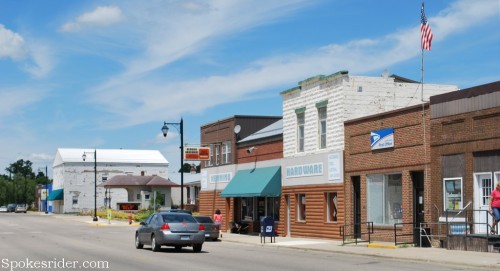 My furthest destination was Henning, where I had graduated from high school in 1966.    The current population is a little over 800, which I think is down slightly from when I went to school here, but up from the 2000 census.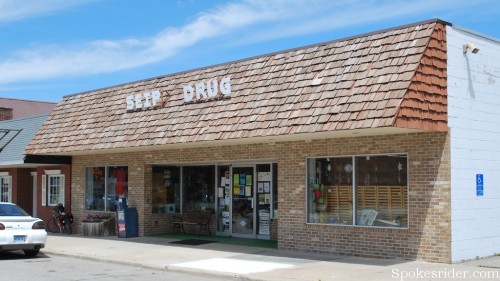 My memories of how the town was laid out were vague, but when I saw a Rexall sign on the back of the above building, I remembered that a couple of friends and I used to go there occasionally at noon or after school.    And this building was on the correct side of the street.  So I stepped inside to ask if it was the very same building, explaining that I hadn't been here in the 45 years since I graduated.   It seemed a lot roomier inside than I had remembered, but I was told that yes, it's the same store in the same location, though now with new owners and as part of a different chain.
I wasn't sure why it was that I used to come here.  The young woman at the drug counter suggested it may have been for the ice cream.   I don't remember that, but I suppose it's possible.    I do recall that a friend and I each won an Agfa point-and-shoot camera here, probably because the two of us were the only ones who filled out the entry forms.    The camera is long gone, but I still have slides and prints I took with it.
I also asked if she knew where the Henning newspaper office had been, back when Henning had a newspaper.   The night before I had read a story in the 1916 history of Otter Tail County about the Henning Advocate in the days of the depression of the 1890s.  I figured it would be worth a photo or two.   She told me there still is a newspaper — the Henning Citizen Advocate — and pointed out where the current office is and where the previous one had been.   I'll put up a separate post about that.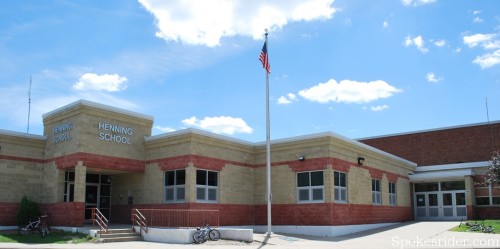 I was slightly disappointed but mostly pleased to see what had happened to the high school.    Most of the high school seems to be gone, but some of it — the gym and auditorium, it looks like — has been preserved and incorporated into a newer, one-story structure that surrounds it on all sides.    I hope it is working out as well as it looks.
Too often, when a school building needs to be replaced,  a new one is built out in the countryside, despoiling the landscape with acres of parking.   This one is still part of the town and community.   The exterior architectural work looks good, and the older part still provides continuity with the past for those of us who value those connections.
I had told a couple of people I hadn't set foot in the town since I graduated in 1966.   I have since remembered that that is not quite true.   I probably drove through the town  2-3 times after graduating, and I was reminded that my youngest brother and I once rode our bikes here from our place out in the country near Ottertail, where our father was pastor of St John's Lutheran Church.    On the ride home I had learned how easy it was to go flying over the handlebars and over my brother, who had stopped at the top of a rise to enjoy the scenery.
There is some nice looking country around here, but after leaving Henning I didn't stop to take many photos.   Such activities would not have been conducive to getting in a century ride.   I'll get back to that Henning Advocate story, though.
YTD mileage:  1077.0