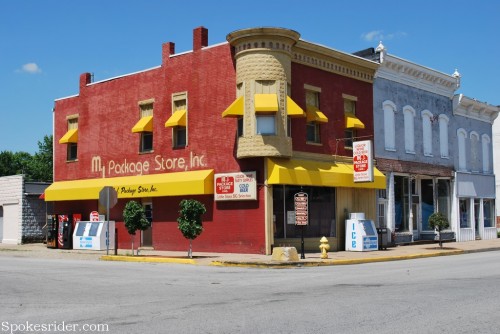 While trying, unsuccessfully, to find information about this building in Walkerton, Indiana (from last Sunday's ride) I came across a biographical sketch of John Rudduck.
It doesn't say the words "Black Hawk war," but Rudduck seems to be saying he was in the militia company from Edwardsville, Michigan.   He refers to the command of a "General Butler."   There was no General Butler, but there was a militia company from Edwardsville under Captain Isaac Butler.  (Inflation of military ranks among neighbors was common in those days.   A man who worked as a teamster might be forever referred to as Colonel, and so on.)
Here is the sketch from Chapman's 1880 history of St Joseph County:
John Rudduck was born Feb. 16, 1809, in Guilford county, N. C. Tradition is that his great-grandfather came from Ireland about one century prior to the Revolution, and settled in North Carolina. He married and had a son, William, who married and had 2 children, Jane and John. John, the father of the subject of this notice, was left an orphan at a very early age, and was bound out to learn the hatter's trade; after attaining his maturity, he married Ursula Crews; and some years afterward emigrated to Tennessee, where he stopped on the Clinch river, and thence moved to Kentucky, and thence to Clinton county, Ohio. Their children are William, David, John, Sarah, Nancy, Isaac, Jonathan A. and Moses M. Mr. R.'s father died in Warren county, Ind., and his mother in St. Joseph. Mr. Rudduck served an apprenticeship with his father at the hatter's trade till he was 21 years of age, and then shouldered his rifle and knapsack and started for Michigan, where he arrived in May, 1832; while there Mr. Rudduck was a member of the military company under Gen. Butler; and while in that State he attended an Indian "war dance," at Edwardsburg, Cass county. He remarks that it was the most hideous sight and warlike he ever witnessed. In 1832 he came to St. Joseph county, at which time the country was a perfect wilderness. He followed the Indian trail from Logansport to the St. Joseph river, where Mr. Coquillard kept a trading-post with the Indians. He visited the few families that had settled in the great forest. At first he engaged in breaking prairie and made himself generally useful among the settlers. Aug. 1, 1833, he was married to Elizabeth, daughter of Jacob and Susanna Rupel, who were old settlers in this county. To them were born 8 children, 3 living, viz.: Nancy E., wife of Jackson Gard; Maria A., wife of Michael Loy, and Martha C., wife of Geo. W. Garwood. Mrs. R. died Jan. 30, 1874, and Mr. R. again married in October, 1878, Mrs. Sophia Cook, formerly the wife of Rev. Elias Cook, deceased. Mr. R. is a member of the M. E. Church.
Some notes:
Rudduck was four days younger than Abraham Lincoln.
While there was a militia company from Edwardsburg that was led by Captain Butler, Rudduck's name is not on the roster.  Neither is it on the roster for any other of the Michigan militia companies.   (I'm referring here to Le Roy Barnett's roster, published in 2003.)
Rudduck's bio is in the section about Lincoln Township (where Walkerton is located).  But Rudduck made land entries on Section 17 (T36N, R2E) in what is now Greene Township.  The Greene Township history in the 1875 atlas lists Rudduck as one of the early settlers there.  But it does not show a Rudduck as a then-current landowner at that location.
Rudduck's description makes it sound as though he witnessed an Indian council, of which there were several at the time of the Black Hawk war.   The Potawatomi Indians of Michigan were trying to decide how to respond to the Black Hawk events.   However, I don't recall off-hand any other mention of one that was held at Edwardsburg.    This needs to be investigated further.
Rudduck married into the Rupel family.   Persons with that surname seem to have been major landowners in Walkerton.   The plat maps indicate several "Rupel's additions".
A "Quaker history" of Guilford County, North Carolina (where Rudduck was born) indicates that a John Rudduck was a member of the local society.   This was possibly an ancestor of the John Rudduck in Indiana.   But the biographical sketch of the John Rudduck from St Joseph County says nothing about a Quaker background.   Was Rudduck aware of his Quaker heritage when he came to Michigan at the time of the Black Hawk war?   Did it have anything to do with the fact that his name is not on the roster?