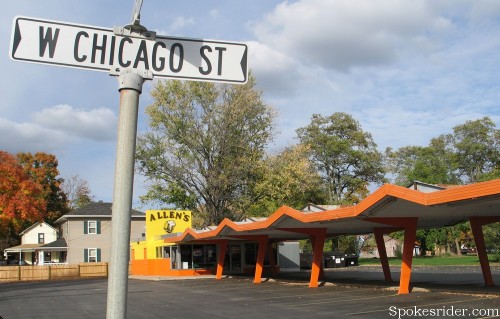 Back on April 26 I posted a photo of Allen's Root Beer Drive-In, from a ride through Coldwater in October 22 2005.    I've since found a web site, Roadside Peek, that has photos of a number of old Root Beer places and Drive-In eateries that are still doing business.    It's fun to browse there, especially if you like to indulge some nostalgia for neon lights.  Allen's Root Beer Drive-In is featured in a section  titled "Root Beer East."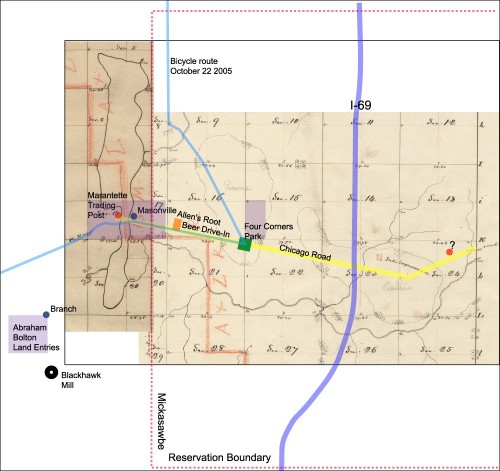 I must confess that in all the times I've ridden past Allen's, I've never stopped there to eat.   That's usually because I've already eaten at the North Woods Coffee Company, a mile to the east.   Black Hawk passed through here several times, too, but a more likely place for him to stop would have been at one of the two trading posts, one on the east side of Coldwater Prairie and the other on the west side of the Coldwater River.
The above map is based on one I made up a couple of years ago, which showed the location of the Chicago Road on two pieces of old surveyor plat maps that I pasted together.  (Old Trails in Coldwater Township)   My route for the day took me from north to southwest, and is shown by the thin blue line.   The Four Corners Park, which is the location of a recent controversy regarding tea-party signs (Coldwater Public Square) is shown by the green square.   Allen's is shown in orange.   The two trading posts are shown as red dots.    The location of the west one is more exactly known than the one on the east end of the prairie.
Patrick Marantette told of an incident when Black Hawk's group did business with him at the west one.   It was in 1825, when he was 18 and  Black Hawk was on his way back from getting presents from the British at Fort Malden.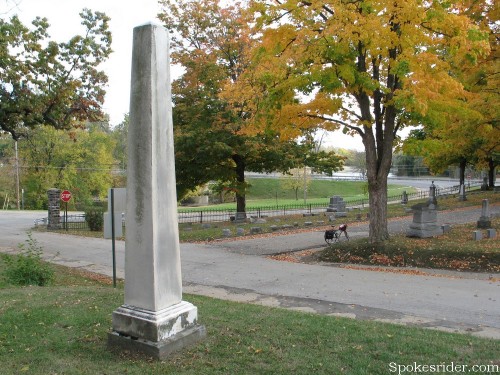 When I stopped for photos in October 2005, I did not realize that the gravestone pictured here, near the site of Marantette's trading post, is that of Loren Marsh, another of the Indian traders who did business here.  In some places it is said that his trading post was on the east end of the prairie, out near the present-day Wal-Mart.   In others it is said that it was here on the west bank of the Coldwater River.   It could very well be that both were true, but at different times.
The writer of an article in the May 27, 1887 issue of the Coldwater Republican said that Marsh had "possessed a peculiar attachment to these aborigines and an inveterate hatred of his own species."    According to this writer, Marsh had come to own twenty acres here at the site of the old trading post.   It's now a cemetery, but Marsh did not want it to become a cemetery.   Actually, part of it already was a cemetery when Marsh was alive.  There were Native Americans buried a stone's throw away from this point.  Marsh apparently thought it would be a desecration to disturb them.   So some of the city fathers bought the land from him by subterfuge, and then turned it into a city cemetery.   Marsh was highly displeased at that, but ended up being buried here himself.
It seems Marsh had no family here.  When he died, a sister out east was contacted.   I've tried to find more information about her, with no luck so far.
I am not sure if the writer for this newspaper article had ever known Marsh or a Potawatomi Indian, but he portrays Marsh as an odd duck who didn't quite fit in with the new American society that came to be here.    I've come across other articles in old Coldwater newspapers  that don't display quite the same level of bigotry, but which do seem to portray Marsh as an eccentric character, at least in his old age.
So with that information in my head, it was a bit of a surprise to me tonight to learn that Marsh had been a bank director in the late 1830s.   I had gone to the 1879 county history to re-read what it had to say about the wildcat banking days of the late 1830s, and saw Marsh listed among the directors.   It was a bank that quickly went bust, defrauding the original investors, of whom I presume Marsh was one, otherwise he wouldn't have been a director.
I was digging into this story because George Selgin, an advocate for "free banking," challenged some of what I thought I knew about banking in Michigan during these days.    It's too early for me to report back, but maybe there is another bike ride in it.
YTD mileage:  351.5