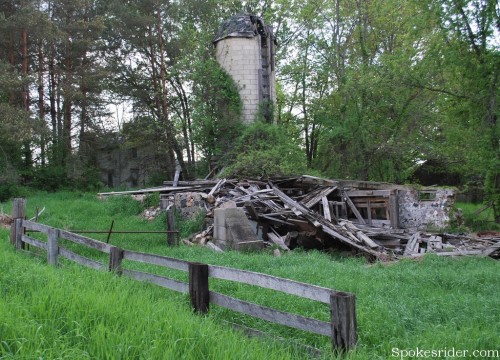 On an afternoon ride to Convis Township in my home county of Calhoun, my first destination was the farmstead of James and Sarah Mayo.    Unfortunately, it looked like the barn has fallen into ruin, and the house a little further back looks destined to follow it.
The day's route was in part a clockwise loop.   The place pictured above is near the upper-right corner of the loop shown on the map.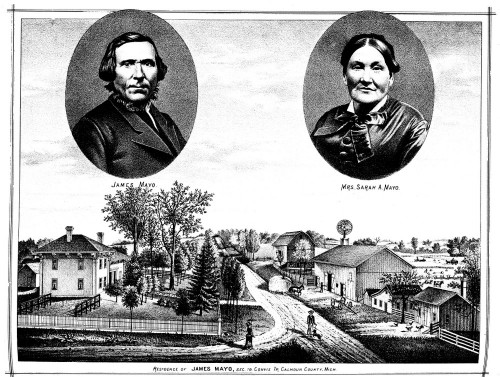 But when I got home, I couldn't reconcile the layout of that  place with the one pictured in the 1877 history of the county.  (I got the illustration from Michigan County Histories and Atlases.)   The illustrations in these county histories aren't photographs, and I take the woman and her parasol in the foreground with a grain of salt, but usually they match better than what I found today.    If the illustration is a view facing northward, the road should have bent to the left.  And the roofline of the house was not at all a match.
It turns out I had stopped at the wrong place.  The farmstead in the photo had been on property that once belonged to an R. Mayo, but the James Mayo I was looking for lived on Section 19, not Section 17 where I had stopped.   On previous rides I have ridden past the house I was looking for, but haven't been able to find any photos of it in my collection.   So that means another ride one of these days.   From the satellite view, it looks like the house at the correct location has a roofline much like the one in the illustration.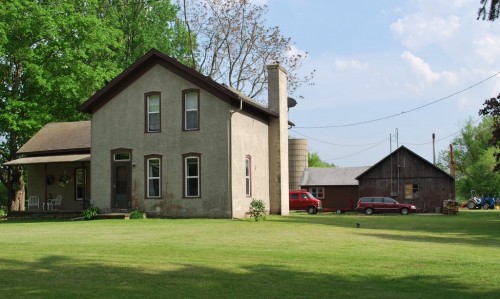 My next destination was the farmstead that had belonged to Perry Mayo, son of James and Sarah, and his wife, Mary Bryant Mayo.    It's on the Marshall side of the line between Convis and Marshall townships.   I mentioned Mary Bryant Mayo a few posts ago ("Newton Grange").   As part of her activity in the Grange movement she lectured around the country and wrote articles in an effort to improve the place of women on the farm.   The paragraphs below are from an article about her,  Woman's Work in the Grange: Mary Ann Mayo of Michigan, 1882-1903, by Donald B. Marti in the April 1982 issue of Agricultural History.     You can think of the place pictured above when you read about her involvement in farm work and how she had to put up with the condescension of town women.
[Mary Bryant Mayo's] understanding conformed to an ideology that was taken comfortably for granted by genteel town ladies and magazine editors, but that offered some novel and attractive possibilities for farm women. … It required somen to uphold the 'domestic' virtues apart from the hard, masculine world.  That meant homemaking, chiefly, though woman's work also included social uplift.   Women have often found the ideology confining, but as Carl Degler observes, it offered 'an alternative to patriarchy' and 'reflected improvement in the material situation of women.'   It showed that some women were enjoying sufficient leisure to specialize in high-mindedness.

Nineteenth-century feminists objected to that specialization.  They said that women were being deprived of economic usefulness, reduced to a 'parasitical' state of 'ornamental idleness' which made them restless and unhappy.   That was arguably a real problem for middle-class urban women, though most of them worked harder than feminist writers seemed to recognize.  It was not often a problem for farm women.  Their discontents, Mrs. Mayo and other Grange women observed, resulted from an excess of hard work.   Drudgery got in the way of the higher functions that the 'cult of true womanhood' assigned to women.

Mrs. Mayo knew all about the hard work that farm women had to do.   In her young married days, when tasks outnumbered hands, she sometimes joined her husband in the fields.  Later, when the farm attained some modest prosperity, she was relieved of that, but work around the house remained heavy.   She had a girl to help with chores, sometimes, but that was a great luxury, not to be taken for granted.   Good servants were hard to find and harder to keep.   And most farm women, as Mrs. Mayo understood, could not afford them at all.

The difference that made between farm women and women who were troubled by 'ornamental idleness' was clearly drawn for Mrs. Mayo soon after she married in 1865.  Shopping in nearby Battle Creek, she met a fine town lady, a former school friend, who expressed regret that Mrs. Mayo had married a farmer.  She said that farm women could only 'work hard and make lots of good butter.'   The lady was patronizing Mrs. Mayo.   Seen from the high vantage of Battle Creek, farm women were not sufficiently free of coarse labor to meet the lofty demans of true woman-hood.   That was part of the immemorial stereotype of farm people, supposed to be dull peasants, which agricultural organizations had been fighting since the first years of the nineteenth century.   Mrs. Mayo fought it for the particular benefit of farm women.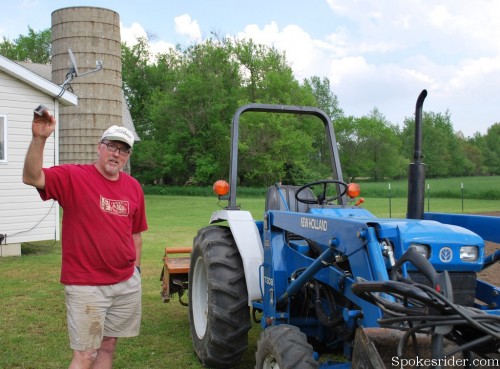 The current owner of the farm is Jim Fletcher, an optometrist.  He says he has just recently managed to get the land to pay for itself, a little bit, and has done it without selling off lots for development.
He is well aware that this is a historical home.   Jim says he had transcriptions of the many letters that Perry Mayo had sent home while he was soldier in the Civil War, but that they had been stolen from him.   He thinks the originals are in the Michigan State University archives.   He also has old photographs of the Mayos on their farm, and offered to make copies for me.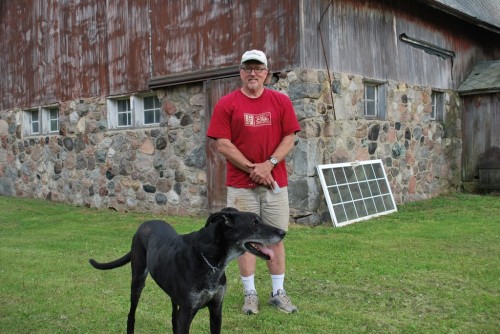 Here he is standing in front of the barn — which judging by the stonework goes back to the time of  Perry and Mary Mayo.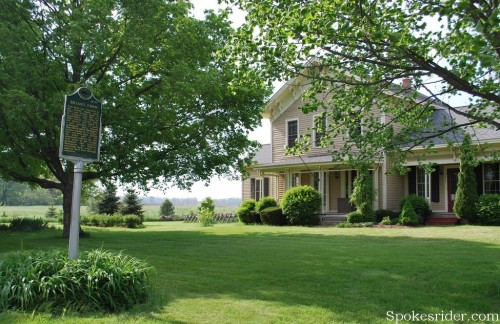 Jim pointed out that when they first bought their place, a Bryant still owned a place on the other side of the road where Mary had been born.    When I rode down there I realized I had  stopped there to take photos a few years ago.   Those are probably better than the one I took today, but I didn't try to find them now.   Somehow I had completely forgotten about the historical marker in the front yard.    I guess it wasn't until recently that I got interested enough in the grange movement to pay attention.
Today's ride:  36.5 miles  (Toward the end I became aware that I need to get in much better shape before I can expect to do 80-100 mile rides this year.   Either that or I need to become younger.)
YTD 292.5   (Not good for late May.   There have been years when I had that many miles by mid-March.)