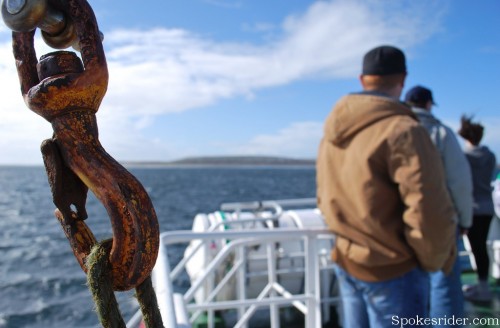 This was taken on a ferry last week.   We were approaching Inishmaan, one of the Aran Islands off the cost of Ireland near Galway.   I came here knowing that bad things had been happening to this blog.   Before we left Dublin the previous morning, I had discovered that the situation was even worse than I had thought the previous day, when it looked like there had been some sort of corruption of the data.   The DNS entries that point to this blog were gone, and I  had no way to do anything about it.   I finally put it out of my mind (most of the time) by the time we approached the island.
I've since learned that my ISP had a disk failure, as I had suspected.   My webs have since been restored from backups.   Only one post of mine was lost, and I can re-create it easily enough.   What hurts most is that some recent comments were lost.   Those comments included e-mail addresses  of people I wanted to get in touch with.   One of the things I like best about doing this blog is hearing from people who can tell me more about the places and people I write about here.   I hope that those whose comments are lost will be willing to repost something so I can get in touch.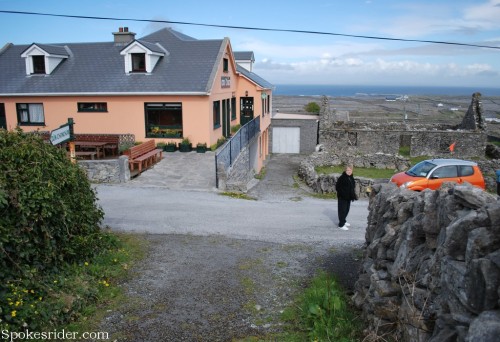 When we got off the ferry, we weren't sure if we were going to be able to stay the night, or if we'd have to catch the evening ferry back to the mainland.   We had no reservations, and weren't even sure any B&Bs were open at this time of year.   After about a mile of walking we spied the building shown here, and another half mile brought us to it.   It turned out to be a B&B known as An Dun — for all we know the only one open at this time of year — and we were fortunate enough to get a room.   We were able to get an excellent evening meal here, too.    Our window faced the sea.   Myra says it's the nicest view we've ever had.  (We highly recommend it on all counts.)
When we got back to Dublin I was glad to find that the DNS entries were back, so people were at least able to get to www.spokesrider.com again, even if not all was restored to the state it had been in when we left home.
YTD mileage:  99.  (The bicycle didn't go to Ireland this time.   We did many miles of walking, though, including several miles on this island.)