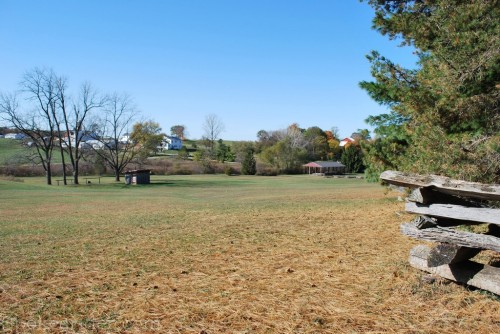 I'm still on the topic of Captain James Manary of Ohio, even though this scene is in Elkhart County, Indiana.   It's from the 2nd day of my  October ride to New Madrid.  I stopped for a peaceful mid-morning break a few miles east of Topeka, at the David Rogers Park, as I usually do.  Sometimes there are a lot of horse hooves to be heard on the roads, but it was Sunday morning and most of the Amish families were already at their church services.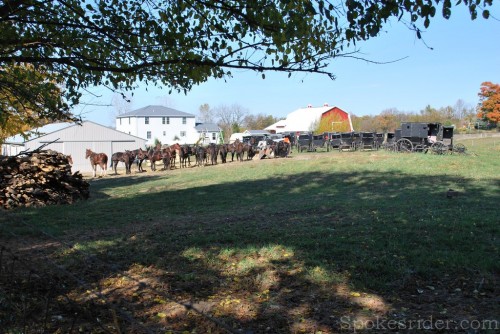 This view is from the other side of the rail fence shown in the first photo.   There are horses on the left, buggies on the right, and a bobcat front-end loader in between.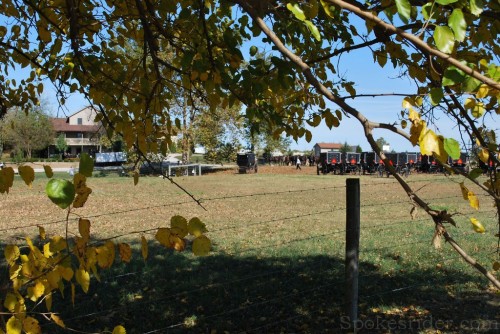 A couple hours later I was south of Millersburg, in Elkhart County.   Church services were over by now.   The families were taking advantage of the good weather to have their noon meal outside.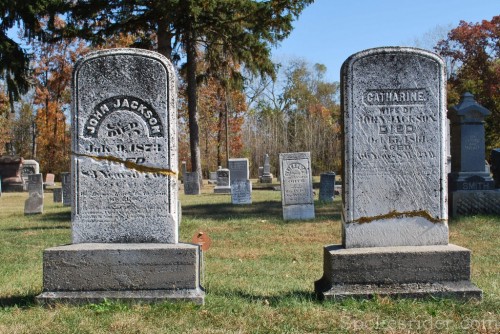 After having spent most of the morning in the country of pacifist Amish people, I turned to scenes of war.
I debated with myself whether I should go even slightly out of my way to stop at the Jackson Cemetery near Benton.   But it was hard to resist another stop there, to once again visit the gravesites of John and Catherine Jackson and their family.
Jackson had first seen this place on September 11, 1812, when he was an officer in an  Ohio militia company that had come to destroy the village of Five Medals.   It was a 911 event for the Potawatomi people.   This cemetery is off the southeast edge of the prairie, but if one turns around from viewing these gravestones and looks west, one can see where the village had been located.
One thing I didn't know until just a few days ago was that before he died John Jackson had written about the time his militia company spent at the Manary Blockhouse.  Those events took place later in the year, after his men had returned from their expedition to Five Medals' village.   I'll get to that topic shortly.
The red line shows my route for the day.   Elkhart Prairie, now partly taken over by the Goshen airport, is still is visible on a satellite view.