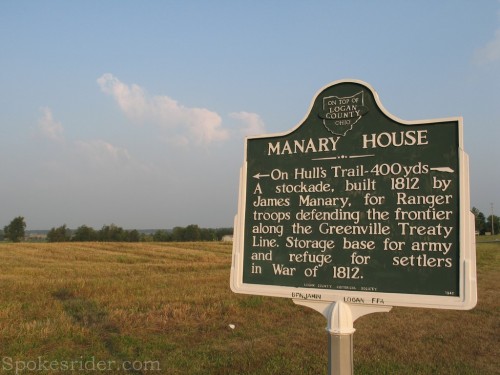 (More from Labor Day weekend, 2008.)   As stated in the previous post, this marker for the Manary House is just outside of Bellefontaine.   One source says Manary had a trading post here, even before the war broke out.   James Manary's home and farm were near Bourneville in Ross County, a hundred miles to the south.    I suppose it's possible that he did a lot of traveling back and forth.
In his 2003 book, The United States Cavalry : An illustrated history, 1776-1944, Gregory J.W. Urwin explains the purpose of James Manary's company and other mounted companies like it:
To counter the expected influx of raids [in the aftermath of Tippecanoe], in January 1812 Congress authorized the formation of seven companies of United States Rangers.  Two of these mounted units were to be raised in Ohio…  The Ohio companies of Captain James Manary and William Perry were the first to mobilize in April 1812, and the others fielded soon thereafter. … Part regulars and part woodsmen, the U.S. Rangers were supposed to patrol between the blockhouses erected by the state and territorial governors, and cooperate with the local militia in punitive strikes against marauding bands.   The idea proved so well-advised that Congress formed ten more companies in February 1813; four in Indiana Territory, three in Illinois and three in Missouri.  They would all find their services much in demand.
Congress may have thought well of their work, but the Ohio companies got no respect from General William Henry Harrison and his friends.     In the last post I quoted Harrison's report in which he called Perry "a fool a coward and a drunkard" and Manary a "poor old imbecile creature."  Harrison's friend, the Indian agent John Johnston who lived at Piqua, didn't have much good to say about Manary's work, either.   A few weeks after Harrison's report to the Secretary of War, Johnston wrote him saying,
I am glad you have ordered James Manary's Rangers to Loramie's as they have heretofore done us no good.   If they were divided into two squads one to be placed at Greenville and the other to remain at Loramie's and directed to range the intermediate country it would more effectually cover the frontiers,  unless they are specially & pointedly ordered to do their duty we shall derive no benefit from their services.   The Indians are hovering about and only want an opportunity to strike.  Their signs continue to be seen in this neighbourhood …
(This is from a letter dated October 23, and is found in the same volume of Governors Messages and Letters, published by the Indiana Historical Society, as was Harrison's letter.)
A source of confusion in trying to learn anything about James Manary is that there were two men of that name, father and son, and that both were officers in the War of 1812.  I assume the James Manary of the trading post near Bellefontaine and the ranger company referred to by Harrison and Johnston was the younger of the two, though I am not 100 percent certain about that.   Harrison's letter refers to Manary as "old," but a footnote in the Governors Messages and Letters says that the younger Manary is the one who had been appointed as a captain at this time.  According to that source, the older man was also appointed as a captain, but not until the following year.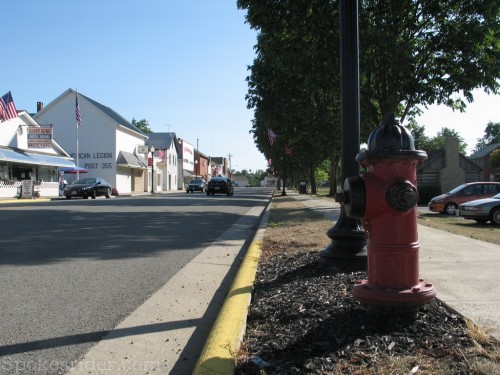 Johnston referred to Manary having been sent to Loramie's.   It so happens I had visited Loramie's myself a few days earlier on this same Labor Day weekend outing.   This photo is looking south on the main street in Fort Loramie.   The trading post had been a little north of where the town now lies.   There are brick buildings only on one side of the street because this was a canal town.   The canal bed was in the area to the right of the sidewalk.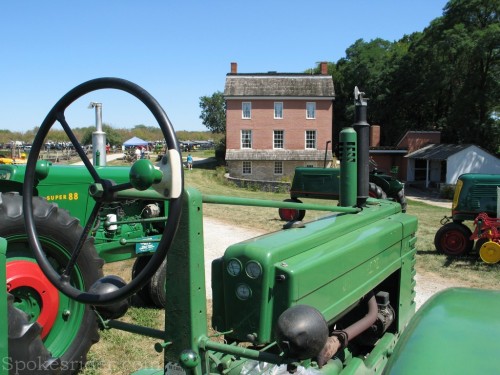 That same day I had visited John Johnston's home at Piqua, too.   I rode there from Fort Loramie, and the next day we drove down by car for the Piqua Heritage Festival, which is held here on Labor Day weekends.   Construction of the brick house had already begun by the time of the war, but it wasn't completed until many years later.
The three locations pictured in this post are shown by yellow markers (teardrop-shaped ones, without dots) on this map of the Fall 2008 Spokesrider rides in Ohio.