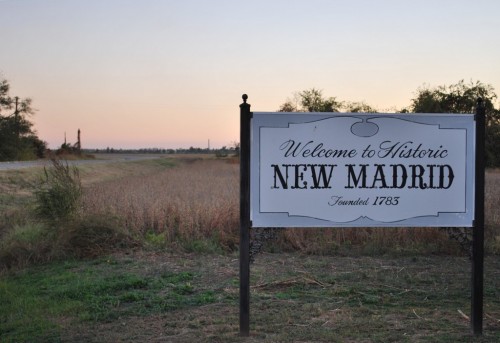 October 28.   The last photo stop of my 655 mile ride to New Madrid was on US-61, just south of the I-55 overpass.   The sun had already gone down, and my back tire was low on air.    There might have been enough light to do a repair – barely – but instead I pumped the tire up one last time and took off.
It wasn't quite enough.  I had to stop again to top it off again, but I ended the ride in New Madrid as originally intended.   It may be that my last air stop was just across from the Evergreen Cemetery, almost two miles down the road from this sign, but it was pretty dark by then and I wasn't paying attention.

We went back to the cemetery the next day, as part of our sightseeing by car.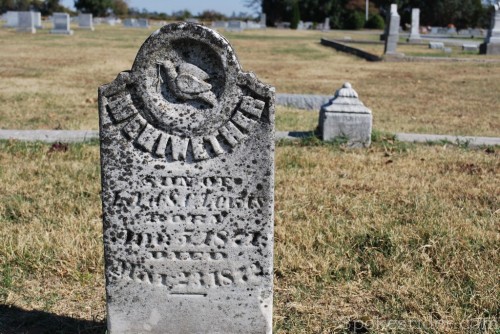 We had expected to find gravestones for the surname Lewis, but hadn't expected to find the one pictured above, for Meriwether Lewis.   This of course is not the Meriwether Lewis of the Lewis and Clark expedition.   The gravestone says, "Meriwether Lewis son of L.A. & S.C. Lewis, Born April 5 1861, Died Mar 29 1872."    This young man who didn't quite reach his 12th birthday was from a later generation.
According to a genealogy chart in David Stewart and Ray Knox's book, "The Earthquake America Forgot : 2,000 Temblors in Five Months…And It will Happen Again" (1995), it seems that the parents, L.A. and S.C. Lewis, were Lilbourn Anexemander Lewis (1843-1934) and Sarah C. Meriwether (1843-1871).   Young Meriwether isn't listed on that chart, but that's the set of parents that fit those initials.   The famous explorer is shown on the chart, though.   He was a second cousin to Sarah C.
And so it seems that young Meriwether was a great-grandson of Lilbourn Lewis, the famous axe murderer.    Well, maybe he's not terribly famous.   I didn't learn about him until I started reading about the New Madrid earthquakes.    And it isn't even certain that the murder was committed with an axe, according to Mary Sue Anton's book, "New Madrid : A Mississippi River Town in History and Legend" (2009).
But the great-grandfather Lilbourn was indicted for the murder of one of his slaves, and committed suicide before the case went to trial.    The earthquake connection is not because the family lived in New Madrid at the time.    They were then trying to establish a new life in Kentucky after the family had undergone financial difficulties in Virginia.
The earthquake connection is that the murderers (Lilbourn and a brother) might have got by with it if the earthquakes hadn't uncovered the evidence.   The murder took place on the night of December 15, 1811, and was witnessed by other slaves who were forced to watch, and maybe even forced to take part.    But Negro slaves in Kentucky couldn't testify in court against whites.     The Lewis brothers tried to burn the evidence in the fireplace, but a few hours after the murder the first of the big earthquakes struck, putting out the fire and knocking down some of the chimney.    The chimney was rebuilt around what was left of the corpse.     The third big quake, on February 7, knocked it down again.    The next day a neighbor saw a dog gnawing on what turned out to be a human skill, still recognizable as being that of the murdered slave.   That led to the grand jury indictment.
What I would like to learn more about are the steps that led to the indictment.   Was justice eagerly done, or was there any pressure to hush it up, anyway?   Knowing about these things might help me understand the place and times a little better.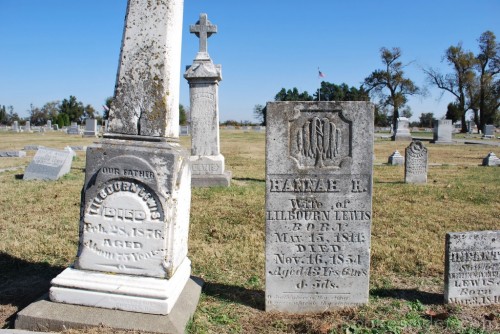 The two markers in the foreground for Lilbourn Lewis and Hannah Lewis are those of young Meriwether's grandparents.  This Lilbourn was a son of the one who killed a slave.    While trying to find information about Meriwether's family connections I found pre-war census records that showed this Lilbourn owned 25 slaves at one time.     The gravestone further back with a cross on top is that of a Lilbourn Lewis who would have been a brother to Meriwether.    Meriwether's gravestone is in the same row, and can be seen to the right of Hannah's.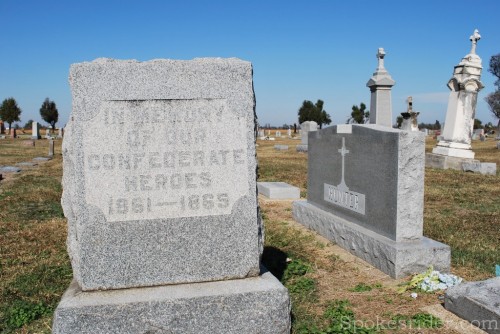 Meriwether's father would have been one of the confederate heroes referred to on this marker.   According to Anton's book, he served with the First Missouri Infantry, was captured in Tennessee in 1864, and was a prisoner of war at St. Louis until the end of the war.
Most of the information above came from Stewart & Knox's book and Mary Sue Anton's.   But another find while looking for information about young Meriwether is Frances Hunter's American Heroes Blog.   It has a nicely written article about the affair, titled "Murder and Madness in the Lewis Family."
You could say that Frances Hunter has a split personality.   She is actually two sisters, neither of whom is named Frances Hunter.    Their articles are so nicely written that it almost makes me sorry that I don't read historical fiction, which seems to be their main endeavor.
It was their article that called my attention to a scholarly book on the subject, Jefferson's Nephews, by Boyton Merrill, Jr. (1976).    Maybe that book will help me learn more about the steps that led to the grand jury indictment, and the society in which it took place.    And now I also see that Mary Sue Anton used that book as one of her sources, and that there is a 2nd edition.