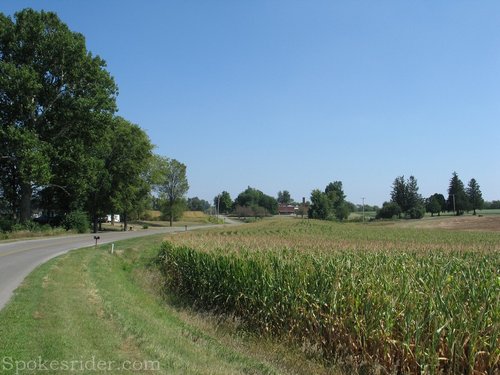 A couple of days ago Ronald Irick posted a comment about the buildings in the distance of this scene. He says the "county home" in Logan County, Ohio has now been abandoned. But he also had some information that makes me want to go back there to visit again: Col. James McPherson is buried nearby. I see from Google Maps that there is a cemetery where the conifers shown near the right-hand edge of the photo are standing, so I presume that's what he means.
On September 1, 2008, on a ride from Wapakoneta to Bellefontaine, I rode by there without realizing there was a cemetery. I ended up getting a flat tire here and had a bit of difficulty with a repair. The place is not far from town, so I called Myra to ask if she could pick me up. I waited for her in the shade by the county home. There didn't seem to be much activity at the place, but IIRC it was Labor Day.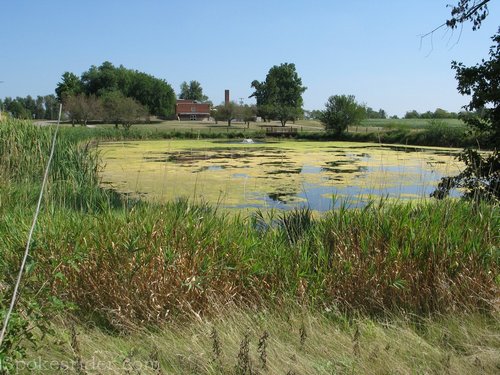 The cemetery is to the right of this pond. The site of the county home (on the far side of the pond) is mentioned in Joseph Antrim's 1872 history of Champaign and Logan Counties. General Hull's army camped here on its way to Detroit (and eventual surrender to the British) in 1812. In describing the route, Antrim writes:
…They continued their line of march on or near the present road from Bellefontaine to Huntsville. They halted some time at Judge McPherson's farm, now the county infirmary, passing through what is now Cherokee, on Main Street, to an Indian village…
I thought it was kind of neat that the county infirmary mentioned in the 1872 history still existed as a county institution. But apparently that part of the history of this site has come to an end.
On that outing I tried to visit as many of the specific sites mentioned by Antrim as I could, but this one was special because of its connection to "Judge McPherson," a colorful character in the history of Logan County. I've mentioned him several times in connection with my 2008 rides, including in the post titled, "Jackson Township, Shelby County, Ohio." There is no other post in this blog with as many comments as that one.
McPherson was captured by Indians when young, spent some years working for Matthew Elliot, the British Indian agent, and later was an Indian Agent for the U.S. Government in this part of Ohio.
Ronald tells me that there are quite a few McPherson descendants living in Logan County, and is trying to determine the location of some of the sites connected with his life. I wish him well, and hope that it gives me an additional excuse to go back to Bellefontaine for more rides. Myra and I have fond memories of our stay there in 2008, and wouldn't mind visiting there again.
YTD mileage: 1856.5