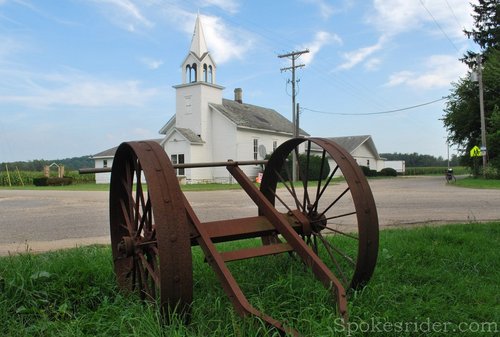 It looks like the church in Volinia is no longer in use. The sign in front is empty, and the roof is in bad shape. I think I could find a photo somewhere in my collection from when it was still active. This one is from last Saturday's ride.
Charleston is on the north end of the two prairies in Volinia township, and Volinia is on the south end. From reading the county histories I got the impression that Charleston got an early start as the biggest village in the township, and that Volinia caught up later. But Howard S. Rogers, author of the 1875 county history, says they both got their legal start about the same time.
In 1836 Charleston, on Little Prairie Ronde, was laid out by Jacob Morelan, Jacob Charles, Alexander and Samuel Fulton, and David Fenton, comprising thirty-two lots.

In September of the same year Volinia was laid out by Levi Lawrence, David Hopkins, Obed Bunker, and John Shaw, and comprised fifty-five lots and a public square. Charleston, for a number of years previous to the completion of the Central Railroad, flourished with all the splendor of a Western metropolis. A line of stages passed through daily from Kalamazoo to Niles, and everything seemed to indicate that it was the coming town; but alas for human foresight, she and her sister, Volinia, only remain in the memory of their citizens, and a few scattered houses mark the places where formerly all was hurry and bustle.
One of the names on each of those lists was that of a Black Hawk militia veteran of 1832.
Rogers said that already in 1875 all that was left in either place but a few scattered houses. (His own residence was one of them.) But while the site of Charleston now consists nothing but farm fields and a small cemetery, Volinia still has a few houses.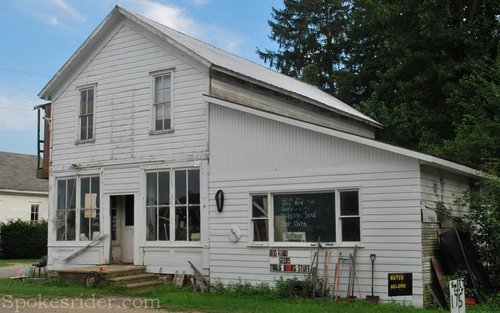 There are even a couple of business establishments, one of them being this store across from the church. It was closed when I was there, but it was already past normal closing hours. There are a couple of chairs out front, I suppose for watching the cars go by on Marcellus Road. That is a busy enough county road that I usually try to avoid it for bicycling, but most of the traffic drives right on through without slowing down.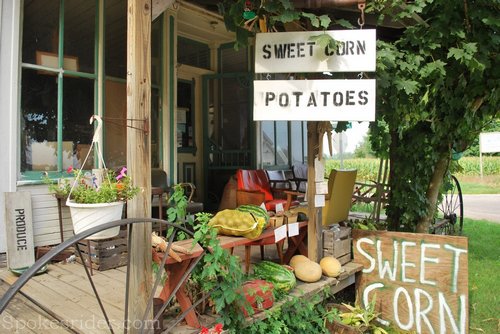 The store on the north side of the street, kitty-corner across from the church, appeared to be a little more active. It looked like one could buy vegteables on the honor system. Here, too, were chairs for people to sit and visit. But nobody was around. I wouldn't have minded a sandwich and a cold drink, but that would have to wait until I got to Cassopolis.
YTD mileage: 1774.5

I almost forgot the googlemap