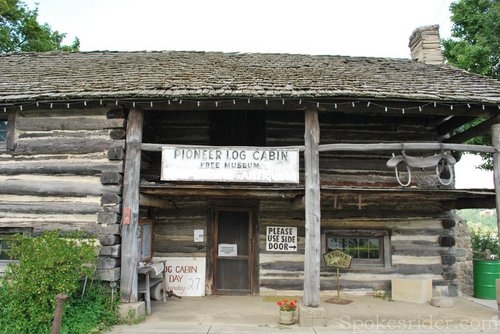 Before starting my Sunday afternoon ride, we visited the Pioneer Log Cabin museum in Cassopolis. We had been there once before, twelve years ago.
The building was constructed in the 1920s from logs contributed by some of the old pioneer families. Each family was supposed to contribute one log. We didn't find out if there is a numbering system to identify which logs came from which families.
It's probable that some of the families were descendants of some of the militia men from the Black Hawk war. In the township where this museum is located it's hard to turn around without running into the gravesite or farmsite of a Black Hawk veteran. I visited four cemeteries in the afternoon, three of which I had never visited before. In all four I found graves of Black Hawk militiamen, some of which I had not particularly been looking for.
The roof of the museum is not in good shape now, which makes me nervous about some of the old photos in the building. I imagine some of them are irreplaceable.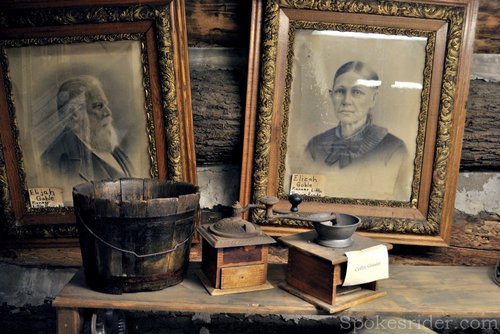 Something I hadn't remembered seeing last time were these portraits of Elijah and Elizah Goble. Maybe they weren't yet on my search list 12 years ago. I asked if I could step across the barrier and take photos. There weren't a lot of places to put my feet among all the artifacts, but I managed to squeeze in closer, hold my camera up above my head and point it in the general direction.
Elijah and Elizah lived on Little Prairie Ronde, just north of the one-time village of Charleston. The 1875 county history has this brief biographical sketch:
Elijah Goble was born eight miles north of Cincinnati, in the year 1805. His parents were Holland Dutch, and moved from Morristown, New Jersey, to Ohio in 1801. In 1818 his parents again moved to Preble County, in the same State, and in 1820 they moved to Franklin County, Indiana, where Elijah remained until he came to Michigan in 1828. He first came on a tour of inspection, in company with Jonathan Gard and a man named Tony, and in the spring of 1829 returned and made a location on the northwest corner of Little Prairie Ronde. In September, 1834, he was married to Eliza Tittle, with whom he still lives. Mr. Goble kept hotel at Charleston for over twenty years, ten years of which it was a stage station, and his fund of pioneer information is almost sufficient for a book of itself.
Back in winter 1998 I got caught up in reading this 1875 history book. I had bought my own hardcover copy the day we visited the museum. When I came to this page with the sentence about a "fund of pioneer information," I told myself I was going to look up Elijah Goble's phone number and give him a call. It took me a few minutes to realize that that probably wouldn't work, that he was dead by now.
Elijah Goble was 1st Lieutenant in the small militia company that was organized on Little Prairie Ronde in 1832. In the 1882 county history (page 60) his name is mentioned in a statement describing Elizah's activities at the time:
In the Volinia settlment–upon the farm of Elijah Goble or possibly that of Jacob Charles, the women began to erect a fortification, but had not made much progress with their work when Samuel Morris and the Rev. Mr. Pettit arrived with information which allayed their fears.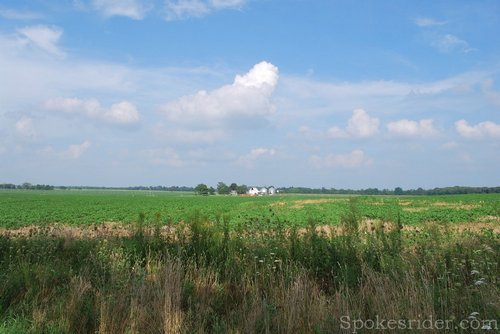 The above photo was from my first photo stop of the day. I had already ridden a couple miles past the site of Charleston, but didn't go there because I had been there before and there wasn't time. I had ridden well over 50 miles by this time. My last break had been at the 33 mile mark at Schoolcraft. I stopped in some roadside shade to take a break from the heat and take a long look at Gard Prairie and Little Prairie Ronde. Charleston is way back towards the horizon, toward the left end of the photo, nearly two miles from where I was standing.
There is nothing left of Charleston, where the Gobles had kept tavern, except an old cemetery. There are not even any houses or farmsteads. Aside from the cemetery, it's just open field. There is a modern farmstead on the location of the Gobles old home, a half mile north of Charleston. Maybe that was the actual tavern site, though if it was, it was located well over a mile away from the old road that used to run from Cassopolis to Little Prairie Ronde to big Prairie Ronde. There are hardly any traces left of that road, which had cut diagonally across the prairie across the scene in the photo, across a point from the right of where I was standing, behind the white barn, to Charleston in the far left background.
That was almost certainly the trail that the militia had taken in 1832 when they marched from Schoolcraft to Niles, and then back home again. If it still existed, it would probably be a great bike route from Schoolcraft to some of my favorite places in Cass County.

The site of Charleston is shown by the yellow marker. My route is shown by a red line. One can still see the praries in Google's satellite view, where they show as a brownish color. Up near the Goble's old place, Little Prairie Ronde is an especially appropriate name, given that the edges of the prairie have been rounded by center pivot irrigation systems.
YTD mileage: 1766