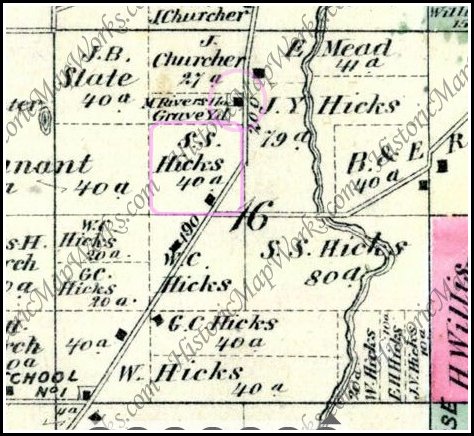 In the year 1873, a S.S. Hicks was shown as a property owner in Section 16 of Pennfield Township, Calhoun County MI. (The base map snippet is provided courtesy of HistoricMapWorks.com. If you click on the image, you'll go to the page where the entire township can be viewed if you have a HistoricMapWorks account.)
I'm posting this now because of Dave, who recently responded to last year's post about "Dry Prairie in Athens Township." He's a relative of the Hicks family, and was wondering what progress I made on the story of the survivors of the 1832 cholera epidemic in Athens.
Mercy Hicks, the wife of Solomon S. Hicks, was the youngest of six surviving children in the Warren Nichols family. The parents and three children succumbed to cholera and were buried somewhere in Athens. I've had no luck finding that grave site, but I also got interested in the surviving children, some of whose graves I've found.
S.S. Hicks is presumably Solomon S. Hicks. According to the map, he owned 40 acres and a residence near the center of the township, not too far south from a cemetery. That cemetery is now known as the Hicks cemetery. I suppose that name is not too surprising, given that it has greatly expanded since 1873 to include property that once belonged to J.Y. Hicks, and that several Hicks owned property in the neighborhood.
There still is a home at the site of the farmstead shown at the intersection of two roads near the center of the section. That intersection is now known as the intersection of Capital Avenue NE and Huntington Road.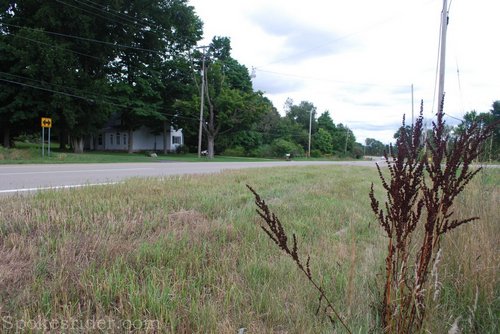 The home itself may not be old enough to go back to 1873. Here it is, somewhat obscured by trees, in a view looking north toward the cemetery.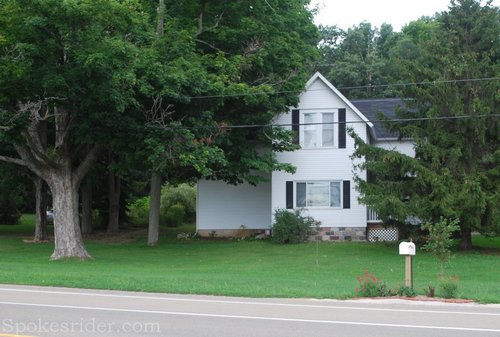 Here is a view taken closer up. I guess I can't rule out the possibility of the main part of the house going back to the time of Solomon and Mercy Hicks. This location is not too far from my home. Maybe some day I'll try to find the owners at home and ask them what they know about it.
There is more, which I'll post another time soon.
YTD mileage: 1585