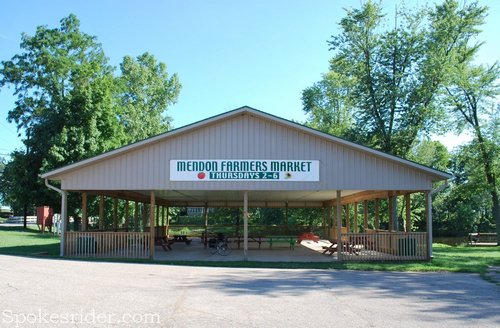 Today's ride was the first with my new Droid X phone. At Mendon, I stopped at this park on the St. Joseph River to eat an ice cream and look up some information about the Rev. Isaac S. Ketchum, who had been the Indian agent who pressured the Potawatomi people to agree to be deported from Michigan, as they had agreed a few years earlier in the 1833 Treaty of Chicago. Ketchum's meetings with the Potawatomi were probably held across the river at the Marantette trading post — about one third of a mile by crow from this Farmer's Market. But I had forgotten to look up some things before leaving home — such as the denomination of the church in Centreville that he pastored, and his wife's name. I had hoped to get a photo of the church, if it still existed in any form, and find his grave and his wife's. So I simply sat in the shade and looked some of those things up in the collection of Michigan County Histories and Atlases. I was glad to see that the browser in the phone worked well with that web site.
One reason I wanted a smartphone was so I could do things like that when I'm out on a ride, for example, look up a page from my own private web where I keep my roughest notes, or a historic map, or a genealogical lookup. I spend a lot of time the night before each ride trying to get all the maps and reference materials printed that I might need. When we're on the road where a printer is not handy, I try to jot down the relevant information in my notebook. Usually I omit something I wish I had. And I never get all the research done I wish I had done.
At one time I wondered if these smartphones would be the place where we get off the computer and communications revolution. But we're not old enough to get off just yet, so here we go for at least one more round. I was glad my new phone came through for me today, and vindicated our decision so quickly.
Myra and I had thought we might eventually have a small, RAMdisk-based notebook computer with a cellular data service. Another option we considered was one of those mobile broadband devices, such as the ones that Verizon sells. The problem with that is we have only one travel computer at the moment, and Myra often wants access to the internet while I'm out riding. So I leave the computer with her. We'll have his and her computers one of these days, but then we'd want his-and-her mobile broadband service to go with them, so that wasn't going to be a complete solution.
So what we've done is get a pair of Droid X phones. We haven't signed up for the tethering/hotspot service yet, but it sounds as though it's something we can sign up for as we need it. We got them Thursday, so we still have a lot to learn. (The FedEx delivery man told Myra he had been delivering a lot of those boxes that day, and was curious about what was in them. She explained that she was switching from a TracFone to a Droid X smartphone. He agreed that was a pretty big jump.)
In some ways I think an iPhone would be nicer. (I see a lot of them at work.) But most of my bike rides take me out in the country where AT&T service often is not available. I spent a year with a 4G Tracfone that was almost worthless. Last year I went back to a CDMA one, and it worked great almost everywhere. So Verizon was the only choice, and we're finding the Droid X to be pretty good.
I think this device going to help me get out and ride more. Even though it also means I'll be spending more time sitting in town parks, thumbing away on my phone, the convenience of being able to go on a ride, ready or not, will probably mean more hours in the saddle, too. More riding is good, and more relaxing in the shade in town parks is good.
Maybe I'll even try posting to this blog when on the road, though I expect I'll be too busy looking things up to have enough time left to do that. We'll see.
We've been having hot, humid, and rainy weather. Very rainy. But today there was no rain — not even an inch of it. A slight wind was blowing from the north, which brought us a cooler day than we've had for a while. It also made the ride to the south to Mendon and Centreville almost too easy.
I did find Isaac Ketchum's grave. Somehow these graves are always in the last cemetery in which I look. And I may have found his church, too. What I don't yet understand is why a man like that took a government job as Indian agent and got involved in heavy-handed tactics to get the Native people removed from Michigan.
Today's mileage: 43.5 YTD: 1394.5