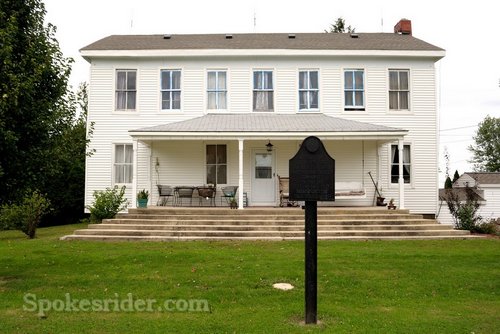 (Sep 29, cont.)
After I crossed I-70 and approached its predecessor, the old National Road, I thought it would be a shame not to cross it and not see an old historic tavern. I wondered if the road was like US-20 in Michigan, where a number of the old houses and taverns from the stagecoach days are still standing.
My crossing was at the old community of Cleveland. My north-south took a jog of a few hundred feet, and sure enough, there was an old tavern. This one had a historic marker and a for-sale sign.
The sign says there is a legend that Andrew Jackson slept there. I dunno — It has been several years since I read an Andrew Jackson biography, but I don't recall reading about any Indiana journeys that he may have taken in retirement. I don't know about this particular tavern, but there are taverns that have taken liberties with the "Famous Person Slept Here" concept. Maybe it works if they mean it the same way I do when I say "Black Hawk Slept Here."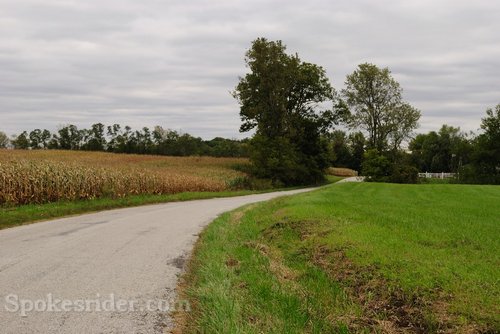 I was just barely south of US-40 when the quiet rural roads resumed.

The google map shows some extra loops at the end of the day's ride, and it doesn't really show all of them. Some of those were extra miles that I hadn't intended to ride. I blame Quakers and cell phone troubles. Actually, I'm glad it happened. The downside was that the ride didn't end as soon as I had told Myra it would.
More about the Quakers in a blog post coming up. As for the cell phone, tonight I ordered a new TracFone in preparation for the start of the 2010 spokesriding season. I wasn't very happy with the last one I had, even though it was very nice and compact for either my pocket or handlebar bag. I had let the minutes expire. Instead of reactivating the old one I decided to buy a new one. With the old one it seemed that as often as not, I got a message saying "Emergency service only" when I tried to call. Myra's TracFone, on the other hand, usually worked fine.
While looking up reviews, I came across this web page titled, Which TracFone, CDMA or GSM. I had suspected the problem had something to do with CDMA vs GSM, but I didn't quite know how. Now was a good time to learn about the difference. The author of the web page explains that Tracfone likes to sell GSM phones, and will sell CDMA ones only where GSM isn't available. S/he speculates that the CDMA networks are more expensive for Tracfone to use. Ah, ha. I checked Myra's phone and mine, and learned that hers is CDMA while mine is GSM. We didn't quite figure out the exact path by which she ended up with a CDMA one, but it could go way back to a time several years ago when I activated one of our phones at home and another at my workplace, out in the country near Hickory Corners. I found that if I tell TracFone's web site that I'm going to activate my phone at home, it will display GSM models for me, and throw in a lot of minutes to boot with some of them. But if I tell it I'm going to activate it in Hastings or Hickory Corners, it displays a smaller list — CDMA phones all — and doesn't have any deals that include a lot of cheap minutes.
Well, the important thing for me is that my phone should work out in the country, not that I get a lot of cheap minutes.
I told the TracFone web site that I would activate in Hickory Corners. That's getting me a phone that I hope will work more often in these very rural areas.