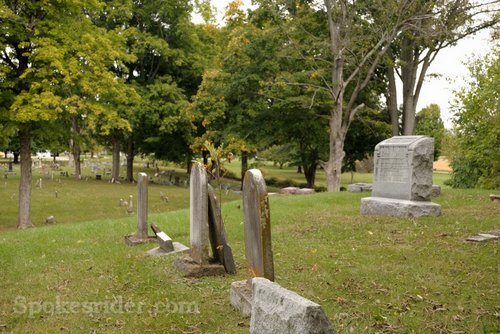 (Sep 29, 2009,cont.) This cemetery is two miles west of the William Williams homestead. Williams is buried on the knoll in the foreground of this photo, judging from a photo taken from the other direction that you can see on an excellent web site about Madison County cemeteries that I just now discovered.
But I didn't know that at the time. The reason I stopped here was because of another person — James Hudson — who was hanged for his part in the Fall Creek massacre. I had with me this description from the web site of the Conner Prairie Interactive History Park:
When they arrived at the scaffold, Hudson requested Rev. Miller to preach a sermon on 'being prepared to meet your Maker,' a text based on Matthew 25: 3-4 and prayer was offered. A penitent Hudson one last time insisted that he had been deceived and led into his murderous act by his associates. His last request was 'that Captain Berry would take care of his body and deliver it over to his friends.'

James Hudson was then hanged by the neck. His body hung motionless for thirty-five minutes when it was taken down and placed in coffin. The next day he was buried in the village burial ground north of the falls.
I wondered if it was in this cemetery that Hudson had been buried in. I was now north of Pendleton, which is the town that grew up at the Falls of Fall Creek. But it didn't seem like it was quite the right location, and it wasn't.
And I didn't know how likely it was that any of those convicted of murder would have been honored with headstones. Hudson had wanted his wife to bring their three children to the hanging, but instead, before the event took place she returned to her former home in Ohio. So how likely was it that she returned to put up a gravestone?
And besides, it didn't seem like this place was quite close enough to the falls to be the one referred to in the above passage. But this was my chance to take a quick look. I did, and then rode on.