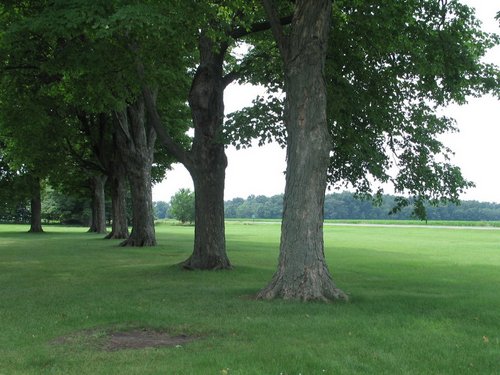 This front yard is in the extreme northwest corner of Colon Township, St. Joseph County, Michigan. In May 1832 settlers started building a fort here to protect themselves from Indians. There were fears that Black Hawk's people would invade Michigan, and some people were also afraid of what the local Potawatomi people might do. The Nottawasepe reservation was adjacent to this piece of property.
I've told about Fort Hogan before, once when I quoted from one of the participants in the construction (William Conner and Fort Hogan). Here is an excerpt from the reminiscences of another of the participants, Lorancie Schellhous. The full text is here at St. Joseph County's genweb site, along with a photo of Mr. Schellhous.
Those behind thought best to build a fort, we had a meeting, for that purpose, agreed to build a picket fence to be twelve feet about the ground to plough and take the trees to build a breastwork inside breast high. I was chosen to select the pickets and help load, when commenced hauling we worked hard for a few days, I had to leave my family at home. We did not feel much alarmed. Some of the inhabitants of the county left, went to Detroit, after a few days news came that the Indians were stopped, did not come as far as Chicago. Then we gave up building the fort.
The road that can be seen as a thin line in the background is M-66, which here follows the west boundary of Colon Township. It's a good one for riding, with extra wide shoulders for Amish buggies. Unfortunately I don't seem to have a photo showing just how wide those shoulders are.
Several months ago, this area was in the local news because the Michigan Department of Transportation had spent $20,000 to put in 20 miles worth of rumble strips on state roads, including this one it seems. (Somehow I managed never to get to this exact stretch of road last summer.) Then it paid $275,000 to fill them in after an Amish man complained that it made the roads more dangerous. (News story about it here.)
My ears perk up whenever I heard about rumble strips being installed, because they are often a menace to bicyclers, especially when they are installed contrary to federal guidelines (which is too often the case). While these particular ones near Fort Hogan were not dangerous to bicycles, as far as I know, I like to keep track of success stories in getting problems remedied. In discussing this issue on the Internet Bicycle Touring List, I learned that the League of Michigan Bicyclists has actually been successful in getting some dangerous rumble strips filled back in. I'm not much of a joiner, but I decided to join that group if for no other reason than to help rid the bicycling world of rogue rumble strips.
(The photo above was taken on the 2nd day of an overnight tour on July 15-1, 2006.)