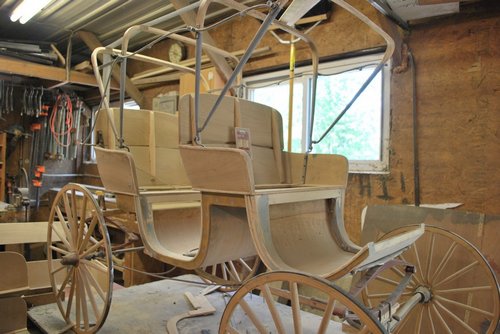 Erik Wesner mentioned the Old Order Mennonite community near Nappanee, Indiana in his latest Amish America article. That gives me an excuse to post some more pictures from LeRoy Martin's buggy shop. It's north of town, out in the country. (Previous post here.) Myra and I stayed at a nearby B&B for our wedding anniversary in early August. I didn't do any bicycle riding this particular day, which is why an excuse is needed.
Note that the above is not an Amish buggy, even though it has spoked wheels. Many of Martin's buggies end up in city parks in major metropolitan areas.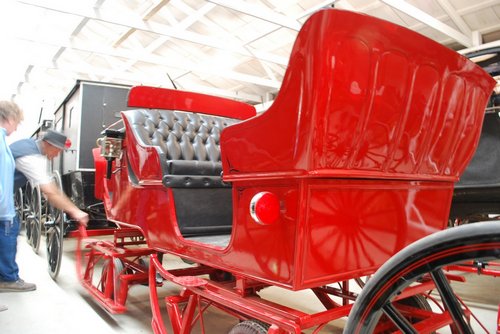 Mr. Martin said I could take photos, but he didn't care to pose for any. So I concentrated on getting pictures of his work instead. But he had a way of walking into my photos, as he did above while pointing out some of the features of this sleigh. Note that it's not painted in traditional Amish colors.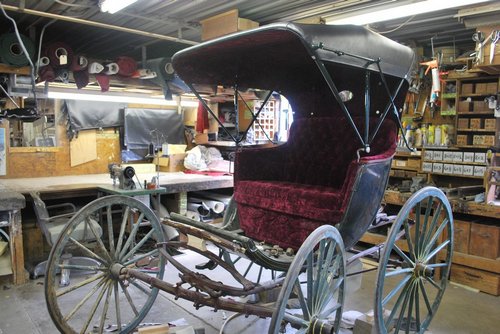 This one may have been a historical renovation. He does a few of those, too.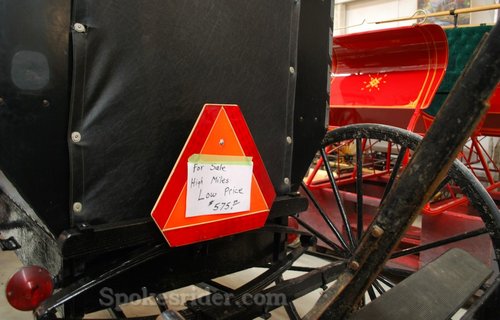 But Mr. Martin does some Amish (and Old Mennonite) buggies, too, for his neighbors. He said this used one, with the sign saying, "High Miles. Low Price. $575," would be good for a first buggy for a young man. Teenage drivers are hard on buggies, so new ones would be wasted on them.