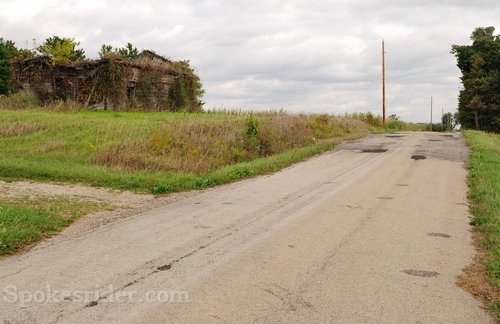 (Sep 28, cont.) There were no roads that would take me west through Summit Lake State Park, so I rode on US-36 for a few miles to get around it. The road had a decent shoulder, but it was nice to get back to quiet county roads. The one in the photo follows the boundary between Stony Creek and Blue River townships in Henry County. The road wasn't in very good shape, but compared to the roads back home it was fine.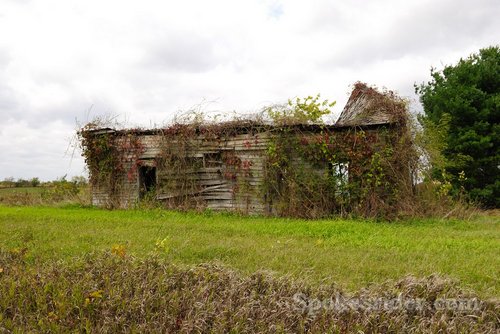 I haven't learned anything about the history of this house. You could probably say I know more about its future than its past.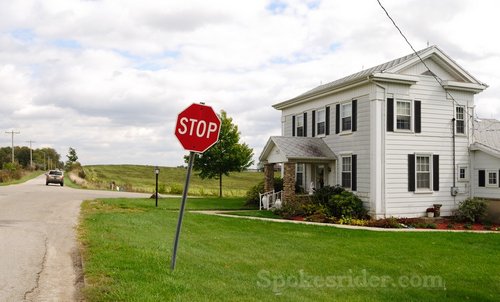 Back home in Michigan, Greek Revival and Federal style houses are a common sight. They are not so common in east-central Indiana, so I took a photo of this one.
I've now learned from the county histories and atlases that this intersection, which is part of a 5-way intersection, was once called Circleville. The 1871 county history says of the place: "On the dividing line between Blue River and Stony Creek townships, founded a score or more of years ago, has passed the zenith of its glory, and now, as a village, scarcely exists, save in memory."
The writer of the 1906 county history said, "Its former site is now known commonly as "Five Forks," for the reason that the turnpikes from here lead to five different points of the compass. Circleville never reached the dignity of a postoffice….The author of this History has been unable to find any old settler who can give a reason why this place was named Circleville."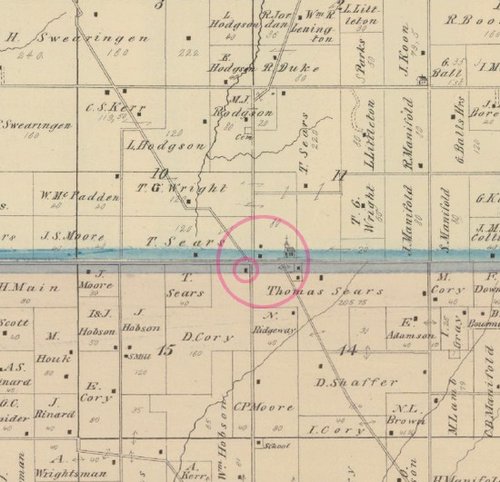 The 1875 atlas shows it here. (I pasted portions of two township maps together, which resulted in an imperfect matchup.) My route took me along the township line, from west to east. I've circled the general area of Circleville with a large red circle, and the location of the house in the photo above with a smaller one inside it.
The map indicates that this land was owned by a D. Cory. There were a lot of Cory's (aka Corey's) in the area. The county histories and census records suggest that two patriarchs of the clan were Abraham and Joseph, who were among the early settlers who came in the early 1820s. The name seems to have been quite common in the area at one time, but I found only one instance of that name in the area using the modern telephone book at switchboard.com.
BTW, I got the above map snippets from an online digital collection at IUPUI – Indiana University – Purdue University Indianapolis. I just now learned about this resource. I haven't learned my way around the collection yet, and haven't learned just how complete a collection of county atlases is there. I am looking forward to exploring it to find out.