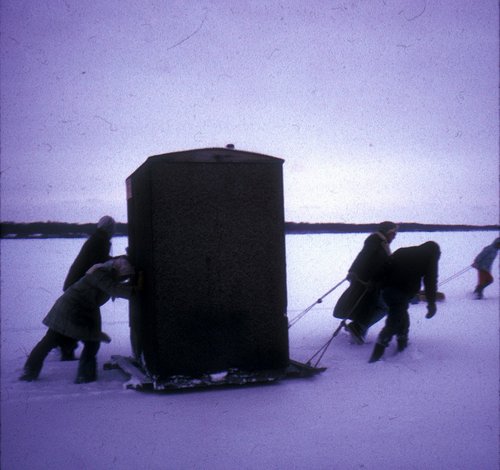 I don't like carrying things on my back. It's too much work and my back doesn't like it very well. Carrying things in bicycle panniers is much better.
This photo shows another way to carry your gear. It was taken December 27, 1971. We're moving our fishhouse to a better spot on West Leaf Lake in Otter Tail County, Minnesota.
The photo has deteriorated over the years, but not too much. It was always much like this. I have always liked it, though. It was taken with some odd film format that never caught on. I remember bluish-pinkish days when the sun was low in the sky, although this photo exaggerates the effect.
"We" includes my youngest sister Rachel in the lead, pulling a toboggan. Dad and I are pulling on the ropes in front. Dad is the one with the ushanka-style hat and the long coat reaching below his knees. (I didn't know the word ushanka back then, though.) The hat is something I always remember him wearing ever since the early 50s when we lived in North Dakota. Maybe one reason I like watching Russian movies is because I get to see men wearing those, and women with headscarves like Mom is wearing. Seems like home. Mom is pushing on the back of the fishhouse. I don't know how we got her to come out and help with this project. She didn't come out ice fishing very often, though she is the one who taught me to enjoy being outdoors in winter when I was a little tyke. (On the other hand, maybe with those bell bottoms that's my sister Carol, instead. I don't remember Mom ever wearing bell bottoms.) I don't know who the other person is. Cousin Paul or Cousin Joel from southern California, perhaps?
Well, my intention was to use this photo as a way to lead into Loreen Niewenhuis's Lake Trek blog, but I'm not doing too well. There is a lake and there is travel — on foot, even, but other than that there isn't much in common between what she did and what I've been talking about.
I met Loreen at a birthday party today. Myra told me she had walked around Lake Michigan and was writing a book about it. I've thought about round-the-lake treks, and know of people who've done it by bicycle. But it never, ever occurred to me to do it the way she did it. She didn't go on public roads or hiking trails. She walked the actual shoreline, except in a few places where it wasn't allowed. That sounds like a great adventure. I like it – except for the backpack.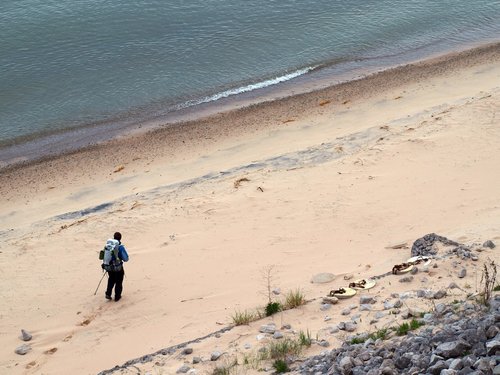 Here's one of her press release photos.
As for the fish house, I'll say more about that at Kino Reticulator