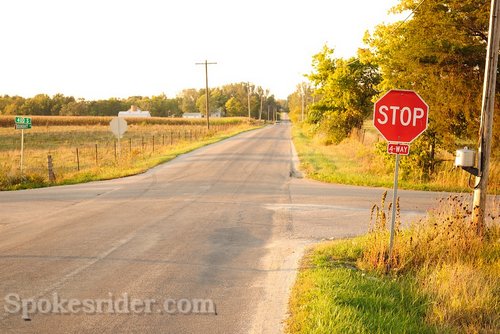 (Sep 27 concluded, finally). I never did find Caroline Hawkins Clark's grave, even though I visited two other cemeteries after leaving the Hawkins Cemetery at the site of her childhood home. One of the two was near her adult home, which I take to have been on the site of the farm shown in the photo above. I base this conclusion on the 1881 plat map, which shows a C.H. Clark living there.
An examination of the 1870 census record for Pike Township provides corroboration. Benjamin H. Clark, Elizabeth Clark, and their four children are listed on the same page with other names that also appear in the near vicinity on the same plat map.
It was near sundown but I stopped for a quick photo here. I didn't invest a lot of time here, because at the time I had been confused by all the Clarks and Hawkins on the plat map. I was especially confused by the name Caroline Hawkins. I now know that she was a sister-in-law — her brother Benjamin's wife.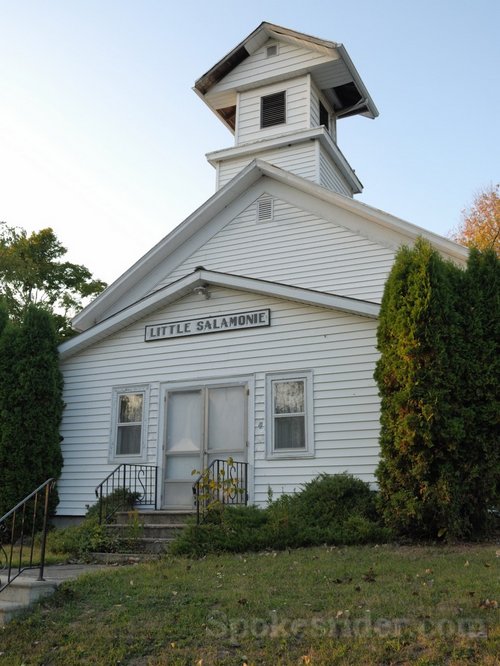 I stopped for a few minutes at the cemetery behind the Little Salamonie church, less than a mile from the C.H. Clark residence. I didn't find a tombstone for Caroline Clark, but I didn't stay long. While I was looking Myra called me to let me know she had got to Portland and was waiting. A woman with two young boys were also in the cemetery, the boys telling me their grandpa was buried in the cemetery. But they didn't know anything about a Caroline Clark or Hawkins. So I took off.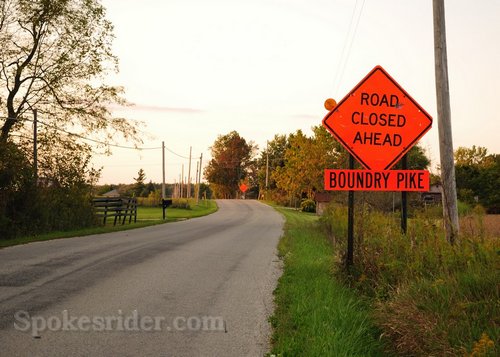 I had to take a slightly longer route to town because the "Boundry Pike" was closed at this point. This was the last photo of the day.
I still haven't found out where Elizabeth Caroline Hawkins was buried, if she was indeed buried. I don't even know her death date. But if her own death is elusive, she had vivid memories of her father's. In her 1887 reminiscences she wrote:
My father took sick in two years after we came to the country. He lived a year and died, and left us for a better world. You may imagine how we felt but can never know how it was. Only two neighbors, one six miles off and the other three, and our father lying dead in the house. My brothers, Sam and Ben, went to the woods and cut down a tree and split a puncheon out of it and laid father out on it and dug his grave, and mother made his burying clothes; they were Irish linen pants and hunting shirt. Tom Shaler went to Winchester and got some lyn boards and him and Billy Odel made the coffin. It was a great bereavement. Like all such things we had to bear it. We did the best we could. It has been sixty-five years since he died, but it is still fresh in my mind. I was eleven years old when he died.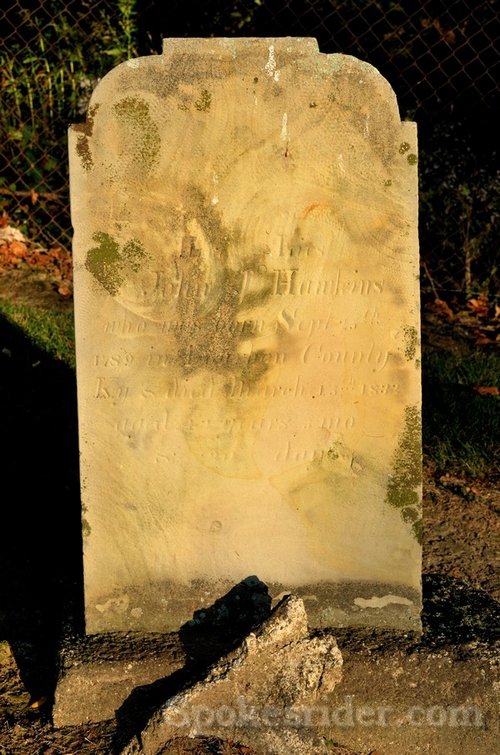 This is her father's tombstone, back at the Hawkins Cemetery.
YTD mileage: 2173