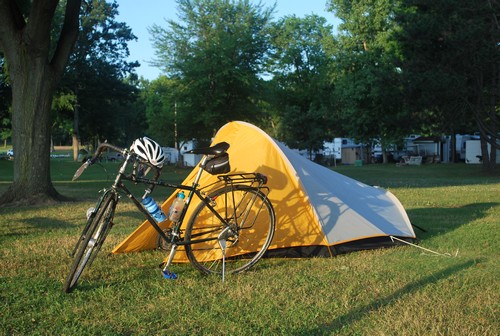 I've camped at Waffle Farm Campground several times over the years. The first time was back in 1999, when I forgot my tent poles and then, after several other misadventures during the next day, lost the pannier that carried the tent. After a futile search that evening and the following day (and yet more misadventures) I bought the above tent which I've used ever since.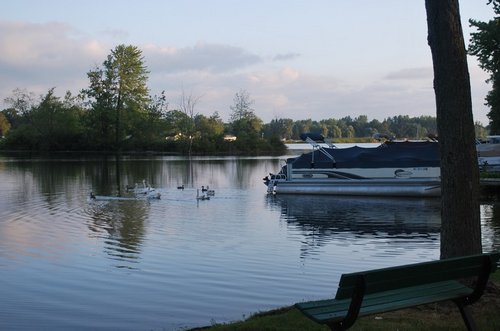 It wasn't until after my last stay at Waffle Farm in May that I realized that the lake along which the campground lies has a Black Hawk connection. The name of the lake is Craig Lake, named after James Craig who was on the local militia roster during the 1832 war. Like some of his neighbors, he served as a private in Abram Bolton's company, which drew its men from Coldwater and environs.
That connection meant I needed photos. I was anxious to get underway, but went down to the lake at sunup to get a few photos before packing up and taking off.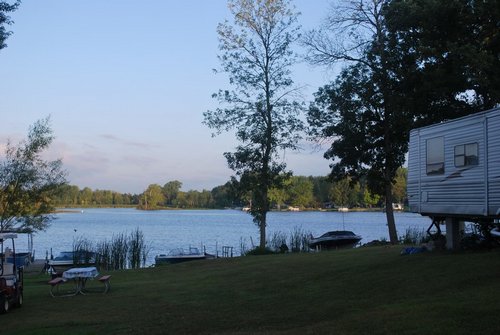 I haven't been able to find any anecdotes about James Craig in the county histories to help me know him better. He had a few "firsts" — first log barn being one of them. And he served in some of the usual local government offices — Justice of the Peace at one point.
I see from Google Maps that I rode past his homestead on my way to the campground, and have done it many times before, so next time I'll have to stop and get a photo of that, too, for the sake of completeness.
YTD mileage: 1279