`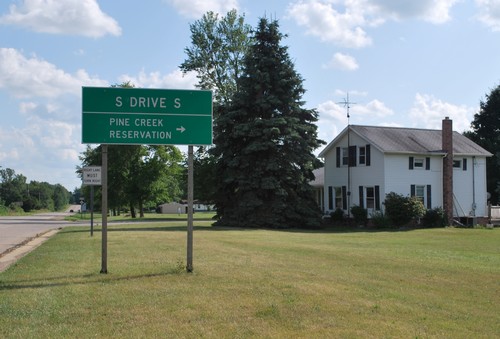 Last weekend was my second overnight, self-contained tour of the year. I started this one the same as the last one, by heading south to Athens. The above is a mile or two north of town.
In the spring of 1832 the town was only a year old. A world-wide cholera epidemic reached the town that year, having come with the soldiers from the east who were on their way to Chicago from where they were going to join the forces fighting Black Hawk. The soldiers didn't come here to Athens — they were traveling by water — but had made a stop a Detroit. Cholera spread from there.
I had long known that a cholera epidemic had wiped out a family here in Athens, but it was only recently that I came to realize that there were other relatives, too. So maybe the graves of the family had been cared for and marked, I thought. If so, I'd want to visit and get photos. On my last trip I visited the big town cemetery, but this time I wanted to check out a pioneer cemetery east of town.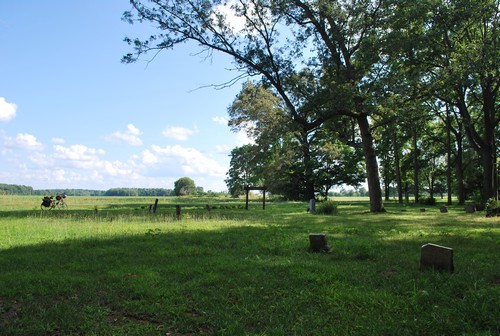 The cemetery was a lot smaller than I had expected. It didn't take long to look at all the gravestones. There were none with the name Nichols. (Warren Nichols was the head of household of the family that had been killed.) The place has a nice view of what the first settlers called Dry Prairie, though, which is what had attracted the Nichols family and the others to the place.
But tonight I learned from the county histories that I had still had a lot of the details wrong. For one thing, the whole family did NOT get killed by cholera. Three of the children died, as did both parents, but other children did not succumb. The 1877 history of Calhoun County gives all of the names, and tells where the surviving children went. It also tells where the cholera victims were buried — on a farm just a little to the west (right) of this photo. That was a quarter-section that was originally entered by Warren Nichols — so they were buried on their own land. I have no idea whether there are gravestones, but now I have a better idea how to ask.
The history names eleven family members. One of the land patents says Warren Nichols came from Yates County, New York. So I checked the 1830 census. It looks like there were 10 family members in 1830, and that the parents were in their 30s then.
Maybe I can check out some of the surviving children to see if any of their homes still stand. More bicycle destinations coming up, maybe. There could even be descendents to talk to, for all I know.
Time to update my YTD mileage: I'll call it 1256 for now. I've done 69 miles of commuting since I last reported it, and 63.5 miles last Sunday on the 2nd day of my tour. What I'm not sure about is Saturday's ride. I didn't realize it until shortly after I left the cemetery, but my bicycle odometer had started reporting kilometers instead of miles. It's the 2nd time that happened. I think I know why — it has something to do with the way I remounted my odometer so that sometimes the contacts don't contact very well. The problem is, I know it was measuring miles when I started, but I don't know when it switched to kilometers. I had noted before arriving in Athens that I had accumulated a few more miles than I had expected. By the time I got to Union City I had really racked up some impressive miles for that destination, and I realized there was a problem. For now I'll say it was 35 miles to the campground north of Coldwater. That may be an underestimate, but it'll do for now.