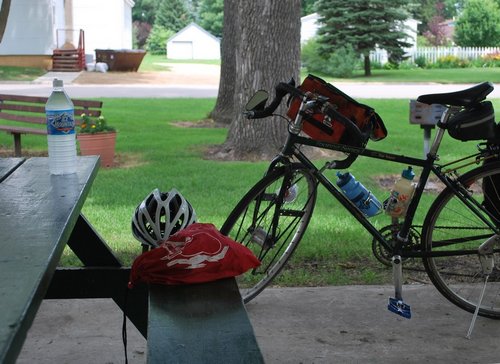 In Brewster MN I was hoping for something a little better than gas station food, but that's all I got. I ate it at the town park, then took a 20-minute nap on this picnic table bench.

Brewster isn't laid out square with the world. Instead, it's aligned at right angles to the railroad. That's only right, considering that Brewster was planted here by the railroad back in the very early 1870s when the tracks were laid.
There are a lot of towns that thrived only because a railroad came through. There are others that would never even have existed if a railroad hadn't planted them. But Brewster was more in thrall to the railroad than most of those.
It was first called Hersey, the name given it by the Sioux City and St. Paul railroad. Several years later the Omaha railroad bought it out and changed the name of the station because it already had a Hersey in Wisconsin. The new name was Brewster. The village kept its old name for a while, but eventually changed it to match the station. (This information is from the 1902 history of the county.)
The unfortunate town not only couldn't control its own destiny, it couldn't even control its own name.