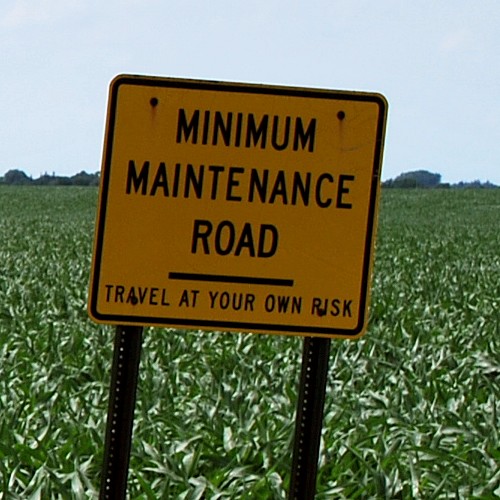 Last week in Iowa and southern Minnesota, we saw a lot of road signs that seem to be a new feature of the last several years. It seems that as the countryside gets depopulated, it is no longer necessary to maintain all of the section-line roads. There are no longer any children living on them who need to get to school in winter, etc. So they're now designated as "Minimum maintenance roads." Some of the signs also say something about winter, or about traveling at your own risk.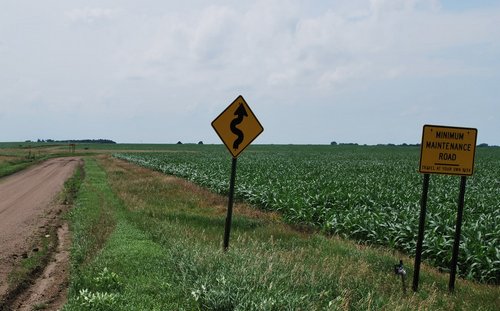 Myra suggested grabbing one and taking it home to put at one end of the road on which our home is located. The paved roads in our county have taken a terrible beating the last few winters, and the county is not able to keep up with maintenance. We live near one corner of the county, so I'm guessing that's why they're in especially bad shape where we live. Sometimes I ride my bicycle on alternate routes to avoid the worst ones.
Things are changing, though. As we neared home Sunday, we found some of the local roads had new warning signs: "Rough Road." However, our own road, which is even rougher than the ones that seem to have earned such signs, has not been given one.
But yesterday and tonight as I rode home from work I saw road crews close to home doing a different kind of chip-and-tar patch than I've seen before. At least I think it's chip-and-tar. These patches are not wonderful. They are not rolled to make a nice, smooth surface. But they seem to be an improvement over some of the previous patches. At least the crews are not dribbling tar all over the road to make the few remaining smooth parts rough. And I now can ride on parts of the road that had been bone-shakers before. It might be a reasonably good method for tough economic times.
YTD mileage before I forget: 1088.5, including 39 miles last week Monday (Storm Lake to Royal IA) and 93.5 miles Tuesday (Spencer IA almost to Walnut Grove MN)