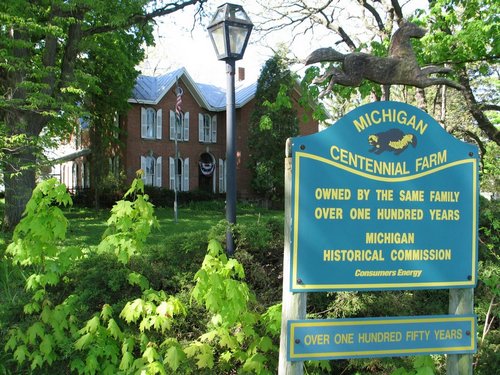 I like watching for Michigan Centennial Farms — places that have been owned by the same family over one hundred years. Once in a while one can even find a sesquicentennial farm, like this one. But this place was extra special to me, because 1) it has been owned by the same family ever since the land was bought from the United States Government, and 2) the original owner had been on a local militia roster in 1832 at the time of the Black Hawk war.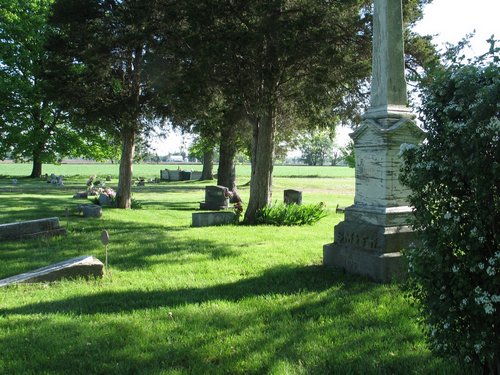 On my May 18 ride I had an appointment to visit with the current generation of owners. But there was plenty of time beforehand, so I first went to the nearby cemetery. It didn't take me long to find a monument for Benjamin L. Smith, the man I was looking for. It's the tall one to the right. His wife, Content, is buried there, too. His farmstead can be seen in the background, about half a mile away.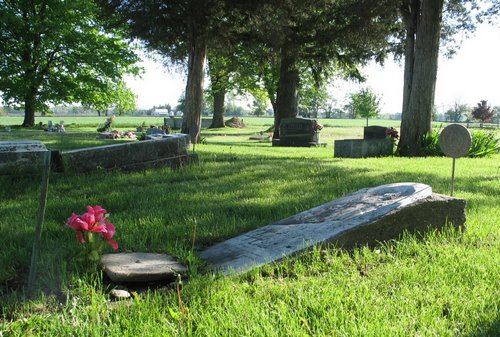 I also found the grave of an even older generation. This gravestone, fallen down but well cared for and embedded in concrete, is that of Benjamin H. Smith. I figured it was probably Benjamin L. Smith's father, and later learned that this was indeed the case. I learned from the gravestone that he had been born in 1729 and dired in 1843, at the remarkable age of 113. There is a marker honoring his service in the Revolutionary War.
It isn't uncommon to find something like this, where a young man and woman came to Michigan to settle, and once they got established his or her parents came west to live with them. Sometimes I first learn about these things from a visit to a cemetery. In the case of the Smith family, the first county history didn't say anything about it. Benjamin H. died just before that one was published, but his wife was still alive. But later, in a subsequent county history publication when the next generation got a chance to provide its family history, the son of Benjamin L. Smith told about the grandfather.