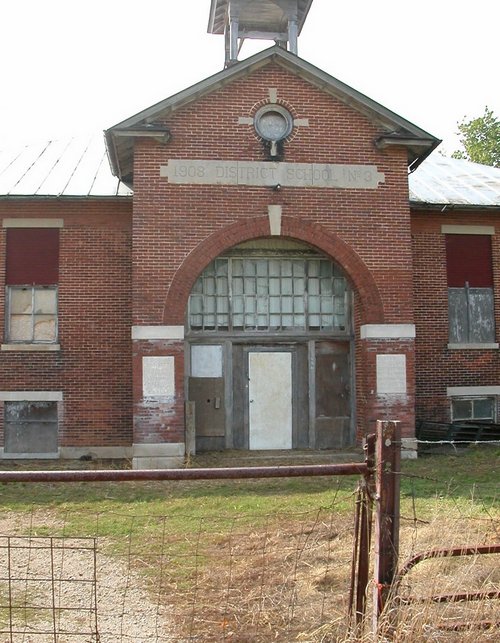 A few posts back (Snow of Snow Prairie), A.J. asked if I knew about a school on Snow Prairie Road that might be about 16 miles from Coldwater. After a little head-scratching and map-searching, I wondered if it couldn't be this one. It's in Gilead Township to the southwest of Coldwater, about 2 miles from the Indiana border, at the intersection with Southern Road.
I took these photos in September 2003. That was my third ride to the location, and unfortunately I haven't been back since. What I really came to see then was the site of Bishop Philander Chase's seminary, which is less than a mile away on the same road. The attempt to establish that institution was a failure — there is no seminary there now — but Chase had come during the Black Hawk war scare and had a few things to say about it in letters to his wife. And some of the oldtimers who were still alive when the 1879 county history was published remembered him very well.
On this ride in 2003 I was on my way to Kenyon College in Ohio to spend a day looking through Philander Chase's papers in the archives. Chase had founded that college in the previous decade, but had left in a dispute over control of the institution. He left his wife behind in Ohio while he tried to get a new start in Michigan. Parts of some of his letters back to her had been published, but I wanted to see what else he might have had to say about Branch County people. I didn't find much about particular people, but the day at Kenyon College turned out to be worthwhile and the bike riding was good.
After Chase left Michigan he went to Illinois and founded Jubilee College near Peoria. That college folded in the 1860s, after Chase died. The place is now a state historic site. Now that I'm dredging up information on Bishop Chase, I'm reminding myself that I had marked the location on my maps. I should go there for a visit on my upcoming excursion to the Illinois prairies.
My first ride to this location might have been in 1999. On that first ride, I didn't find anything noteworthy to photograph other than this school. I had better luck the 2nd time, but still, I like to stop and take a look at the school.
Above the keystone arch it proclaims itself to be "1908 District School No. 3." I have a fondness for District No. 3, because I attended a District No. 3 school in northeast Nebraska back in the late 50s and early 60s. That one was a two-room wooden structure built in 1884 and was not in as good a shape as this building.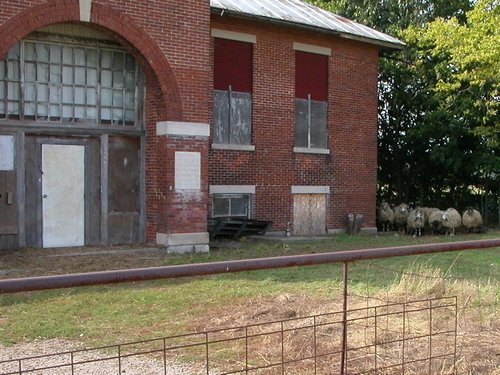 A.J. was interested in this place on two counts. 1) He is pretty sure this is a school that was attended by his great-grandfather. 2) It was a scene in a murder mystery back in 1990. He sent me these YouTube links about it, from the TV show Unsolved Mysteries:
In the first part, the vehicles approach the school from the north, which is also the direction of Chase's seminary. I've re-watched it to see if the farmplace that is the site of the old seminary is shown in passing, so to speak. I don't think it is.   The big tank to the left of the school  in the YouTube clip was still there in 2003.
I had to confess to A.J. that I don't  recall hearing anything at all about this incident back in 1990. I've heard of this television program but have never watched it. I hardly watch any television at all.
I am not completely oblivious to news of local murder cases, though I suppose some could argue that point. Back in 1996 I was seated on a jury for a murder trial after a long, difficult selection process that took several days. I was one of the few people who hadn't known anything about the case. The first trial had ended in a hung jury and the case was being retried. Part of the reason I didn't know anything about it was that we had been away on a travel vacation when it was in the news.
Another reason I don't remember this one is that it took place in Branch County. It's a neighboring county, but this school is 60 miles from home. It wasn't until 1994, when I took up long-distance bicycle riding, that I got to know my own backyard of southwest Michigan. Now, whenever I hear of some news in the region, I try to figure out exactly where the place is and whether I've been there. Back in 1990 I was still oblivious to most of the towns, streets, roads, prairies, streams, townships, and just about anything one can link to a particular place in rural, southern Michigan. Bicycle riding has changed all of that. So when I heard of a murder in Girard township this February, I immediately tried to place it in relation to other places I've known in that township. Back in 1990 I would not have given it much thought, because I didn't know anything about these places.
I used to pay attention to locations far from home.  When traveling by car or by book I have always liked doing so with a map handy.  But it wasn't until I started long-distance riding in the mid 1990s  that I started learning the places close to home.
It's not just murders that get my attention. Lots of things do. When I hear of a big new construction projects, I immediately try to determine whether any my favorite riding places are being destroyed or transformed for it. When I meet someone from a rural area or small town, I ask questions to find out if I know some of the nearby places that they know.
I like getting to know these places, and extending this type of familiarity to places in Indiana, Ohio, Illinois, Iowa, Wisconsin, and elsewhere. Looking for sites connected to the Black Hawk story gives some direction and purpose to what I'm doing, but there's more to be gained than just that.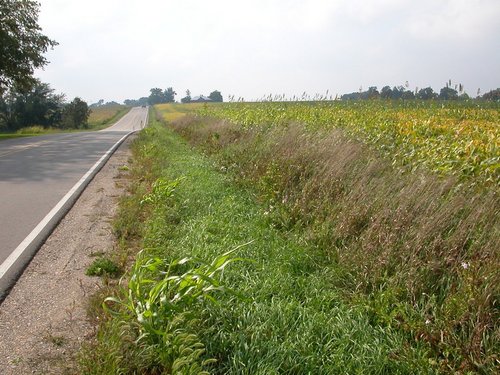 This view is from the east, on Southern Road. The school can just barely be seen in the distance. Bishop Chase's seminary site is to the north of it, probably just off of the photo to the right of the trees in the distance.