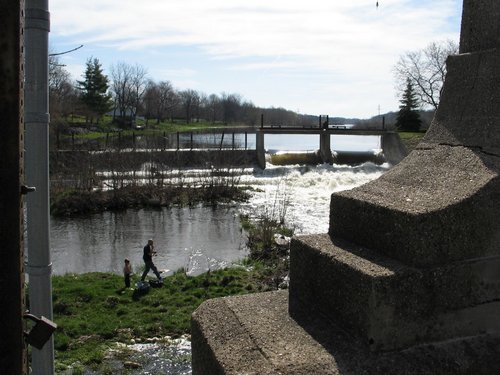 I stopped at the Ceresco Dam on my only good ride of the year so far, back on April 18.

The previous time I was here was in fall 2005. That time I talked to a young man who seemed to be in a thoughtful mood. He was looking over some of the places of his childhood before heading off to Army basic training.
I've sometimes wondered how he did. Did he serve in Iraq and come home safely?
This time a young boy was fishing with his father. It will be better if there aren't any wars to fight when he becomes of military age.
The land here was first bought from the U.S. government by John Bertram in the very early 1830s. He was one who did go off to war — the Black Hawk war. The settlers remembered with amusement that he had marched off in full uniform. Perhaps it was a uniform he had brought with him from England. He may have gone to the militia gathering location at Schoolcraft along with others from Calhoun County. But if he did, his name didn't get recorded on anyone's roster of those who served. Did the others give him such a hard time that he went back home, instead? The local histories don't say.
Bertram apparently came from England with enough money to buy land not only here but in several other places in Calhoun County. He seems to have had the idea of farming on a large scale, with tenant farmers. But his efforts didn't succeed. The system was set up to encourage individual land ownership rather than large landlords who would rent their land. And people had little motivation to work as a tenant on someone else's farm if they could buy their own land. So Bertram didn't fit in very well on that account, either. The histories suggest he went back to England after using up a lot of his money without achieving his desired result.