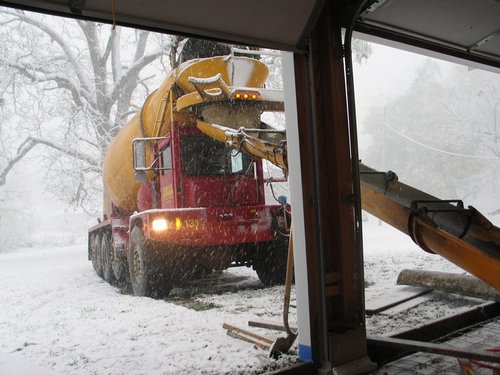 This photo is from October 2006, when we poured the concrete floor in our sun room and garage, about 1200 square feet altogether for the garage and three rooms. What does it have to do with bicycle touring and history? Not a lot, but I like looking at the photo, especially the way our big walnut tree looks when the air is full of snow.
I was going to write about day 3 of my 1996 tour of the Midwest League — about how I rode to Leesburg in Kosciusko County, Indiana, and how that led to subsequent history rides to the area. I came upon the above photo because a few days after we got back from a 3-day tour to the area in 2006, we finally poured the floor, a few years after a contractor had built the shell for us.
The concrete contractor was glad to have a a project like this on a snow day. There was a roof overhead and lighting inside.
I'm still working on this garage and will do so this weekend instead of going for a ride. By dragging the work out over such a long time and working on it in such fits and starts, I've made the issue of how to finalize the inspections a bit complicated. The inspectors and the people at the township office are all trying to be helpful, but the sequence in which I've done all the work has made things more complicated than usual. Even I have forgotten some of the details over the years. The original building inspector has retired by now and I was trying to explain over the phone to the new one that much of the work is all finished, but there is this small area in the back that just got a rough-in inspection by the electrical inspector yesterday. So I hope the result is that we can get it all sorted out so I can put up the last sheets of 10-foot 5/8″ drywall on the ceiling this weekend while my youngest son is still home to help me. So no bike rides this weekend. Probably not much blogging, either.