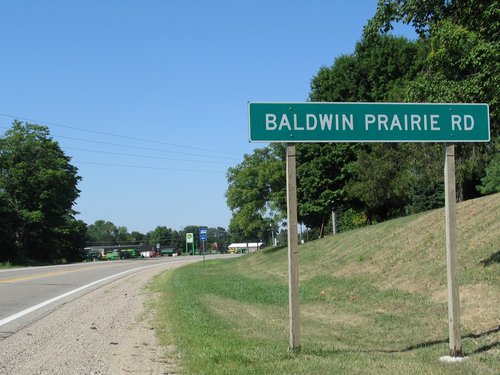 Last August 17, on the 2nd day of a weekend bike outing, I spent some time in Shavehead's country. Shavehead was a Potawatomi leader who was feared and disliked by the white settlers. He did not sign any of the treaties by which southern Michigan was ceded to the United States. As a result, he didn't get any annuity payments from the United States, which led to his being marginalized among his own people. The lack of annuity payments meant he couldn't provide things for his own people like other Potawatomi leaders did.
It is possible that the British in Canada made up for it somewhat. Almost all of the Potawatomi leaders, whether pro- or anti-American, used to make annual trips to Fort Malden in the 1820s to get presents from the British. In the British Indian agent's records I've found the names of many of the other Potawatomi leaders who were talked about by the early settlers, including many of those who did sign the treaties. I'm pretty sure Shavehead's name is somewhere among them, too, given his anti-American attitude, but I haven't been able to identify it. The problem is that I don't know what his real name was. I don't know if his Potawatomi name even has anything to do with "shave" and "head" or "hair" or anything else like that. He didn't sign treaties, so didn't leave a paper trail among the Americans. I've looked through the records, with an Ojibwe-English dictionary in hand, but haven't found anything that suggests a connection. Of course, even though there are many cognates shared by the two languages, Ojibwe is not Potawatomi. And I don't speak or understand either one of those languages, though I've learned just a tiny bit of Ojibwe. And like I say, I'm not even sure what to look for. I don't have much to go on.
Howard Rogers, author of the 1875 Cass County history, said this about him, among other things:
This chief received his name from the peculiar manner in which he wore his hair, it being nearly all shaved off, leaving only a lock on top and a small portion on the back of his head, which was trained down behind, giving him a very peculiar as well as a savage appearance. He was of a sullen, morose disposition, and always seemed to feel that the settlement of the country by the whites was an intrusion upon the Indian's rightful domain, and treated them accordingly.
Rogers also said Shavehead's band of 9 families (50 people) used to spend its summers on Baldwin Prairie. The road shown in the above photo is Highway 12, also known as the Sauk Trail. It's the route that the Sauk leader, Black Hawk, used to take on his treks to and from Fort Malden. Baldwin Prairie is a small prairie off to the left, and it is still good farmland.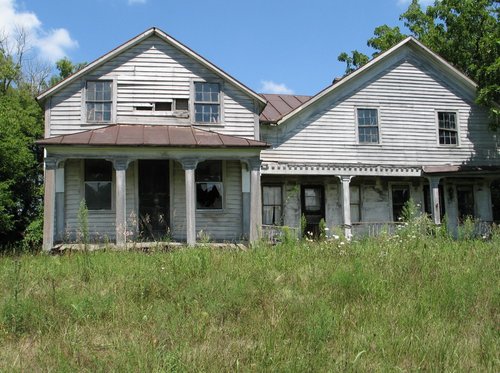 Although Shavehead didn't leave a paper trail, there is a lake and a road named for him, among other things. The old house above is on Shavehead Road, 2-3 miles east of the lake. (I haven't yet learned anything about the owners or builders of the house.)