In the last post about the Front Porch Republic I mentioned how Nikita Khrushchev didn't care to have his mother sitting outside their apartment building, zavalinka-style, because in Stalin's Russia these heart-to-heart discussions could get you killed. Ken of Palm Beach Bike Tours commented on the front porches of his childhood, saying they were good places to tell lies and gossip. So it seems they can be bad places to tell the truth and good places to tell lies. But I'll bet it sometimes works the other way around, too.
I said I didn't have a photo of a zavalinka. It's true, I don't have one of my own. But above are image excerpts of a couple I found on the web. You can click on the images to go to the web pages that contain the complete originals.
Scenes like the above on the left can be seen in old Russian movies. I infer from what I've found by googling that while zavalinka literally means "mound of earth", the mound can be almost any kind of bench where people can sit and visit in front of a home. The one on the right is one of the strangest I've found. It seems to be made from an old railway car.
And judging by movies I've seen, Nikita Khrushchev's mother was far from the only person who brought the peasant style of visitation to the big city. Scenes of women sitting outside their city apartment buildings and gossiping are a staple of older Russian movies.
While googling I also learned that "savilinka" is part of the name of several Russian blogs and discussion forums. The Front Porch Republic people are not exactly innovators in making the analogous type of connection in English, it seems.
BTW, I hope I'm not giving out misinformation, because if I do I'm liable to get caught at it. All three of my blogs get a lot of visitors from Russia. In all three blogs the 2nd leading country that provides visitors is Russia, and Russia has a huge lead over whichever country is third. I was surprised to find that ranking a few days ago. I don't know when it started to be that way, but it hasn't always been.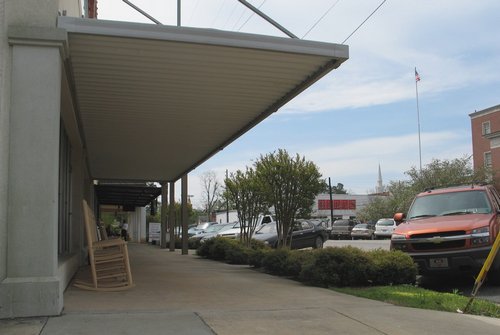 Even though this is not the front porch of a residence, I think it qualifies as an American-style zavalinka. It's across from the courthouse in Dadeville, Alabama, the county seat for Tallapoosa County. The photo was taken on a bike ride in early April 2006. It looks like only one rocking chair on the far end of the row is occupied. It would be interesting to see and hear what it's like on hot summer days. Or does air conditioning now have greater attraction to the old men of the town than the shade of the big awning?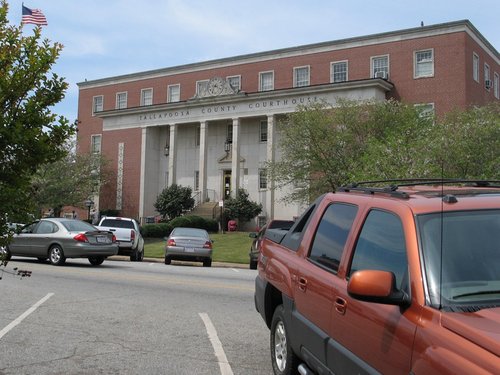 This is the courthouse building that can be scene from the row of rocking chairs. It's where Nate Shaw/Ned Cobb of "All God's Dangers" was put on trial in the early 1930s. His story was one of two historical episodes that got me on a bicycle tour to this part of Alabama. Cobb/Shaw had used a gun to try to defend his private property rights at his home several miles south of Dadeville. Ironically, it was the American Communist Party, not usually thought of as a defender of property rights, that provided a defense lawyer for him. It also provided his wife with a small monthly payment so she could make ends meet while her husband was in prison. A few days before my visit to Dadeville I had ridden past the prison where he spent most of his 12-year sentence. Photos of that ride are here.
It's good to sit on a zavalinka and talk about such things.
[Late edit:  If I'm going to write a post about zavalinka, I suppose I should spell it consistently.]