My usual route to Hillsdale County takes first takes me to Marshall.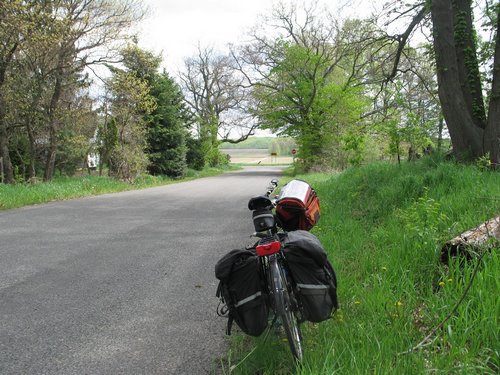 There are several ways to ride to Marshall. This road is not one of the usual ones I've taken, but I may use it more often from now on. To get here I have to cross the Battle Creek river. (Yes, that's what we call it.) I then go through a relatively wooded area, then over a little hill to this T-intersection where the land opens up onto a broad, flat valley.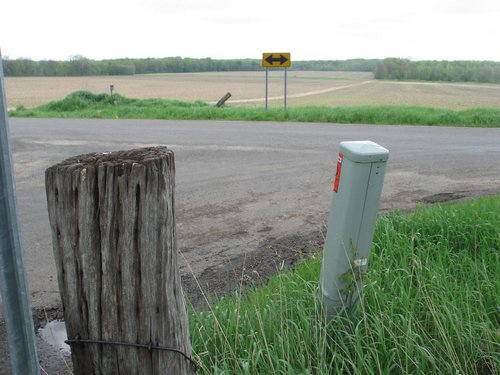 I don't know the name of the little creek that drains this valley. Whatever it is, it's a small one.
On my March 17, 2008 ride to Moscow I took these photos just to document my route. Today was too cold and snowy for more bike riding, so instead I looked on the old atlases and in the county histories to see if if there was any information about this place from settlement-era days.
It turns out that the entire section of land across from the intersection was originally purchased by Andrew Hays of Marshall. I've already written about him in these articles:
I hope to get around to writing several other articles about him and his wife, Clarissa. She told of one of the practical jokes that was played during the Black Hawk war — one that was played on her by a local Anishinabe man. Her husband Andrew was a physician, not a farmer, and would have bought this land for investment purposes. In fact, he took advantage of the war scare to purchase more land — when his millitia duties took him in the general direction of the land office, anyway. He often went out land-looking, and bought up some of the best farmland around. I can believe that this land fell into that category.
If I had turned south at this intersection, about a mile from here I would have come to a place of settlement-era anecdotes told by a woman who lived long enough to be able to tell them to the writers of the county histories. On the previous times I came this way, I did ride south. Unfortunately, I didn't take photos those times (at least, none that I remember) so I'll have to save it for another time, after the weather gets a little less wintery.