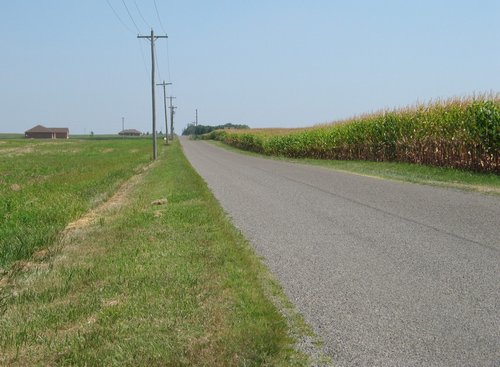 This road in Jackson Township, Shelby County, Ohio, follows the Greenville Treaty line to the east.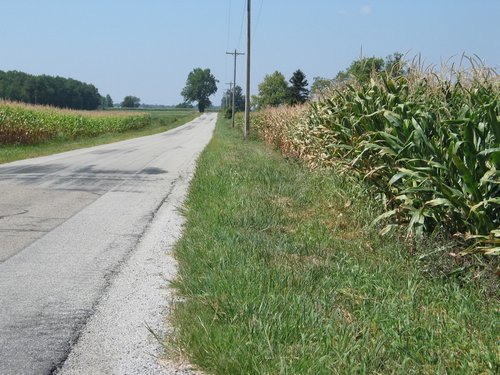 And here's looking the other way, toward Fort Loramie. The Greenville Treaty of 1795 left lots of marks like this on the landscape. Most of them make excellent bicycle routes. They are quiet roads with little traffic. I stopped for several photos like this on my ride to Fort Loramie on August 30.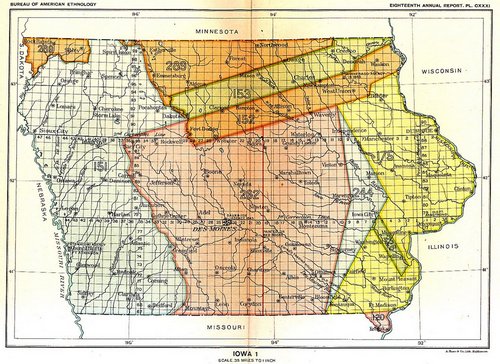 I've been looking for similar marks on the landscape in Iowa, in preparation for some riding there this summer. My wife is from Iowa, and it has been a few years since we've gone back for a visit. I've started to mark my maps with places in Iowa where we can say, "Black Hawk Slept Here." But so far I have not found a single place where property lines or highways seem to follow one of the old treaty boundaries. That doesn't mean there aren't any such places, but the county atlases I've looked at so far give no sign of any. (If you click on the map above, you'll go to the web site from which I got it.)
I've visited quite a few treaty boundaries in Ohio and Indiana, and I see there are some in Illinois, too. There are county atlases for Michigan that show treaty boundaries, and I've also seen them marked on USGS maps for Michigan. But in Iowa, not a trace.
Some treaty boundaries were never surveyed, so those would not be expected to have left a trace. I don't happen to know which Iowa boundaries, if any, were ever surveyed.