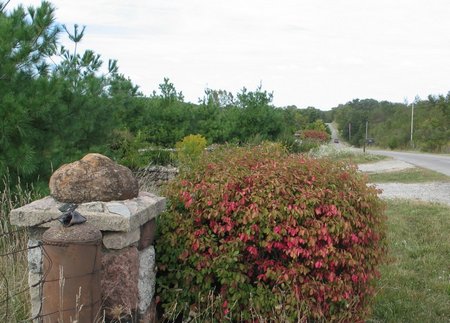 (September 26, continued) This is looking north on County Road 63, a half mile or so south of the falling-down bridge across Stony Creek. The marker that used to be on the bridge seems to be saying that the Tecumseh-Tenskwatawa encampment was in this area. Their village is referred to as Old Town. I'm not sure where that name came from, but I believe one of the county histories refers to it by that name, too.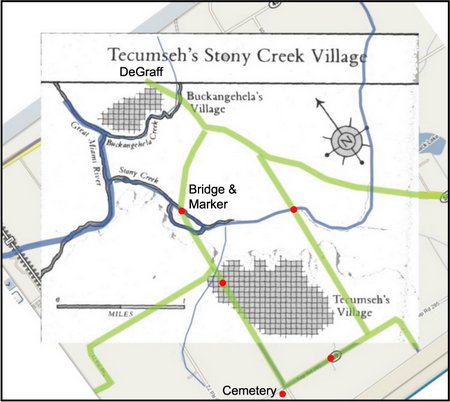 Alan Eckert's book, "A sorrow in our heart", has a map that shows the location of Tecumseh's village. I don't know what information Eckert used to determine the location and extent of Tecumseh's village, but I was curious to see how his map compared with the places where I had been. In the above, I overlaid Eckert's map on top of a google map, and used the latter to help draw in the location of modern roads and to mark the places where I took photos, which I overlaid as the top layer.
The green lines are modern roads. The red dots are places where I took photos on this trip and on a previous one. The above photo was taken at the red dot south of the bridge that once had a historic marker. So I may have been standing toward the north-northwest end of the site of the encampment when I took it. The road in the photo leads down to the little stream shown crossing the road. I suppose that would have been a good place for people to get water, especially if their village was such a long walk from Stony Creek itself.