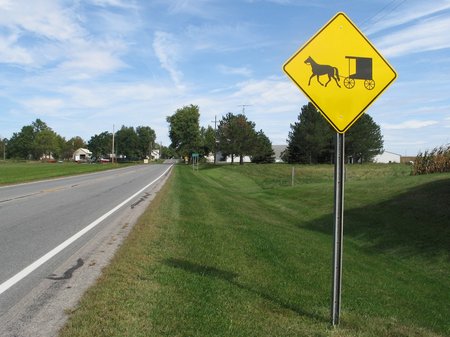 (September 26, continued)
There is an Amish community on the east side of the Great Miami River near Logansville. Three years ago I had seen an Amish buggy roadsign, but no signs of Amish people or farms. I repeated some of the same route this year and saw plenty of both.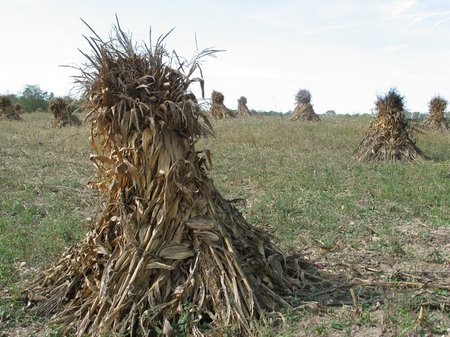 This field of shocked corn was right on the edge of town at a place where I could walk up close to it.
Years ago, in the early 80s, my kids and I had tried shocking some corn to feed our sheep. It was a bad year for hay, so we bought a few rows of a next-door field from a neighbor. At that time I had never seen shocked corn except in picture books. Our efforts sort of worked, but our corn shocks were not as nice as these. Before a 3rd winter of sheep-raising came we gave up and ate them all – lambs, ewes, and the buck.
Here was a chance to see how the pros shocked corn. When I did it I had used some baling twine to tie the upper part of the shock together. But here I see that the Amish do it without any such aids.
Speaking of twine, the latest issue of American Historical Review has a review of a book about binder twine: "Bound in Twine: The History and Ecology of the Henequen-Wheat Complex for Mexico and the American and Canadian Plains, 1880-1950," by Sterling Evans (2007). I want to read it whether or not it ever leads to any bicycle expeditions.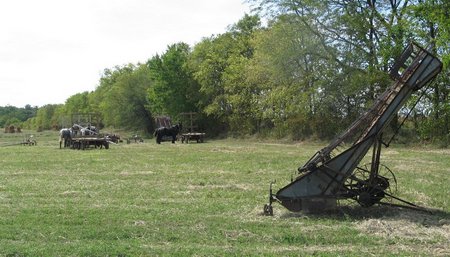 This scene was on my way north to the supposed site of the Vance blockhouse.
But what is that farm implement in the foreground? I want to say it's some kind of binder, but I don't know. I've seen these before, usually abandoned and rusting, but I've never seen them in operation.