After leaving the site of the Wilson home (and War of 1812 blockhouse) I rode to the east side of the Great Miami river. I wondered if I would find an old brick house in Section 14 of Orange Township, where a Mrs. Clancy had owned land in 1883. It would have been another site selected by one of the first settlers in the county, and the site of another War of 1812 blockhouse.
The 1883 county history tells about it on page 387:
Edward Jackson and wife [Jane] with two children came to Ohio in 1809, and stopped for a time in Springfield. Left his family here while he came over to the present limits of Orange Township, and selected a piece of land (the same now owned by Mrs. Clancy), and erected a cabin and made a little opening. … It is well known that there were but few settlers in the county when they came. During their early settlement the Indians became troublesome. In the fall of 1813 Mr. Jackson took his wife and children to Springfield, and left them for safety, while he remained on the place to clear his land. His wife remained in Springfield nearly a year, when she said she would remain no longer, but would return to her home, and share the dangers and hardships with her husband. It was about this time that he built a block house on his place for their protection. In 1814 he was drafted into the army and served for a few months, then secured a substitute and returned to his home. He was the first to erect a brick house in the township, and the second in the county.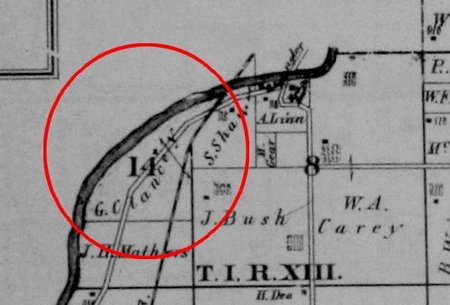 The county atlas published in the same year shows land owned by a G. Clancy in Section 14. This location is just south of Sidney, and seems to be consistent with other information about Edward Jackson and his blockhouse (which I don't seem to have handy right now, so I'm going from memory).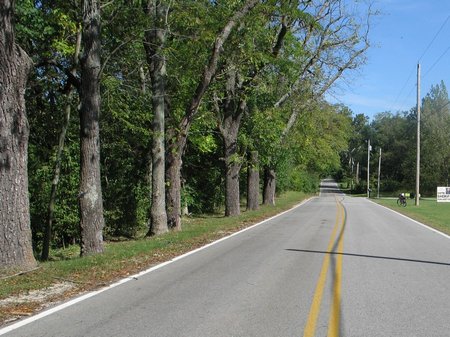 Judging by the 1883 map my GPS trace, Mrs. Clancy's land was just ahead, in the distance.
This house was about at the south edge of the old Clancy property. It was a brick house, so I took a photo just in case. Mind you, I didn't know the house still existed. A historical web site for Shelby County that tells about such things didn't say it was still standing. But one never knows.
This turned out to be the only brick house I saw along my route through Section 14, and one of very few houses at all. It's well south of the location on the 1883 map where a residence is shown. I can't tell from the photo whether it's a really old house, and I couldn't tell from the road, either. The dormers on the roof certainly don't make it look like an old house from the 18teens.
Oh, well. It was all part of a good ride, and there were lots of other places yet to visit that day.
One thing that puzzles me is why a blockhouse would have been built as late as 1814. The Battle of the Thames had taken place in October 1813. Tecumseh had been killed then. The British were driven back. The war was not yet over, but why were the Indians still seen as a threat?
Yet the U.S. was treating them with kid gloves. In June of that year, Governors Cass of Michigan and Shelby of Kentucky were trying to get a treaty with the Indians. But this was one of the rare times when they were instructed not to breath a word about the U.S. wanting more land or roads through Indian territory. At other times the Indian agents never missed an opportunity to try to talk the Indians into being open to more land cessions. This time they just wanted their neutrality in the war, or possibly their military aid if it came to that. The treaty meeting was held in Greenville in July. That had been the site of the big Treaty of Greenville in 1795, and was also my bicycling destination for the following day. (I got this information from "John Johnston and the Indians: In the land of the three Miamis" by Leonard U. Hill (1957), page 77.)